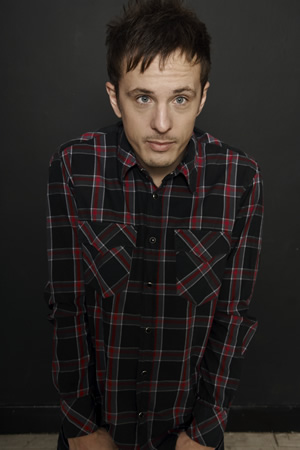 Here is our interview with Dan Clark - the writer and star of How Not To Live Your Life, which was conducted before the start of Series 2...
Hi Dan. Thanks very much for talking to us. You've been doing comedy for a while now, so perhaps we could start by finding out how you first got into the industry?
I guess the first time it occurred to me I wanted to do comedy was when I took a play to the Edinburgh Festival when I was 19, which I'd written with a friend. We did it in some hideous make-shift venue in a leisure centre - there were people in their gym kits mingling with the theatre goers! Obviously being up in Edinburgh as a 19 year-old that had always been into watching comedy, I went and saw a few shows and I suddenly caught the bug. I went from thinking I'd like to be an actor to wanting to get into comedy somehow.
So what did you do next then?
Well, first I did sketch comedy with two other guys - we did many Edinburgh Festivals, and had varying degrees of success there. We also did a pilot for Radio 4 which actually, in my opinion, was the best thing we did... but I think it was just a bit to bold and a bit too working class for Radio 4. There were lots of Cockney-type characters and, yeah, probably just a bit too in-your-face for Radio 4's core audience who you're not allowed to upset too much.
When we disbanded, I suddenly had the courage to say "right, I'm actually going to try and do stand-up". It was something I'd always sort-of been dismissive of in the past - like a lot of the other comedians who perform sketch comedy, weirder stuff and character comedy I had looked on it as an old format - but actually, stand-up is the purest form of comedy that you can do, and I'd just been putting it off for years.
So, I started trying to be a stand-up. The plan was, for at least a few years, to just focus on that until I got good. I still went up for the odd part as an actor, but between 2004 and 2007 it was mostly just about doing stand-up and live comedy.
So how did the sitcom come about?
Some people at the Paramount Comedy channel - or Comedy Central as it is now known as - were fans of my stand-up, and they always wanted to do original programming. In the late 90s they'd produced some quite original stuff, but they just didn't really have the budget to do anything new any more. However, they were still trying - and found the budget to commission some short sketches to go out between their American imports.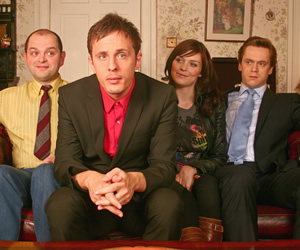 They asked me to do some of these. To be honest, the budget was small so I knew that I wasn't going to get paid very much, not if the production was to be high. And, as these shorts weren't going to appear in the listings, I wasn't 100% sure they were going to achieve much. So I approached them as something to do for fun, and as a bit of a show reel I guess.
I think the reason they worked was that some people tried to do something quite narrative within that minute, but we just went: "let's do something that has lots of gags and is quite accessible". When someone stuck them online they got a lot of hits.
We actually did two sets in the end. After we did the first batch, they came back to us for more, so we did another 10, which were all based in an office and called Dan Clark's Guide To Working. They were based around things you shouldn't do at work. And, yeah, they were seen as quite successful... and so the BBC asked us to pitch a pilot.
Myself and Gary [producer Gary Reich] found this character that was starting to emerge in these short clips - a man who could do no right. To begin with he was just a nameless everyman, but then we started to give him scenarios rather than just lists, and then and we came up with the idea of having these in a narrative form. We did actually toy with some far bigger concepts, like a 'groundhog day' thing where we repeat whole 10 minute sections, or giving the audience a choice of how the episode should end, but the more we brainstormed those ideas the more they seemed quite pretentious and the more we realised they'd probably get annoying after about two episodes. In the end we realised we shouldn't get bogged down with the concept, but ultimately just get on with the characters.
Like many shows, we were still finding our feet a bit with the first series. I think we've now learnt a bit about how often we should do these inserts. I think we've now got a happy balance - the lists occur a little more in the second series.
Talking of the new series, there have been some tweaks to the show?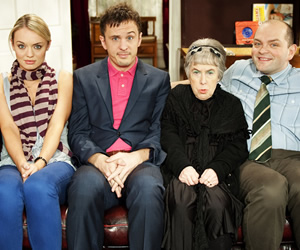 Yeah, it's a bit of a change to the line-up. Quite a big change actually, in that the characters of Abby and Karl are not in the second series. I'm not sure how people will react to that. Personally, I think it's now a much stronger line-up and a more interesting dynamic.
The new girl we have in the show, Samantha, is a much stronger comic character than Abby from the first series. Abby was never really designed as a comic character, she was meant to be this person who Don was desperately in love with, who was very charming and very naïve - and Sinead Moynihan did that very well. But it slightly niggles me that her character didn't really have a comic voice - she didn't really have jokes. If I'm honest, I don't think you should have a character in a sitcom that doesn't provide jokes...
So, when it came to the second series, we were half wondering whether we wanted to continue with having the love triangle. Then we got a phone call from Sinead's agent saying she's probably not going to be available because she's about to have a baby and taking a bit of time off work, so it kind of answered our question for us.
It gave the opportunity to come up with a new female character. I think Samantha is a lot stronger and she gives Don a lot more to spar with - she is quite a feisty character.
Laura Haddock, who plays Samantha, is - er - rather attractive. Don has also spent time in the company of characters played by people like Sally Bretton, Niky Wardley and Olivia Lee... are we right in guessing you got a say in the casting process Dan?
Ha ha. Well, you may not be surprised to hear that, yes, I did sit in on the casting. We always wanted a kind-of Friends or Seinfield quality to the show - to give it a slightly more American feel. We didn't want it to be a dowdy show - we wanted it to be fun and up-beat. Also, Don is the sort-of guy who thinks of himself as a bit of a ladies man and so he is always going to be chasing pretty girls. But, honestly, at the end of the day they were just the best people for the job.
I guess something that proves it's not all about good looks, is that you've got Mrs Treacher taking a more prominent role this series?
You're telling me you don't find her a little bit attractive? Ha ha. Yeah, we decided to give her a more of a central role as, apart from anything else, I happen to think she's hilarious. Leila Hoffman is really, really good.
We'd have to agree with that. During the first series, she stole almost every scene she was in, so we were disappointed she was only briefly in three of the episodes.
Well, hopefully you'll be pleased with this new series then. The reason she didn't appear more in the first series was that she was just a weird old neighbour who didn't have a proper reason to be around. In this series we've given her a reason - Eddie is looking after her, so he brings her with him quite often.
She's definitely one of my favourite things in the show. I like her so much that we've done this thing on the DVD... Leila might be in a scene where she has no dialogue at all, and yet we'd still do a single shot of her at the end of every scene so we could always cut away to her listening to another character if needs be. We'd do this one shot where she doesn't say a thing and just sits there for about two and a half minutes acting her socks off. It's hilarious. So we've put one of these single shots on the DVD where, for two minutes, she's just staring and frowning at everyone... I hope people find that as amusing as I did.
We heard you were potentially selling the show to America. What's the current situation with that?
We've had the show in development there for a little while. We had it with CBS for a while - they actually bought the rights to the show, but we just couldn't agree on the way it was going. When the option ran out, they wanted to extend it, but we actually decided to back off and try and develop it elsewhere.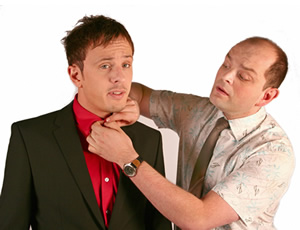 Even though we knew people always have to make a lot of changes, we weren't prepared for quite how much they wanted to change it. Obviously the main issue is that Don is a morally ambiguous lead character, he's got a lot of flaws... and in Amercia, particularly on network television, you can't really have characters that are emotionally flawed. Even with The Office, which is probably the only show that they've successfully managed to translate in the last twenty years, they had to change the lead character quite a lot to make him not quite the monster that David Brent is. We have to remember that the American networks want to make their sitcoms last at least 100 episodes - upon talking to producers out there you realise the reason so many of their sitcoms have such a strong soap feel is because they need to make these storylines last much, much longer.
So, although we understood we'd need to change some things, with our show they were trying to change too much. For example, it wasn't going to be set in the old woman's house and there was no Eddie, and we kept saying "but Eddie is a very popular character back home, you're changing the show a bit too much, these aren't tweaks". So now we're back to developing it elsewhere and I think we've got a team of people who 'get' the show a bit better... but I'm not really allowed to say any more than that I'm afraid.
You returned to Edinburgh this year to do some stand-up shows. Are you looking to carry on with stand-up then?
Yeah. At some point I want to do a tour. I love doing stand-up, but I also want to do it so I can let those people who haven't seen anything I've done other than How Not To Live Your Life know that I'm not a complete git. Ha ha. Basically I want people to know that I'm not Don! There are bits of me that are Don, but at the end of the day I'm an alright bloke. Honest!
Doing stand-up is a lot more confessional, you're more yourself - so it's nice to step away from playing a character sometimes. However, I'm currently developing some other TV scripts and working on a few ideas with [No Heroics writer] Drew Peace and we're quite excited about some potential projects, but I ought to stress they're only at the very early development stage at the moment.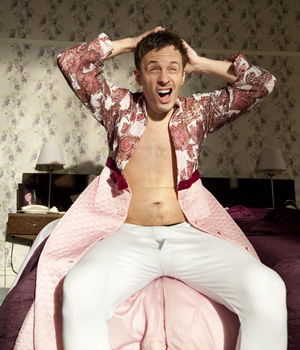 I guess we'll also find out relatively soon whether the BBC would like to do another series of How Not To Live Your Life. The reason I was so pleased to get another series is not just because of work, but because when the first series went out it became quite clear to me what worked and what didn't pretty quickly. When you realise the strengths and weaknesses of a first season you're desperate to do a second one where you can focus on the positives and iron out the problems. So now that we've got this slightly different setup, I'd be really excited to write some more!
Well, best of luck with the new series Dan and we'll keep our fingers crossed for a 3rd series for you. To finish can we ask you our standard closing question: what are your favourite comedies, excluding your own?
I don't think I'd have been so bold to list my own CV! Ha ha. Um... there's so many shows. I'm a massive fan of 30 Rock, and I'm a huge fan of Arrested Development. In terms of British comedy, I love The Office, Pulling, and Father Ted, and then obviously there's things like Partridge, all of the Chris Morris stuff, and going way back, I was hugely influenced by The Comic Strip, The Young Ones, Rik and Ade - that whole scene, which is kind of strange because I was quite young when that whole alternative comedy scene happened... but it seems to have left quite a huge imprint on me.
Oh, I nearly forgot to mention two shows that are really important to me: one is The Larry Sanders Show, which I think is one of the best sitcoms ever made; and the other is Only Fools And Horses. Now, I've not said that because I got to say two lines in it, I'm saying it because it's one of the few - excluding the atrocious last three episodes which they should never have made - consistently brilliant shows that was a mainstream hit. It's something which at the moment we don't seem to be able to do.
Cheers Dan. That's a great list. Thanks again for talking to us!