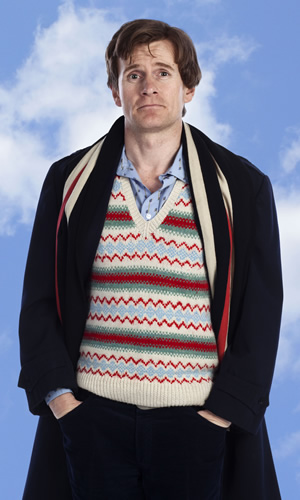 Since Graduating from the Guildhall School of Music and Drama in 1992, Charles Edwards' screen credits have included everything from Batman Begins to Mistresses and the final series of Waking The Dead.
He is best know for his stage work, including originating the role of Richard Hannay in Patrick Barlow's award-winning adaptation of The Thirty Nine Steps that transferred from London's Tricycle Theatre to the West End and finally to Broadway in 2008.
Here he talks about his new role, playing Michael Palin in Holy Flying Circus...
What is Michael Palin's story in the film?
Well it's the lead up to the debate with Stockwood and Muggeridge. And he has a slight crisis of faith I think. The reaction to Life Of Brian gets him thinking about whether they have actually gone too far. His worry is: what is the nature of comedy and how far can you take it before people get too upset? Central to his story in our film is this conversation that he has with his mother, who's trying to understand what they've done with Life Of Brian and why they felt they had to do it. She wants to understand and that's what, in this film, makes Palin decide that, yes, he should go on the Friday Night, Saturday Morning debate with John Cleese, hear what the church has to say and challenge it.
What sort of a person is Michael Palin and how does he fit in with the group?
In the context of this film, Palin is the group's moral compass but whether or not Michael Palin is or was that in real life I have no idea. It's irrelevant in a way: the thing with this film is it is so removed from reality. It is categorically not a biopic. Other than the debate, which is obviously a fact and the fact of Life Of Brian itself, everything else around that is exaggerated or imagined.
What points does the film raise?
The point is: how far can you take comedy before people get upset? What are you allowed to make jokes about? It's an ongoing issue in comedy. How far is too far? At that time a lot of people got extremely upset but the film raises another point - it's also about the nature of people judging things before they've seen them. There's a scene in Holy Flying Circus where John Cleese has an argument with a newspaper vendor selling newspapers saying, "Is this the most offensive film ever?" and the film hadn't even been released. It's the same now: it's very current.
What has been the dynamic among the 'new' Pythons?
What's great about the group that we've got, is that we all come from varying backgrounds in the business. I think that's presenting itself very nicely in the way we're gelling. It's a very rich group.
Were you a big Monty Python fan?
At school, absolutely, I was of the era before video when you'd record it on your tape cassette player and bring it in and we'd all listen to it together. But I think Brian was my favourite thing that they did. Possibly because it had a story. I love Python sketch comedy but Life Of Brian was a very satisfying whole. I just thought they were all terrific in it and that's why it's so interesting to be doing this - because at the time I was unaware of the effect that it had. It's just fascinating watching the debate.
What's your take on that debate?
Palin, in our version, goes into it absolutely prepared to take it very seriously and have a serious debate about it. It's the other two, Muggeridge and Stockwood, as it turns out, who are actually more interested in getting laughs. Palin and Cleese chip in but they don't actually speak very much - it's mainly the two older guys, and Tim Rice remains quiet throughout the whole thing. It's just the two old guys going round in circles and Palin rightly gets very frustrated. Cleese has reportedly said he'd never seen Palin so angry.
What was it like for you as a Python fan, the first time you stepped in a room and saw everyone all dressed up?
Great, the first time we all filmed together, we spent three days in an office location. It was a very small room and very hot, but the level of detail involved in the production was just extraordinary. The Seventies-style art direction, the costumes - everything was terrific. We all have, I believe, enough of a physical resemblance, but then when you add in the voices and way we gelled as a group and got to know each other, then it starts to kick off. It was very exciting.