One morning, some time in October 2016, whilst sat in a people carrier somewhere in the home counties waiting for a camera crew to set up, David Hasselhoff turned to me and asked if Bruce Forsyth was a paedophile. It was a 'we all remember where we were when that happened' moment of 9/11 proportions except the only people to experience it were myself and my co-stars Brett Goldstein and Asim Chaudhry.
We were in the middle of filming Series 2 of the semi-improvised, semi-autobiographical, semi-mockumentary Hoff The Record. Once you've been working with David Hasselhoff for a while it can be easy to forget just how crazy that is - this was a sharp reminder. The question itself, and I realise I am on dodgy territory here, was not an unreasonable one. To a foreigner like David, who's spent much of the last couple of years working in the UK, it may well seem like all senior British entertainers are convicted sex offenders. I am grateful that I was given the opportunity to explain to one of America's great entertainers that that is not the case. You're welcome Brucey!
It is at this stage that the publicity department for Hoff The Record will be wondering why, when tasked with promoting the show, I have chosen to open my piece by talking about Operation Yewtree. It is a good question but one I think I can answer. I wanted to think of a printable story which could accurately illustrate the insanity of this job. That anecdote was the best I could do.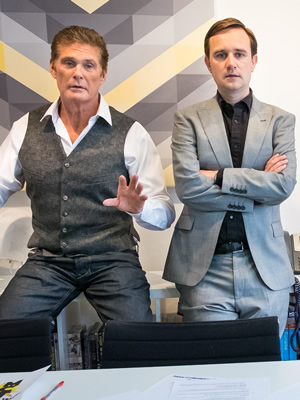 I hope lots of people get to see Series 2 of Hoff The Record. I like to describe it as the sort of show that sounds like it might be shit but is actually really good. Heck, I'm proud of it! Series 1 fans will remember that the premise is that David Hasselhoff is trying to revive his flagging career in England. Accompanied by banter merchant driver Terry (Asim Chaudhry), pseudo guru Danny (Brett Goldstein), out-of-her-depth assistant Harriet (Ella Smith), weirdo illegitimate German son Dieter (Mark Quartley) and piss poor manager Max (me) he is doomed to failure.
This series continues along the same theme. Now though, the cast know each other a lot better. In a show which relies on improvisation for much of its dialogue I think a cast who've been working together a while is an enormous advantage. The better you know your cast mates the more confidence you'll have in throwing in more adventurous ideas. That being said, I'm not entirely sure that Hasselhoff has fully tuned into my own so-dry-it's-positively-arid sense of humour. At a Q & A for Series 1 he was asked about the cast. He gave a short complimentary description of each of my colleagues, but when it came to me he came out with "Fergus Craig... I don't really get him". Thanks David. I'd like to think he 'gets' me now but am still waiting for an invitation to lodge in his LA mansion.
One striking feature of the filming process for Series 2 was me trying to act cool between takes with our guest stars. When every TV comedy I loved in my teens featured one of either Jessica Hynes or Kevin Eldon I dreamt that I might one day get to work with them. It didn't occur to me that we'd be improvising a scene with Mitch Buchannon. Look out too for phenomenal performances from Julian Rhind-Tutt as a European playboy, Sarah Hadland as a nutcase bride and Tracy-Ann Oberman as one of Hasselhoff's ex-wives.
When actors promote shows they always tell you how enjoyable it was to make them. I'm not sure I see how that's supposed to encourage someone to watch it. If your meal tastes like shit, does it help to know that the chef had 'a really good time making it'? Probably not, but if I am to maintain my reputation for searing honesty then I feel I have to tell you that when it came to Hoff The Record - I had a really good time making it. Here was an environment in which the writers, director, producers, cast and the most watched TV star of all time (actual fact) pissed about with impunity and combined to make what I think is a pretty good TV show. See the results for yourself on Dave at 10pm on Friday nights.
Published: Thursday 5th May 2016