Have I Got News For You is 30 years-old. Team captains Ian Hislop and Paul Merton reflect on the anniversary here:
How does it feel to reach the 30th anniversary and the 60th series of HIGNFY?
Ian: I can't believe we have been going for thirty years. That's half my life. That's all of some people's lives. Sorry about that.
I never expected the show to survive this long. When we made the pilot 30 years ago my late mother came to see it and I asked her what she thought of it. Her verdict was "never mind dear".
The show is repeated a great deal and it's a bit like the portrait of Dorian Gray in reverse. On Dave there is a young version of myself (well, sort of) and then on the new series there is the real old me.
It is confusing. I was on the tube once when a woman said to her friend - "That's Ian Hislop, that's Ian Hislop, go and ask him for a selfie. It's Ian Hislop." Then her friend said, "Don't be stupid. Leave him alone. He doesn't look anything like Ian Hislop."
I am just endlessly delighted still to be on television and still to have such a generous and appreciative audience who appreciate what we do. Whatever that is exactly.
When making the first show, did you ever consider it might reach its 30th anniversary?
Paul: No, but I suppose as long as we kept up the standard, there never seemed to be any particular reason why the show should end as it's based on the news and the news never stops. But I certainly didn't think when we started this series that it would run for 30 years.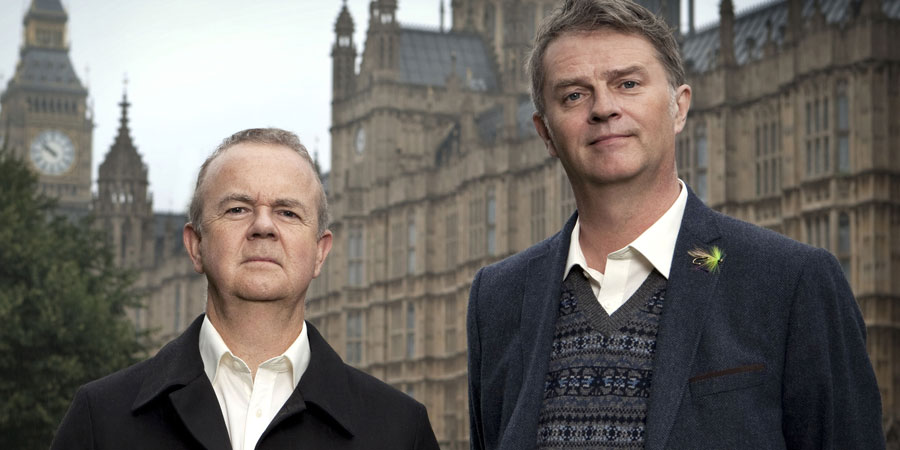 What have been some of your highlights of 30 years on HIGNFY?
Ian: There have been so many from more than 500 shows, it is so difficult to pick...
The last episode of the recent series when we were all locked down obeying the government rules, but Dominic Cummings was not. It was a real test for the programme, though obviously not an eye test of the type that requires you to drive to Barnard Castle with your son in the back of the car to see if you hit any pedestrians or bollards.
The series before last when not only were we dropped for an episode on the grounds of balance, but in one episode where I was attempting to suggest that our current Prime Minister has an extremely well documented history of lying to employers, party leaders, wives etc, I was censored and had a black square superimposed over my mouth.
There was an episode years ago when a previous Director-General of the BBC, John Birt, told the show not to mention his friend Peter Mandelson. We did. A lot.
Jeremy Clarkson threw a biro at me which hit me in the face and I started bleeding. They had to stop the show but Jeremy insisted that it wasn't blood but red ink from the biro. He later apologised but said that he was only doing so because "his wife told him to".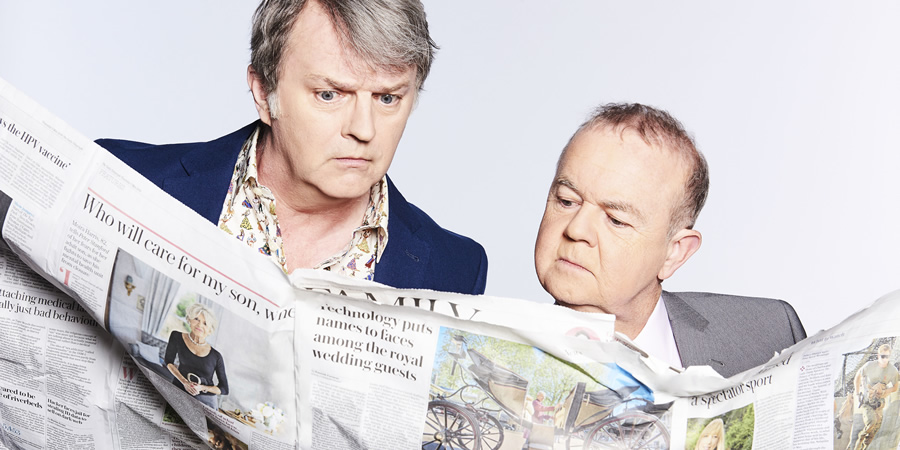 Seeing Alastair Campbell's face as host when he realised that we would not do what he had told us and that I was going to turn every answer into a joke about his role in the Iraq War. Even the three letters KFC turned into WMD.
Telling disgraced peer Conrad Black that he could claim his innocence as much as he liked but in fact the jury had been quite right and that he was indeed guilty and deserved all the time he had spent in prison before coming on the show.
The 'morning after the election' show where Steve the floor manager became the star by constantly interrupting the show to tell us which party leaders had actually resigned during the recording. We then had to react live.
The Tory peeress Baroness Trumpington (ex-Land Girl and Bletchley Park in WW2) being asked on the show in the interests of BBC balance and then deciding she didn't want to answer questions about Mrs Thatcher. So she just went home and the only person they could find to replace her who would turn up within half an hour was... Ken Livingstone.
Brian Blessed. Gordon Brown was in the public eye so there was probably the worst ever excuse for Brian to blast out the entire studio by shouting "Gordon's Alive!!!".
William Shatner came on the show with no idea who any of us were and no knowledge of British current affairs at all. He was brilliant and managed to libel an entire town, Ilfracombe, which he described off the cuff as being "laced with prostitutes". He then had to retract this and the thought of Captain Kirk of the USS Enterprise apologising on behalf of the BBC was pure magic.
What about you Paul?
Paul: There was a great episode in 1999 where I drifted off during the Odd One Out round, and they cut to footage of me daydreaming about running through a field in slow motion with Ian.
Bruce Forsyth hosting the show for the first time in 2003 stands out as a highlight - he was my favourite guest host. He brought so much fun to the set and made it so unlike any other episode for its light entertainment values. I find it funny that the show I liked the most is probably the one Ian hates the most!
I also really enjoyed the last episode of last series, which was the week that Dominic Cummings gave himself an eye test.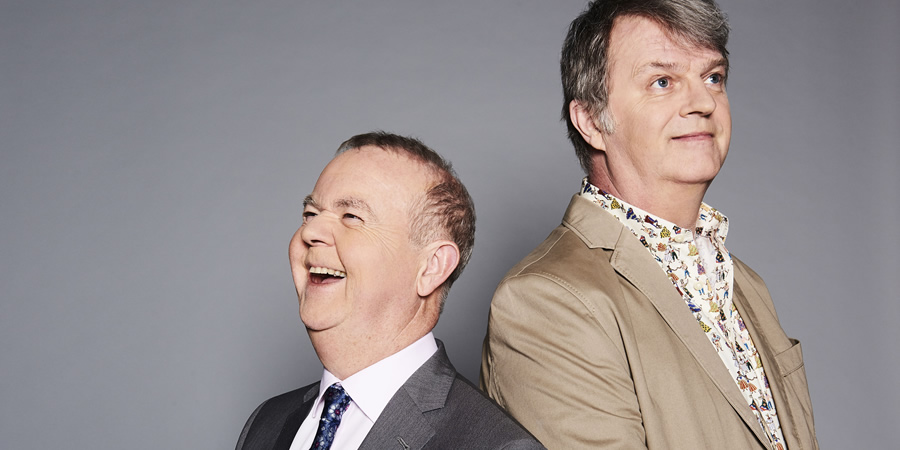 Do you have any other favourite guest presenters or panellists from over the years?
Paul: Spike Milligan in 1995; and Peter Cook, who appeared twice, in 1992 and 1993. Both of them were heroes of mine growing up. Peter Cook laughing at something I said really was a moment I won't forget. Having William Shatner host in 2012 was an extraordinary moment too.
Is there a particular person you'd like to have join you on the show in the future as a presenter or panellist?
Ian: I would like ex-president Donald Trump to be guest host of the show next series. I have an awful feeling this may not happen.
HIGNFY Fact File
(As at September 2020, before the start of Series 60)
There have been 524 episodes of the programme - 326 were after Angus Deayton left the show with guest presenters. 115 different people have guest presented across those 326 episodes.
Ian Hislop is the only person to have appeared in every episode of Have I Got News For You. Paul Merton took a break from Series 11 of the show in 1996 (a series in which he did make one appearance... as a guest panellist on Ian's team!).
Paul has won 332 episodes, to Ian's 167 (the rest were draws). Merton has also won the most series as a team captain, by a significant margin (44). Hislop has won only 5 series (10 were drawn).
Alexander Armstrong holds the record for most guest host appearances on the show, at 34. He is followed by Jo Brand who has guest hosted the show 24 times.
Andy Hamilton holds the record as a guest panellist, with 24 appearances.
The show has been recorded in 3 different studios, and is about to have its 4th home - for 28 years it was filmed at London Studios before it closed in 2018. In 2001, it recorded an Election Special at BBC Television Centre. In 2018, after the closure of London Studios, the show moved to Elstree Studios. Series 59 was filmed over Zoom, so there was no studio. Series 60 will be the first series to be recorded at Riverside Studios in Hammersmith.
Across the 30 years, the bit of round grey carpet on the studio floor has been changed at least three times.
The revolving back panels have featured 2,623 different people.
The panels used to revolve with the help of three crew members winding a bicycle chain by hand. Nowadays this function is carried out by two crew members.
The show is now on its 7th Prime Minister - 5 of these have been Conservative, and 2 Labour.
---