1st January 1980. On the day that a new decade arrived so did writers Jimmy Perry and David Croft's third period-piece team sitcom - Hi-De-Hi!
Their first, Dad's Army, had ended three years earlier after a nine-year run; their second - It Ain't Half Hot Mum - had two more series to go before it would end after seven years in 1981.
Hi-De-Hi!, like the previous two shows, was based on the real-life collective experiences of the writers. Jimmy had been a Butlin's Redcoat whilst a student at RADA and David had worked as an actor/producer of holiday camp summer shows.
Although we were introduced to the entertainment troupe (the Yellowcoats) of the 1959 season Maplin's Holiday Camp on January 1st in a forty-minute pilot episode, it was over a year later - February 1981 - that the much anticipated first series began. Unlike the writers' previous two sitcoms, Hi-De-Hi! was an instant hit with the viewers.
In their usual successful style, Jimmy and David created an ensemble of distinctive characters that gelled perfectly for great comic effect. Among them were the camp's new fish-out-of-water entertainment manager Jeffrey Fairbrother (Simon Cadell), later replaced by the equally uncomfortable but confident Clive Dempster (David Griffin). In love with both was chief Yellowcoat Gladys Pugh (Ruth Madoc), affectionately known as the 'Vamp of the Valleys'.
There was schemer Ted Bovis (Paul Shane), who had been with Maplins for sixteen years and reached the position of camp host; and young comic Spike Dixon (Jeffrey Holland), whose role to entertain the campers often found him in various costumes being chucked in the Olympic-sized swimming pool. On the non-entertainment side were the likes of slightly potty chalet maid Peggy Ollerenshaw (Su Pollard) whose one dream was to become a Yellowcoat herself.
In January 1988 it was time say an emotional 'Goodnight Campers', as the camp closed in the 58th and final episode, The Wind Of Change.
So, see how you go with ten questions about the show - Ho-de-Ho!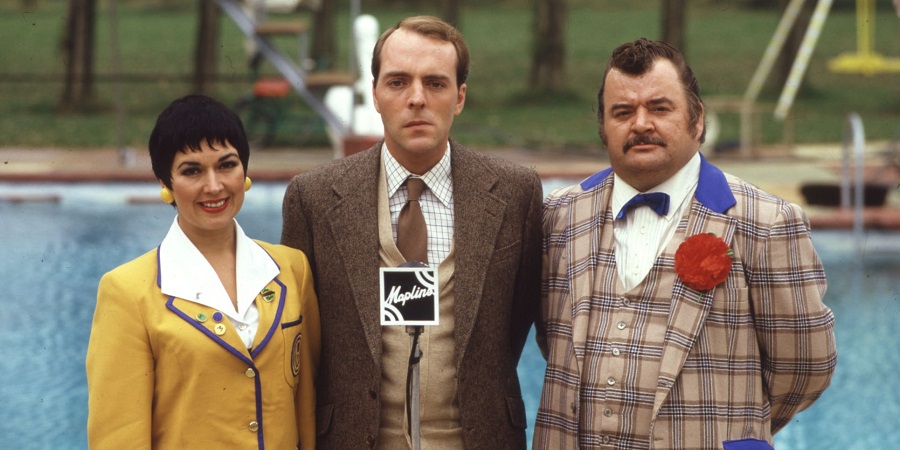 1. Complete this lyric from the sitcom's signature tune Holiday Rock. "Well, if you're feeling lonely, and getting in a..."
2. Where was Maplin's Holiday Camp located?
a) Crimpton-on-Sea
b) Grapethorpe
c) Walmington-on-Sea
3. In the first scene of the pilot episode, which member of Jeffrey Fairbrother's family berates him for choosing to leave his career as a university professor and begin one as an entertainment manager at a holiday camp?
a) Aunt
b) Sister
c) Mother
4. Which subject did Professor Jeffrey Fairbrother teach at Cambridge University?
a) Archaeology
b) English Literature
c) History
5. To Joe Maplin's horror, he learns in the episode A Matter Of Conscience that the local council plan to build what next to the camp?
a) Abattoir
b) Hospital
c) Crematorium
6. In the episode Graven Image a statue of founder Joe Maplin is erected on the campsite. On the eve of the grand unveiling, one drunken member of staff takes to painting it as a clown. Who was the defacer?
a) Ted Bovis
b) William Partridge
c) Spike Dixon
7. When Jeffrey Fairbrother left his post as entertainment manager at Maplin's Holiday Camp he was replaced by Clive Dempster, an ex-serviceman who had served in which branch of the forces?
a) Army
b) Navy
c) RAF
8. Which actor, who featured in 17 Carry On movies, joined the cast as Yellowcoat Sammy Morris and appeared regularly in both the penultimate and final series?
9. In the final episode, Peggy is hospitalised and diagnosed with having what?
a) Nervous exhaustion
b) Appendicitis
c) Stomach disorder
10. What is the title of Joe Maplin's autobiography?
a) How I Did It
b) How I Done It
c) How I Got It
Answers and Trivia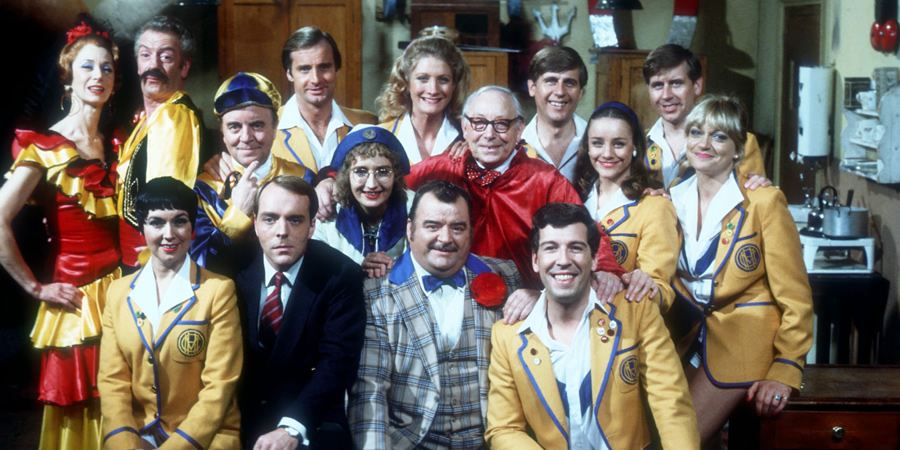 When you're ready, scroll down for the answers and some interesting facts about the show...
-
-
-
-
-
-
-
-
-
-
1. "Well, if you're feeling lonely, and getting in a stew."
As with all Perry & Croft sitcoms, the signature tune was composed by Jimmy Perry. The Elvis sound-a-like vocal was performed on the credits of the pilot episode and Series 1 by singer, actor and musician Ken Barrie, two years before he became the voice of Postman Pat and many other members of the fictional Greendale village. Paul Shane sang Holiday Rock from Series 2 onwards.
2. A: Crimpton-on-Sea
The real location was Warner's Holiday Camp in Dovercourt Bay, Essex. It was used in all but one of the 58 episodes. The camp closed to the public in the summer of 1990, demolition occurred in 1992, and houses now occupy the northern section of the site.
3. C: His mother nagged him
Mrs Maud Fairbrother was played twice in the series by South African actress Joyce Grant.
4. A: Archaeology
Simon Cadell played Jeffrey Fairbrother for 33 episodes across five series and appeared in two seasons of the Hi-De-Hi! stage show. He left in 1983 to avoid falling into the typecasting trap and to return to the theatre where he played Hamlet to glowing reviews. In 1985 he married David Croft's actress daughter Rebecca and they had two sons together. A heavy smoker of up to 80 cigarettes a day, Simon passed away in 1996 aged 45 from lung cancer.
5. B: The council planned to build a hospital
6. C: Spike Dixon defaced the statue
Prior to landing the role of Spike, Jeffrey Holland had appeared in Perry & Croft's other comedies. In the 1975 Dad's Army stage show he toured in the role of Private Walker and later in a TV episode from the final series he appeared as a truck driver. He also played a couple of roles in two episodes of It Ain't Half Hot Mum.
7. C: Clive Dempster was in the RAF (Royal Air Force)
David Griffin was a struggling actor when he was chosen for the role of the Honourable Clive Dempster DFC, as he explains: "I was working on a building site, being out of work at the time. When I got home that evening my wife said that I had a call from my agent. I didn't want to go at first to see David and Jimmy because a) it meant taking a day off work and the train fare from Sussex to London, neither of which we could afford, b) I had nothing to wear and c) I never believed I would get a job as big as that. Of course, I ended up going. My wife dusted off my one and only suit and off I went. Oddly enough I was the last person they saw and, although I didn't know it at the time, they had already made up their mind until I walked in. How lucky was that?"
8. Kenneth Connor played Sammy Morris
David Croft first cast Kenneth in 1984 as Monsieur Alfonse, the undertaker with an affection for Madam Edith (Carmen Silvera) in his sitcom 'Allo 'Allo!. Two years later he made his debut as Uncle Sammy, the children's entertainer in Hi-De-Hi!. The actor's final appearance in a Croft sitcom was in an episode of You Rang, M'Lord?. Kenneth passed away 28 November, 1993, aged 75.
9. A: Peggy had nervous exhaustion
A year after Su Pollard had auditioned for the role of Chalet Maid Peggy Ollerenshaw, she heard from Jimmy and David. She had assumed in that time that the role had gone to another actress, but she later learned that the writers would take their time when casting. She received the call from her agent "He phoned me saying that they'd like to offer me the role of the chalet maid. It was only a small part but if I wanted a go at it they promised that Jimmy and David would look after me and make sure I got a decent ride if it went to a series. Of course, I decided to give it a whirl and the rest is history."
10. B: The book was titled How I Done It
In the final episode the staff are told by camp controller Alec Foster that their services are no longer required as Joe Maplin is going up market and changing the camp to a self-catering leisure centre. As way of a thank you, each member of the entertainment staff received an autographed copy of Maplin's autobiography. Although Joe Maplin is never seen in the series, he is portrayed as a ruthless, image-conscious businessman who strives for a knighthood. David Croft once spoke of the comedy star he had in mind for the role: "If Joe had ever appeared, I think he would have been played by Charlie Drake. A little man, very down to earth, not well educated but a dynamo. Charlie Drake never knew this."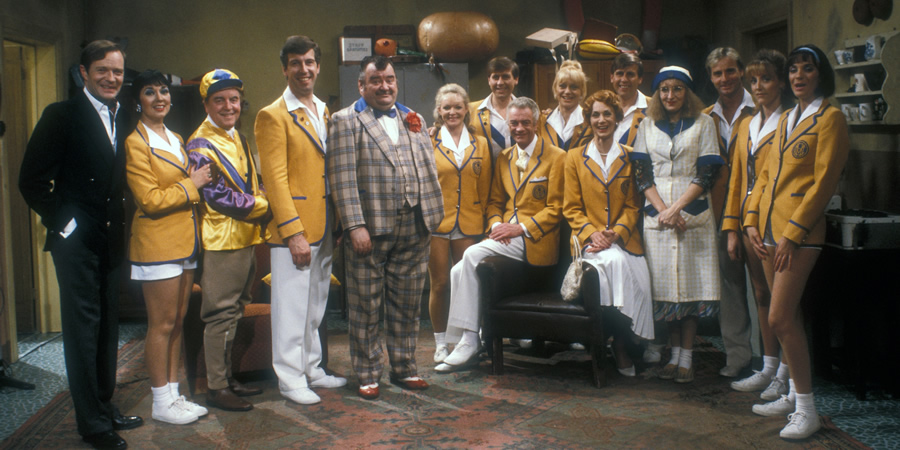 Published: Wednesday 1st January 2020