Jo Brand is back as her Getting On character Kim Wilde in a new spin-off sitcom, Going Forward. No longer working at the hospital, Kim is now employed as a Care Assistant in the community. She receives little more than the minimum wage for a package which consists of unpaid overtime, management bullying and horrendous shifts. Her daily slog is matched only by that of her husband, Dave, a self-employed private hire driver battling long days and grumpy customers.
Here Brand, and Omid Djalili who plays Dave, talk a little about the show...
How was it bringing Kim Wilde back?
Jo: It was like slipping into an old pair of comfy slippers... what a terrible simile... It was like waves crashing on a beach. Alright I'll shut up now. How do people answer these questions with any modicum of originality?
I enjoyed it. The most important thing to me when doing TV is a friendly crew (they were), easy going actors (they were), and a good producer and director who don't have personality disorders (they didn't). So, it was lovely seeing/being Kim again.
Omid, tell us about your character...
Omid: I play Dave Wilde, Kim's husband. He's a chauffeur and has done security work in Iraq. He is overweight and depressed. It required little acting.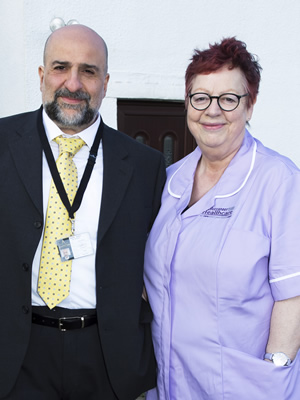 Kim has now left her job at the NHS. What is in store for her?
Jo: I think working in the community has very different challenges. When you're attached to an institution there is at least a structure to support you. In the community, you're on your own and that can be hard. Some chaos is in store.
Did you research what a day is like for a private carer?
Jo: One of my best friends works as a carer, so I got a blow-by-blow account from her about how her day could pan out. Grim and really hard some days, but a joy others. To me, Kim represents all the hard-working people who never get recognition for their work and slog away day after day.
Jo, what was it like working with Omid, who plays your husband?
Jo: See Question 1. He was a laugh, we had a good gossip about the comedy circuit, who we've seen, who we've heard stuff about and what we've been up to. And we had to pretend to be husband and wife... hilarious.
And Omid, what was it like working with Jo?
Omid: Highly enjoyable. But on set, she has a tendency to nibble on your snacks as she's eating her own.
You spent a lot of time in a car with Tom Davis, who plays fellow driver Terry...
Omid: Tom was an actor? I thought he was there to drive me around. So all that rubbish he was talking was scripted?
Jo, you won a BAFTA for your performance as Kim in Getting On. What is it about Kim that the audience relates to?
Jo: I would like to think that Kim is like people they know. Ordinary, not extraordinarily beautiful or stick thin (of course that was quite a stretch for me to play that sort of character). Also she is a bit slapdash, but kind and tries hard to make people's lives a little bit more positive.
Were there any particularly funny moments on set?
Omid: I don't believe so, no. But thousands on the toilet.
Jo: There was one in particular when we were filming one scene. Don't want to spoil the surprise... you'll know what I mean when you see it.
Do you think audiences will relate to what they see in Going Forward?
Omid: Going Forward is highly relatable. It highlights society's dealing with elderly parents and the difficulties that are often involved. Also the financial problems we all face in our daily lives. Except me, clearly. I've got Tom Davis driving me around.
Going Forward is on BBC Four on Thursdays at 10pm.