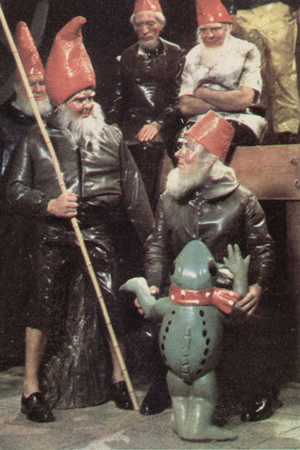 At the time of transmission, Jimmy Perry had written two series of Dad's Army and was given an opportunity to convert a life-long interest in gnomes into a comedy vehicle. He had originally intended the idea of humanising gnomes to be only short sketch material with Morecambe and Wise as his key target to deliver the lines. However, his wife persuaded him that the subject matter was worthy of an entire show and he presented his ideas to the BBC. They were suitably impressed and commissioned a series, in colour, on the fledgling BBC 2 channel, even ensuring that the writer achieved his new target pairing in Terry Scott and Hugh Lloyd.
The two stars were dubious, at first, that the idea could run for 6 episodes but once in full costume they quickly warmed to their roles. On a set that was built to exaggerate their gnome-like status they were joined by John Clive to become three British stone gnomes who looked down, in a superior way, on the "Empire gnomes" next door (who were made out of plastic).
Humans were never seen, only heard, and the action would take place when they were not looking into the garden. The stone gnomes would help the audience take a new perspective on human behaviour by discussing the goings on in the house and yet exhibit the same snobbish attitude towards their plastic neighbours.
This was to be the final pairing of Terry Scott and Hugh Lloyd after a decade of success for the BBC in Hugh And I. The fact that they were in heavy disguise may have been in part a hint that their partnership was no longer a recognised audience winner.