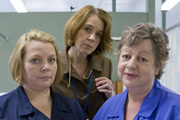 Getting On arrived on BBC Four for a short three part series in July 2009 with little fanfare. It introduced viewers to the main characters, and saw Kim undergoing disciplinary action.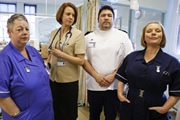 Series 2 sees Kim going through her training modules, a consequence of the incident with Hilary, while other unresolved conflicts simmer. Den is juggling her off-on relationship with Hilary, Doctor Moore has to compete for her own job, with re-structuring on the agenda, and the prospect of a brand-new wing is dangled in front of the staff as the builders move in.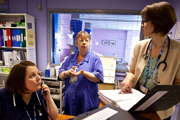 Big changes are afoot in Series 3. King Edward's Hospital has closed, and ward B4 is no more. Somehow Kim, Den and Pippa have managed to stay working together, however, and now call St Jude's ward K2 'home'. It's far cleaner, brighter and more modern - but that doesn't mean life is any easier.