Here's our guide to the new comedy on TV this festive season.
Dave's Advent Calendar
Dave, daily at 9pm from the 1st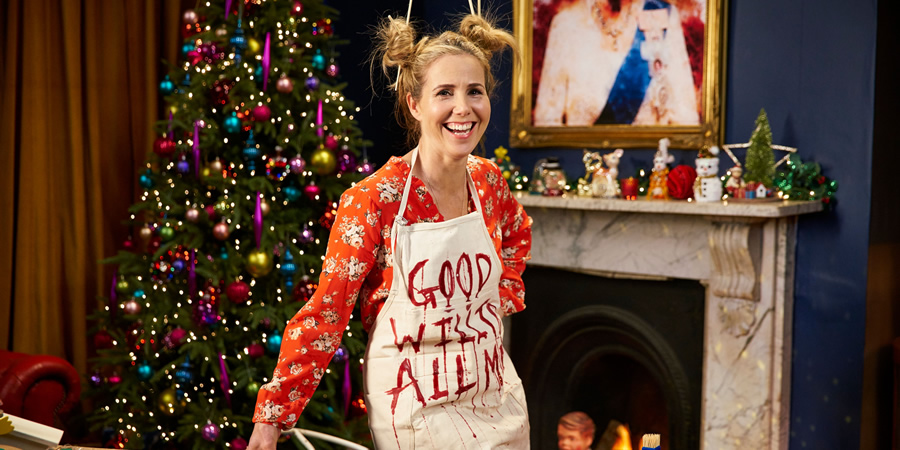 Each day on channel Dave, a different comedian presents a short comedy video. Full schedule
Roast Battle
Comedy Central, 10th December, 10pm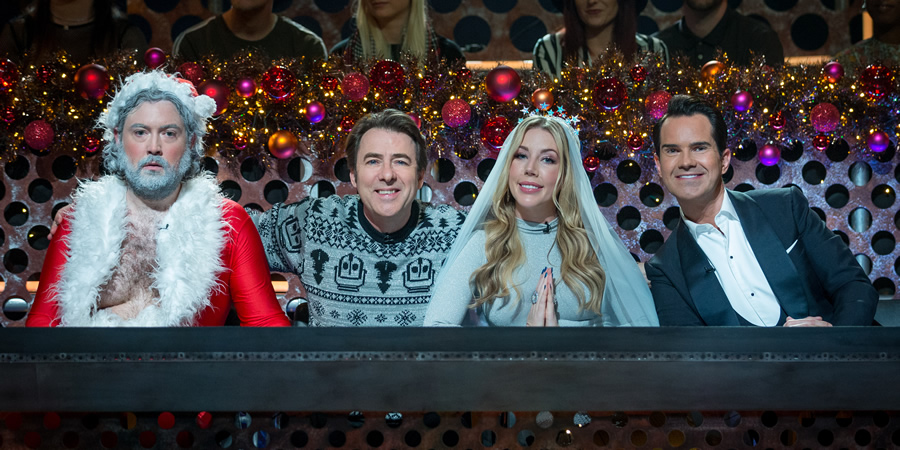 An hour-long special of the stand-up show. Jimmy Carr, Katherine Ryan and Jonathan Ross are joined by a very important guest for one night... Santa (who looks quite like Nick Helm). Desiree Burch, Suzi Ruffell, Ed Gamble and Bobby Mair are the comedians going head to head. More details
Through The Keyhole
ITV, 14th December, 9pm
Keith Lemon kicks off Series 6 of his reboot of the property-based guessing game with a festive version. The new eight-part series (which continues into 2019) has a format change. As the character explains: "We've changed fings a little bit this series. We won't be showing the audience at home whose house it is beforehand so they can now play along with our celebrity panel." More details
Death On The Tyne
Gold, 15th December, 9pm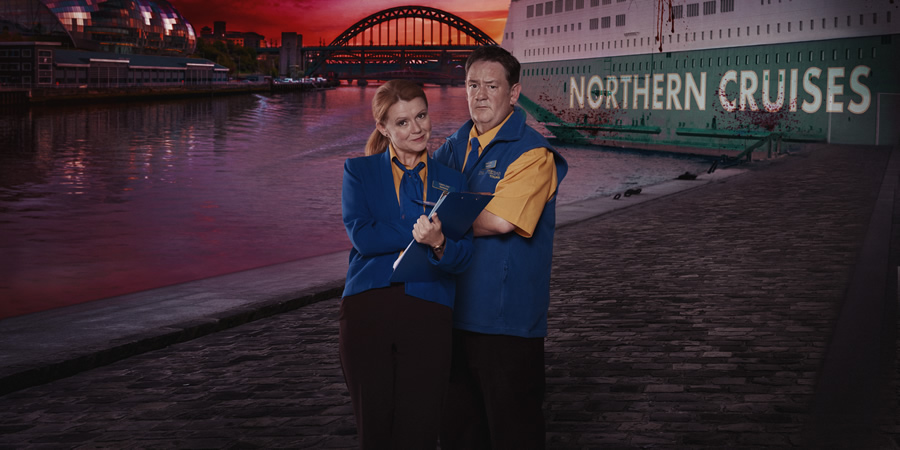 A two hour comedy drama sequel to Murder On The Blackpool Express. Terry (Johnny Vegas) and Gemma (Sian Gibson) promise to take Mildred and her care home friends, including Hilda and Colleen, on an Amsterdam cruise adventure across the Tyne. Stars include James Fleet, Felicity Montagu and Tony Gardner. More details
Romesh's Look Back To The Future
Sky One, 17th December, 9pm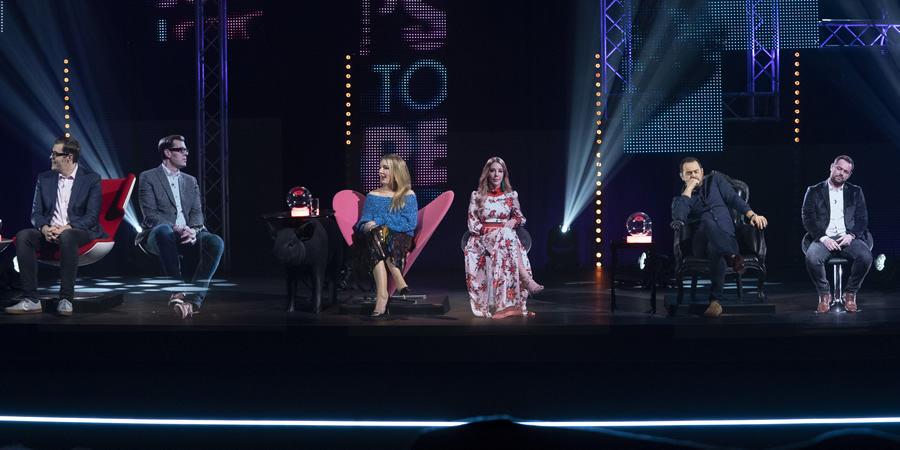 A panel show format which is recorded over the course of a year. Danny Dyer, Katherine Ryan and Richard Osman filmed their predictions for what would happen in 2018 last year, and now they regroup with host Romesh Ranganathan to find out whether their soothsaying skills saw all. More details
Meanwhile on BBC Two, The "Xmas" Misadventures Of Romesh Ranganathan sees the comedian travelling the furthest he's ever travelled outside of his cosy comfort zone: he heads to the Canadian Arctic to find out if his preconceptions about this remote part of the world are right, or whether there is more to this area than the prospect of freezing to death or being eaten by a polar bear.
Not Going Out - Live
BBC One, 21st December, 9pm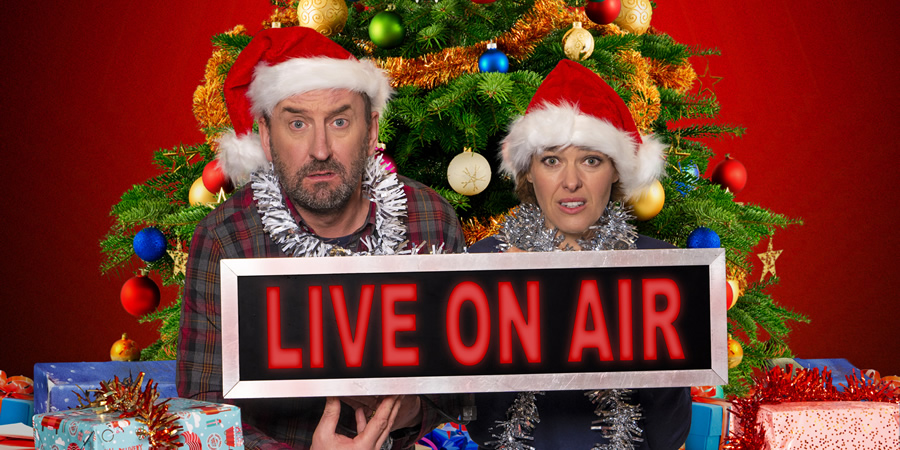 For the first time ever, Lee Mack's multi award-winning sitcom will be broadcast live. We join Lee and Lucy (Sally Bretton) live from their festively decorated living room, nervously discussing Ding Dong Merrily on Live Christmas Spectacular - the Christmas variety show they've been strong-armed into organising to raise money for their children's school. More details
Goodness Gracious Me - 20 Years Innit!
BBC Two, 22nd December, 10:15pm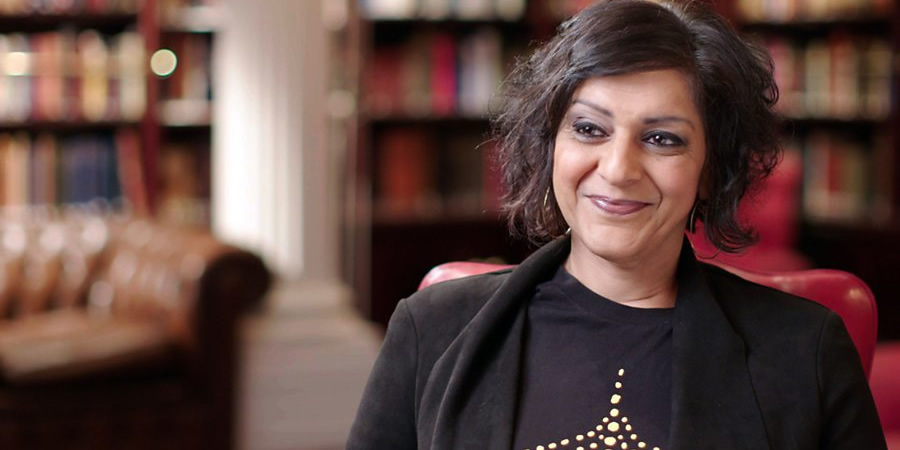 The sketch show Goodness Gracious Me is 20 years-old. To celebrate, the BBC will broadcast this show looking back at some the funniest and most loved moments, including interviews with the stars. More details
Hold The Sunset
BBC One, 23rd December, 6:20pm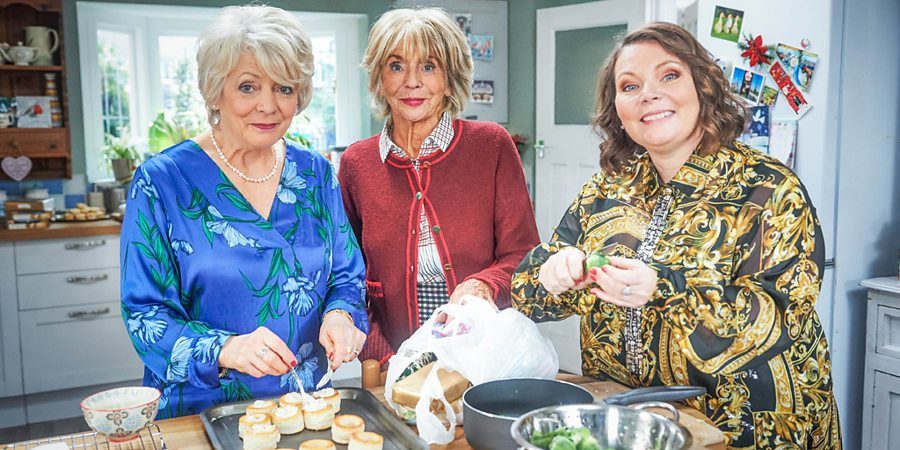 It's the last Christmas Edith will have with her family before she and Phil set off for their dream retirement in the Mediterranean. Edith's son Roger enlists her scurrilous one-time flame, Bob 'the burglar', to give Christmas its proper flavour. Ahead of the new series, this episode introduces Sue Johnston as Edith's impossible sister Joan. More details
The Young Offenders
BBC One, 23rd December, 11:15pm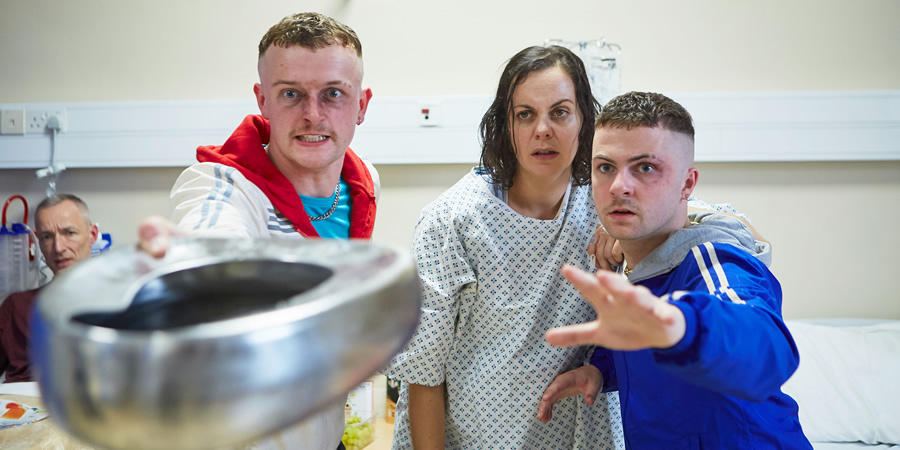 A special from the new sitcom. It's Christmas week, and the residents of the estate where Conor, Jock and Mairead live have been fighting off an eviction from the council for over a month. The residents have created a barricade to show their determination that they won't be moved to make way for the estate to be renovated. While all this is happening, Mairead has been sick for weeks and has to be taken to hospital... More details
Trollied
Sky One, 23rd December, 9pm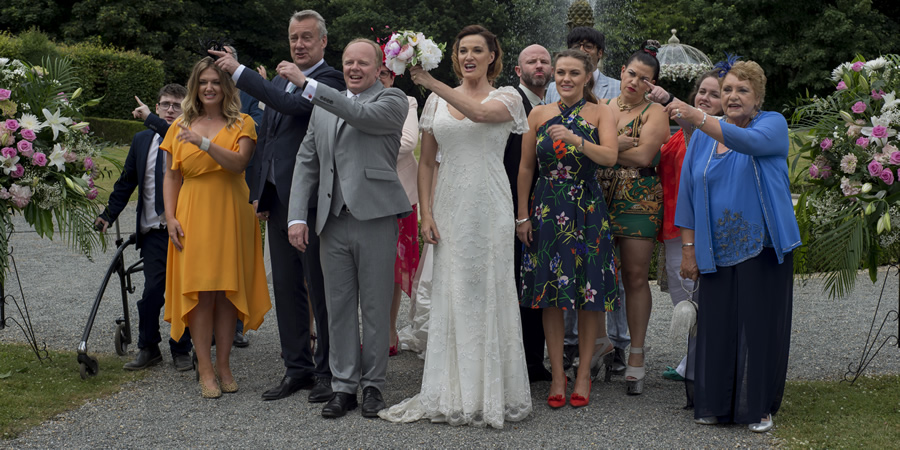 The final episode of the sitcom. The special focuses on the weekend of Gavin Strong and Cheryl Fairweather's wedding. Arriving at a beautiful country house hotel and surrounded by their friends and beloved Valco family, the couple couldn't be happier. However come the morning of the wedding Gavin is nowhere to be seen. A few drinks in the local pub with the stag party clearly took a very messy turn! More details
The Queen And I
Sky One, Christmas Eve, 6pm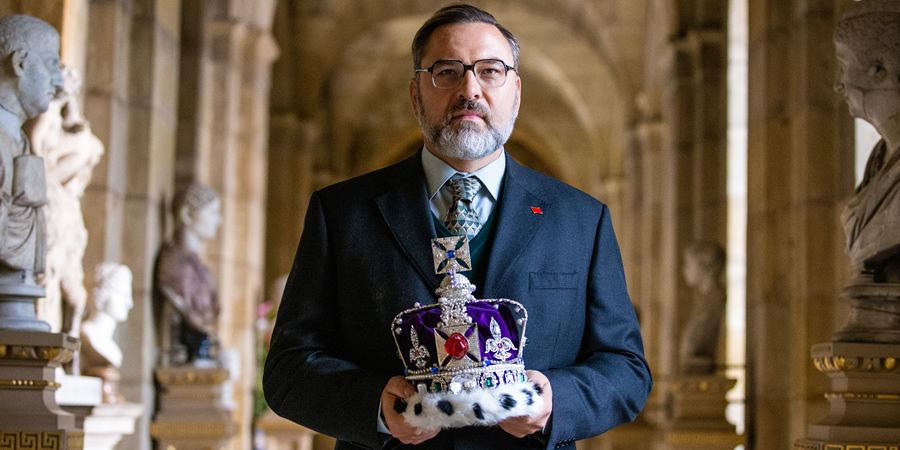 A one-off comedy based on Sue Townsend's story about the Royal Family having to move to a semi-detached house in the Midlands when a republican party wins the General Election. Samantha Bond stars as the Queen, with David Walliams as the Prime Minister. More details
Click & Collect
BBC One, Christmas Eve, 9pm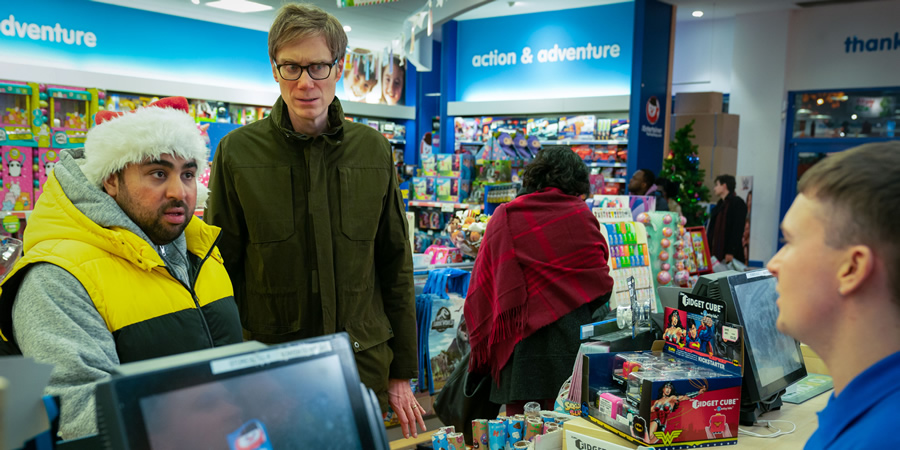 Stephen Merchant and Asim Chaudhry star as two mismatched neighbours who have to drive across the country to pick up the one toy that will make a little girl's Christmas dreams come true. But will they get there before the shops shut for the festive season? More details
Alan Carr's Christmas Cracker
Channel 4, Christmas Day, 10:15pm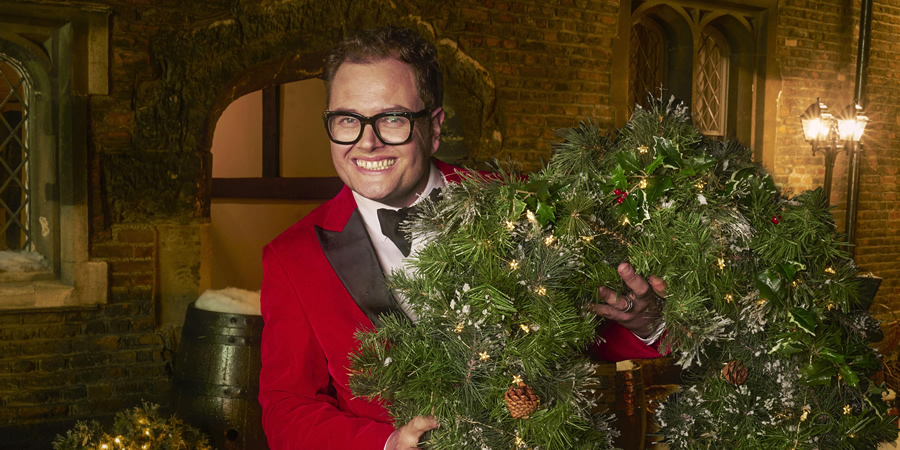 Alan Carr hosts a Christmas extravaganza in his own inimitable style from his very own Alpine Log Cabin. The programme features a mix of celebrity interviews, comic guests, festive musical performances and most importantly, "plenty of fun, frolics and presents". More details
Mrs Brown's Boys
BBC One, Christmas Day, 10:15pm & New Year's Day, 10pm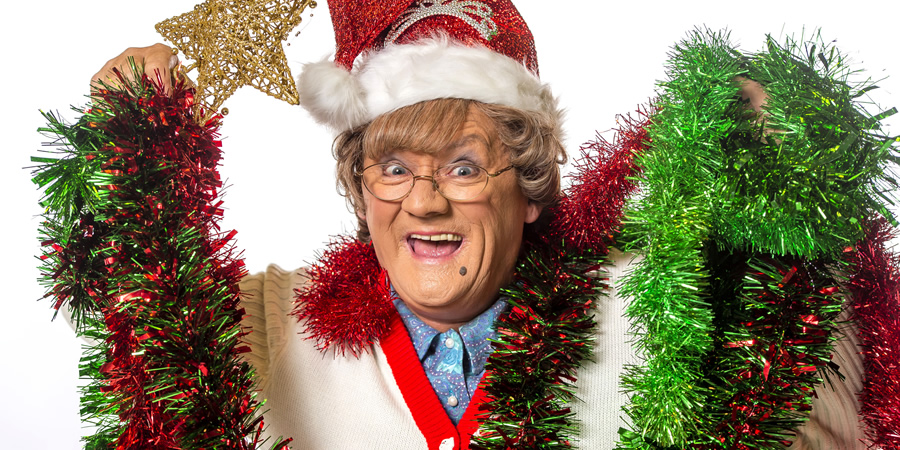 Two new specials. In Exotic Mammy, Father Damian has organised a Christmas decoration contest to support the local football team. Mammy's Motel focuses on Winnie and Sharon moving in to Mrs Brown's when their houses flood. More details
Morecambe & Wise
BBC Two, Boxing Day, 7:50pm; and Gold, Thursday 27th December, 8pm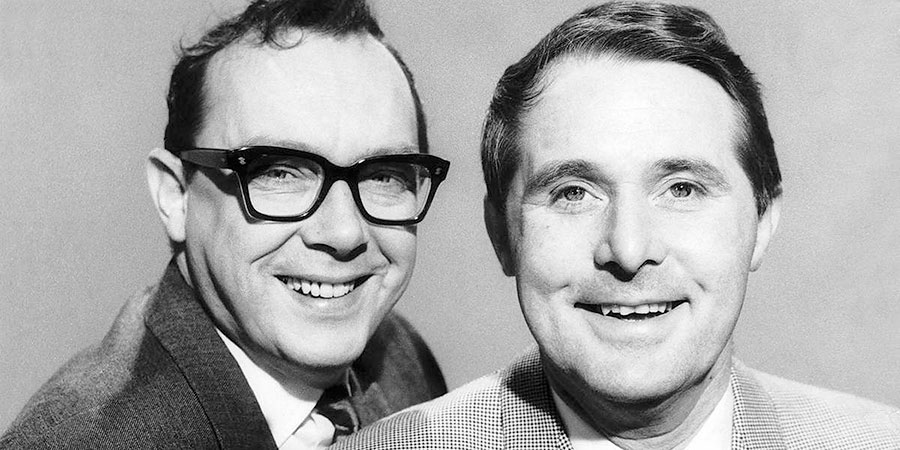 Rediscovered Morecambe & Wise: For the first time since their original broadcast in 1968, two episodes of Morecambe & Wise will be played on BBC Two this Christmas after the original colour tapes were lost for fifty years. The two, black and white episodes were found in a derelict cinema in Sierra Leone and have been transformed back into colour by decoding colour information within the copies.
Morecambe & Wise In America: A three-part documentary series presented by Jonathan Ross telling the story of Eric and Ernie's attempts to break America, featuring over an hour of footage that has never been seen in the UK. More details
The Midnight Gang
BBC One, Boxing Day, 7:30pm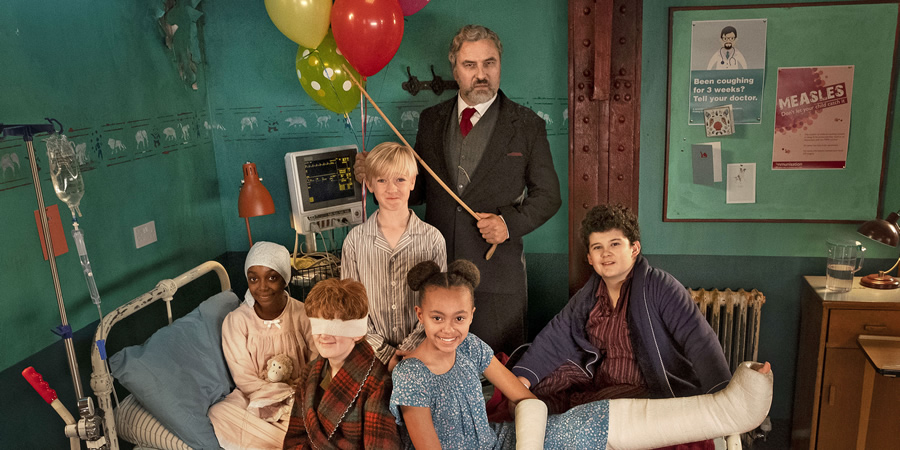 The latest adaptation of an original book by David Walliams. The Midnight Gang tells the tale of a young boy called Tom who finds himself in the Children's Ward at Lord Funt Hospital after being hit on the head by a cricket ball. Once there he discovers The Midnight Gang, a secret group of children who go on late night adventures in the hospital making dreams come true. The adult cast includes Alan Davies, Haydn Gwynne and Amit Shah, with Walliams as Tom's wicked headmaster. More details
The Big Fat Quiz Of The Year
Channel 4, Boxing Day, 9pm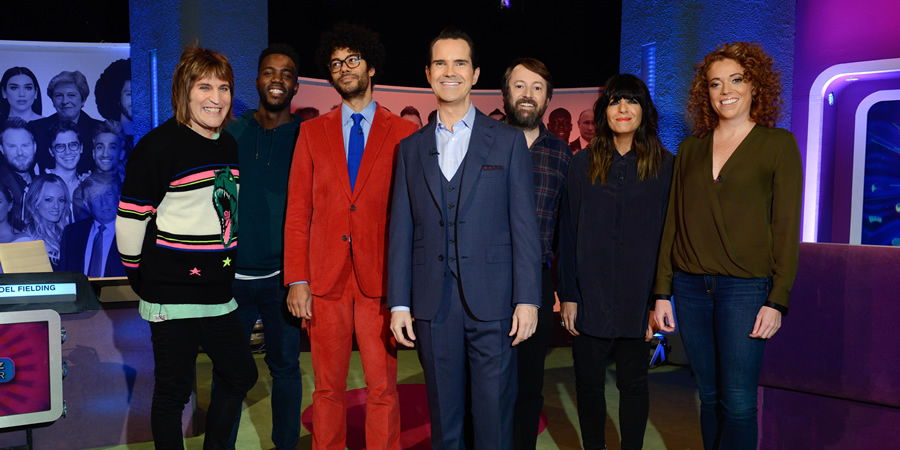 For the 14th year in a row, Jimmy Carr puts a panel of top celebrity teams to test as he presents his big, fat and fiendishly difficult quiz. As always, Jimmy will be ably assisted by a panel of top celebrity teams and a series of superstar question setters including Mitchell Brook Primary School and Jon Snow. More details
A new edition of The Big Fat Quiz Of Everything follows on 4th January.
Ken Dodd: How Tickled We Were
BBC Two, Boxing Day, 9pm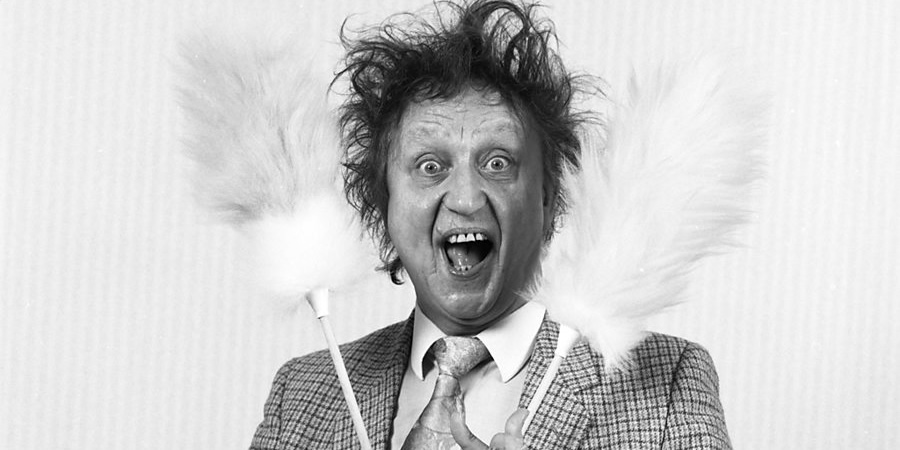 This documentary explores the life and work of the man described by many as "the last great music hall entertainer". Poignant and uplifting, the programme features interviews with the people who knew Sir Ken best - friends and family in Liverpool and beyond. The programme also includes an interview with Sir Ken's wife, Lady Anne Dodd. More details
Billy Connolly: Made In Scotland
BBC Two, 28th December, 9pm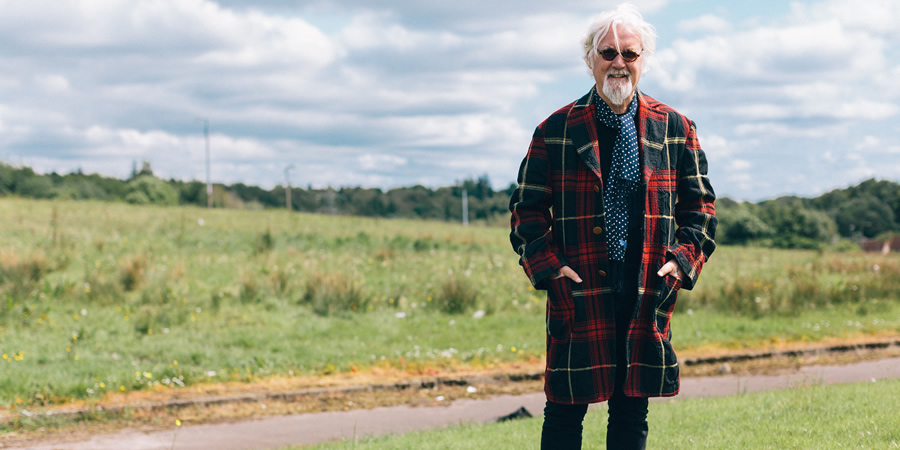 A documentary weaved around private interviews with Billy Connolly, along with contributions from some of the greatest names in comedy and popular culture offering testimony on Billy his lasting influence. These two one-hour specials for the BBC find Billy returning to Scotland to reveal the influences and motivations that turned him from being 'Billy Connolly the welder' into 'Billy Connolly The Big Yin'. More details
Gary Goes To Hollywood
BBC One Scotland, New Year's Eve, 10pm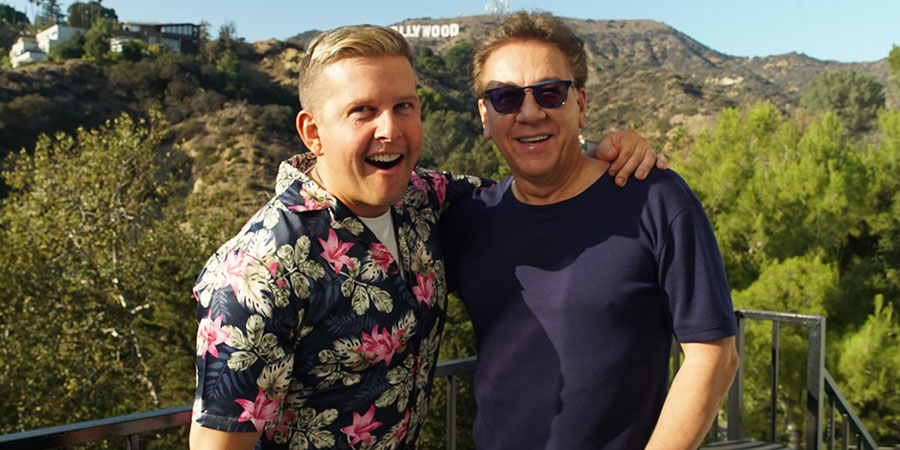 Greg McHugh reprises his much-loved role of Gary McLintoch, 'Tank Commander'. This new mockumentary sees Gary - now a fully-fledged filmmaker - head to the bright lights and glamour of Tinseltown to talk to some of the Scots who've made it their home about just why they've moved away and what they miss. Karen Gillan and Ross King are the principal celeb stars. More details
Also in the schedules...
Also look out for specials from the following shows (click on their titles to find out more about the episodes and their air dates):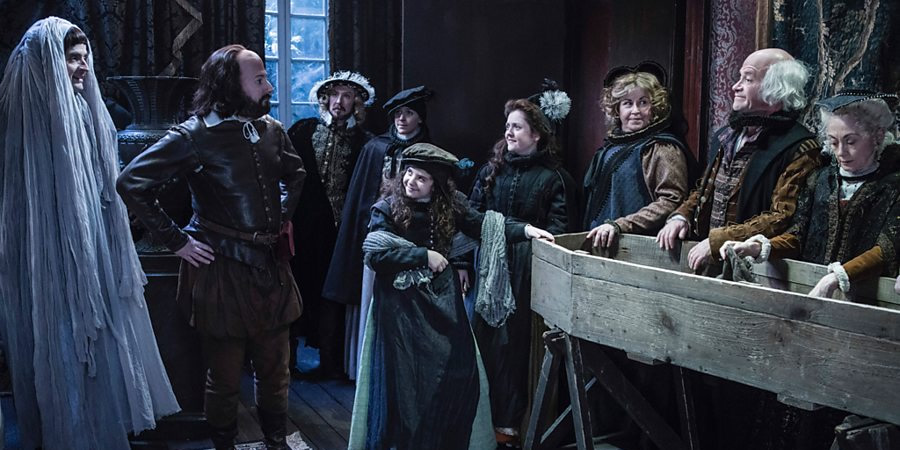 New festive episodes of the BBC sitcom Upstart Crow (with guest star Kenneth Branagh), Still Open All Hours, Two Doors Down and Bad Move. Plus the BBC sitcom pilot King Gary.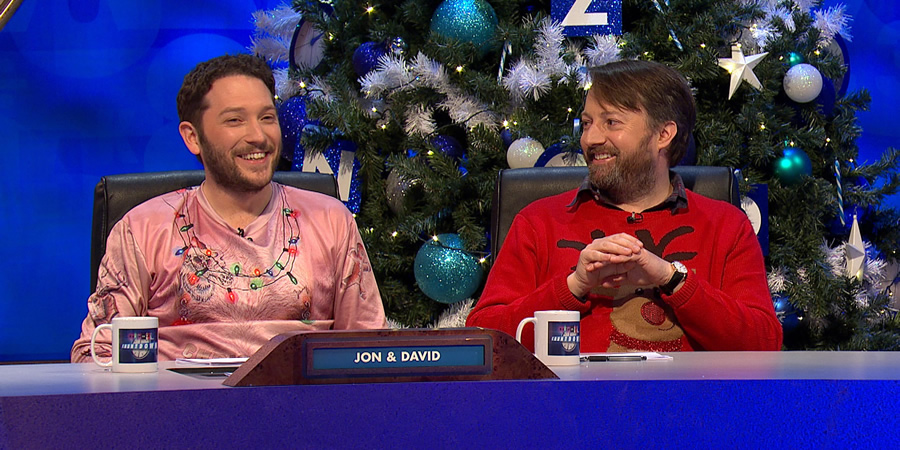 There'll be Xmas themed versions of the panel shows 8 Out Of 10 Cats Does Countdown, QI, Celebrity Juice; Insert Name Here, Would I Lie To You? (guests include Noddy Holder) and A League of Their Own.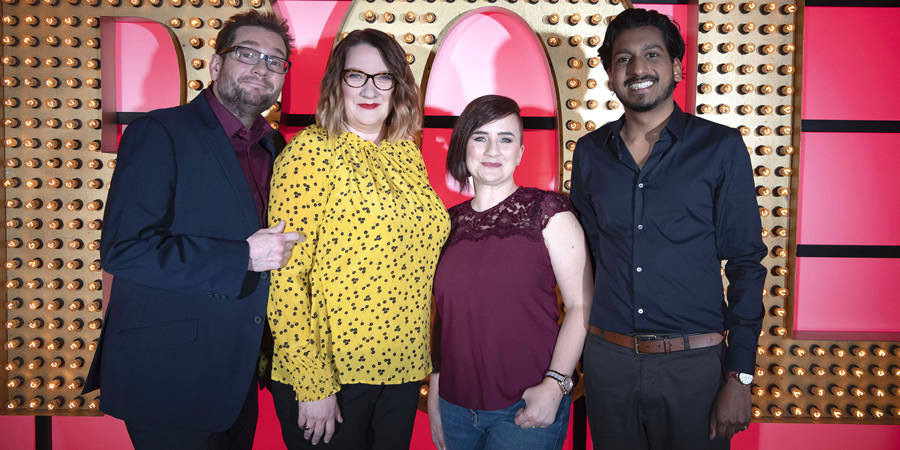 Frankie Boyle's New World Order, The Big Narstie Show, Michael McIntyre's Big Show, The Last Leg and Live At The Apollo (guest hosted by Sarah Millican) are set to deliver festive versions too.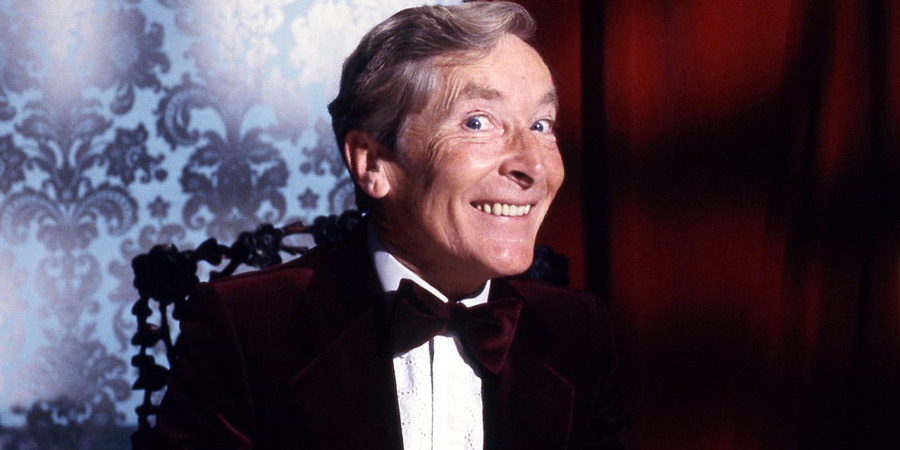 Sky Arts will be profiling Peter Sellers, Kenneth Williams and Tony Hancock in a series of documentaries; whilst Channel 5 has Tommy Cooper: In His Own Words.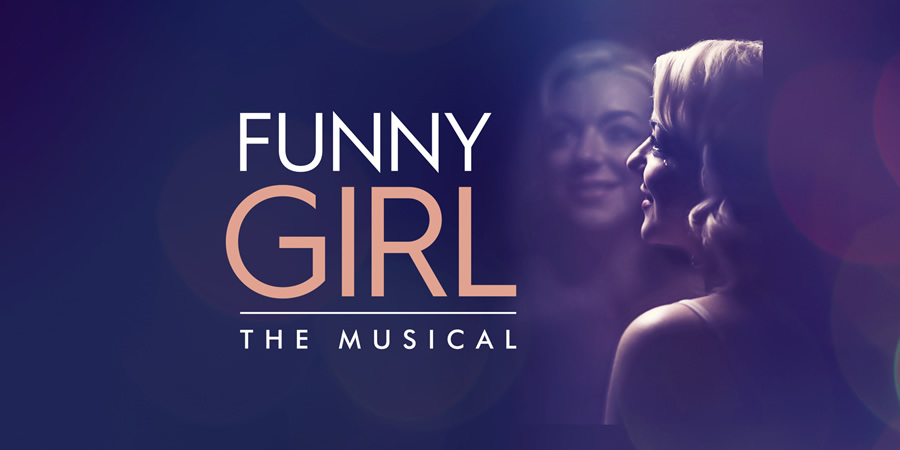 Sky Arts is also set to broadcast a performance of Funny Girl: The Musical (pictured) starring Sheridan Smith.
Micky Flanagan Thinking Aloud returns to Sky One for a festive special, and the channel will also broadcast his stand-up show An Another Fing.
The Keith & Paddy Picture Show returns this December too, for an episode focusing on Gremlins.
Plus A Year In The Life Of A Year, the show from Rhys Thomas moves to BBC Two to present re-edited film and television footage from 2018 to create a spoof look back at the year.