Have you ever stopped to think about Polly's country of birth?
For those that have, it seems there's a fairly even split amongst people who think of her as American - as is actor/writer Connie Booth - and those who thought of her as English. For many others, no real thought to the question will ever have been given.
The case is of course made abundantly clear for the other starring characters in the sitcom classic: Basil and his gossipy wife Sybil are British; as are the majority of the guests; and hapless waiter Manuel (played by the German-born Andrew Sachs) is Spanish. Indeed, we are often reminded "he's from Barcelona". Manuel also helpfully clarifies Basil's exact origins: "He is from Swanage," he reveals at one point.
But then there's Polly, the hotel's waitress-cum-receptionist-cum-general dogsbody. What nationality is she exactly? Is her character supposed to be British? Or is she, like Connie Booth herself, American? A 2007 book about the series by noted cultural historian Graham McCann acknowledges this lack of clarity, but comes down clearly on the side of her being a US native.
After discovering a split in fans' opinions by chance, Chris Hallam set out to investigate. He explains: "Perhaps like me, you always assumed Polly was American. To me she sounds American, speaking in a watered-down US accent, as the Indiana-born Booth then spoke naturally herself. At one point, an ungrateful Basil mocks her, adopting what seems a clearly OTT American accent to do so.
"Her surname, Sherman, even sounds American. This is not conclusive of course: there are plenty of British Shermans around. But if I were creating a character in a sitcom I would be far more likely to give the name 'Sherman' to an American character than a British one."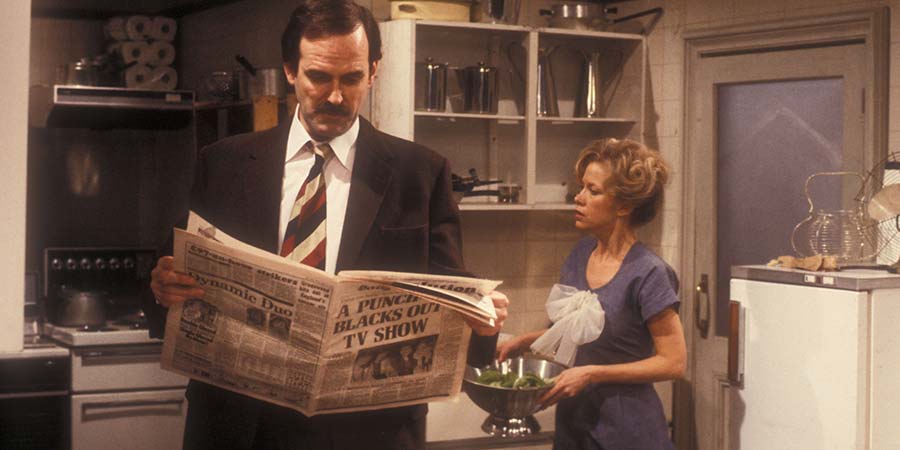 There are no direct references in the series to Polly being American. Few characters are more obsessed by nationality than Basil, and he demonstrates a clear anti-American prejudice in Waldorf Salad. As with The Germans in Series 1, Fawlty seems unable to overlook his (admittedly rude) guests' nationality. It's true that Polly acts as his rock - his only reliable, supportive colleague, regularly trying to cover up for his mistakes - and so he has far less reason to be antagonistic towards her, but it does seem odd he would make no reference to her nationality, were she anything other than British.
Indeed, in The Wedding Party, we are introduced to a number of Polly's old school friends - and they are definitely English characters. But quite at what age she was at school with them and for how long, is never revealed.
So which case is true? From which country does Polly hail, and where did she spend her youth?
Hallam explains: "Connie Booth has forged a successful career as a psychotherapist and is notoriously cagey about discussing Fawlty Towers. It was clear I would have to contact John Cleese himself. He may be nearing eighty but he retains a fully functioning website with a contact email address. I posed the question.
"An initial response seemed to have misunderstood the question, referring to Connie the person rather than Polly the character. I clarified my query and tried again, soon receiving a reply, apparently resulting from a talk with the great man himself.
"I had my answer, at last. And reader: it turns out I've been wrong all these years. The response was simply: 'John says the role of Polly is an English character'."
Published: Wednesday 15th May 2019