Samson Kayo is currently starring in BBC sketch show Famalam. We caught up with him just after he'd been nominated for a BAFTA for his acting in the pilot.
Hi Samson. Massive congratulations for the BAFTA nomination. How did you get the news?
Thanks so much. It's so crazy, all my friends and family are acting like I've just been knighted! It was about 8am and I was still hanging from the screening the night before, when Mandeep Dhillon sent me the nomination video, before Akemnji (Famalam's producer) confirmed it. After that, I just ran down my street!
What does it feel like?
It still hasn't sunk in actually. My mum thought something bad had happened when she heard me screaming. That quickly turned to her dancing and praising God, followed by her asking "What is a BAFTA?" Bless her.
When, in life, did you decide you wanted to be an actor?
Well, I actually stumbled upon acting to be honest.
Short version... I was in Tottenham Court Road Argos trying to buy an iron and I saw across the street a long queue of people, I went over to one girl and asked her what was going on and she told me they were having open auditions for a Channel 4 show (Youngers), so I jumped in the queue and met casting directors Shaheen Baig and Aisha Walters... and the rest is history.
I've always loved comedy growing up - I watched all the greats like Robin Williams, Jocelyn Jee Esien and Jamie Foxx and I just knew I wanted to do that. Of course, being an actor, I'm open to all genres but comedy seems to be where it's at for me right now.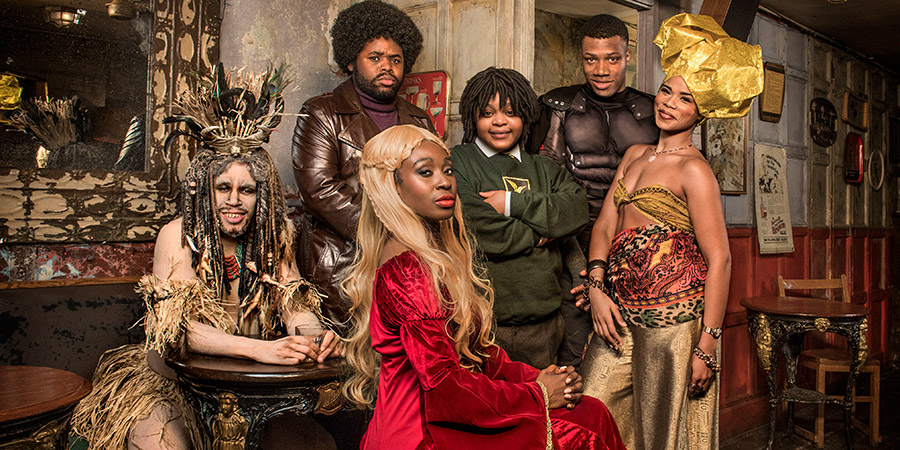 Following on from the pilot, a full series of Famalam is now here to enjoy. For those that haven't seen it, could you explain what the show is?
Famalam is a new sketch show with some crazy characters that I hope people will grow to love.
What sort of sketches can we expect from the new episodes?
We've have some recurring characters from the pilot like Prince Alyusi, and Nollywood, as well as some new introductions like Fan TV, and Eclipse the superhero.
The show features 'BAME talent', and some of the sketches in the show - like the Midsomer Murders ones - highlight how TV can be rather 'white' at times. Do you have any thoughts on this topic?
Well, as you said, it can be very white and I think it's good that a light is being shed on it. There are so many amazing stories from BAME creatives and it's about time we were included. I think there's a long way to go but shows like Famalam, Timewasters and Chewing Gum are the start of something good happening (even though those are the only three - haha!)
You also star in Timewasters, which got a BAFTA nod too. Signs are therefore hopefully good for ITV giving the go ahead for a second series?
I know, it's fantastic. Daniel Lawrence Taylor is a genius, and is finally getting rewarded for his talents. About Series 2, ask Daniel...
What's your favourite sketch from the new Famalam episodes?
I really like Leftovers in Episode 1 (below), and Scribble P. There are so many, we'll be here all day!
What's next for you Samson?
Right now I'm going to tackle a Nandos with Peri-Tamer sauce. Work wise, I am currently filming for a small part in a cool film directed by the dope Stephen Gaghan, which is very exciting.
---
New episodes of Famalam go up on BBC iPlayer on Mondays; or watch the show on BBC Two on Sundays at 10pm (10:30pm in Wales).