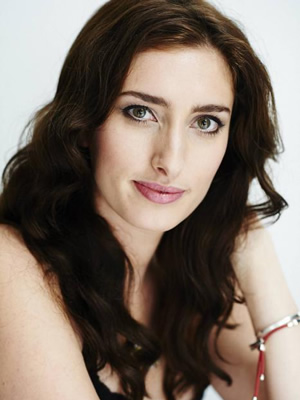 Jessica Knappett is the writer and star of Drifters. BCG catches up with her at the half way point of the series...
Hi Jessica. For those that haven't seen it yet, could we start off by asking you to describe in your own words what Drifters is about?
It's a sitcom about three best mates: Meg, Bunny and Laura. Bunny is Meg's posh fame-seeking cousin... they went to uni then went off to India to try and find themselves, but they didn't. Now they're trying to find themselves back home in Leeds. Their mate Laura is waiting for her break, she wants "to win the lottery or have a bad accident and get a compensation payout". They're mid-twenties with no plan and loads of debt, they're their parents' worst nightmare, their work uniforms are mobile phone costumes or pieces of fruit and the only true thing on their CV is the name at the top.
The show has autobiographical elements... how much overlap is there?
Tragically quite a lot of it is loosely based on real life. There's one episode that is almost entirely true, based on real events but rearranged into a different order - I'm not going to say which episode! After it all happened to me in real life, I told my friend the story and she said I couldn't put it in Drifters because 'nobody would believe it'.
It's fun to take pieces of my real life and adapt them; it feels like re-writing history sometimes, which is quite therapeutic. It's usually the things that feel the most tragic and humiliating at the time that end up being the funniest. Being sick in a bin, for example. The vast majority of it is completely imagined though of course and that's the joy of it too, I loved imagining what Bunny would get up to if she was left alone in the house all day, for example.
The three central characters have great chemistry. How long have you known Lauren O'Rourke and Lydia Rose Bewley?
Lauren and I knew each other from the live circuit and a producer friend of ours had introduced us, so when she arrived on the set of The Inbetweeners Movie and we shot a scene together in the airport we already knew each other, which made it less daunting. Then she invited me to her live show and I just thought it was absolutely amazing. She played about twenty different characters and it was hilarious and moving and I thought she was just incredible and I was dying to work with her. I was already creating Drifters and I knew she'd be perfect for Laura. She still had to audition though.
With Lydia it was slightly different, we met on The Inbetweeners Movie and became really close while out in Mallorca. I came home and started creating Drifters but I didn't have Lydia in mind at all. When Damon [Beesley] suggested she auditioned I can remember thinking it would be a terrible idea to have us both in the show and it would just look like a spin off, but she was just so funny when she auditioned, there was no question really. Me, Lyds and Lauren hang out all the time now, it's a lovely feeling creating something together, it sort of connects you in a very lasting way I think. Does that sound wanky?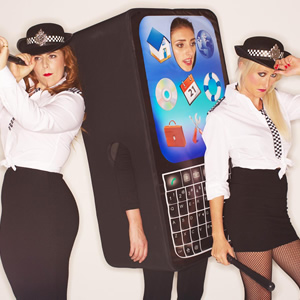 We're talking as the series is at the mid-way point. Has anyone approached you whilst you're in public having recognised you from the show?
The only time I get recognised is when I'm with Lydia. Nobody misses the ginge. People don't really say anything, they just want a photo, they don't actually want to talk to you. It's very odd.
I once got spotted outside a bar by a lad who asked me if I was in The Inbetweeners Movie and I said 'yes' and I was feeling all puffed up, pretending to be shy but secretly loving it. He called his mate over and told him I was "Neil's bird from The Inbetweeners" to which his mate replied "don't be tight, Neil's bird's well minging and much younger than HER". I had to say "no, it really is me" and then walk off.
Wow, ha ha. Launching a sitcom is notoriously difficult - no one gets an easy ride. Have you read any of the reviews or looked on Twitter to see what the reaction has been like so far, or are you trying to avoid all that?
I was determined to stay away from Twitter but then everyone started being really nice to me so I changed my mind and now I read everything. That's not fickle, is it?
Not everyone is complimentary obviously, but it seems like if people like it they really love it and they keep telling me they watch it over and over again.
My favourite abusive tweet on the other hand was somebody saying '#Drifters more like #Munters'. Unable to enjoy the show because we were distractingly unattractive - so much so that he had to take to the INTERNET to express himself! Amazing.
I honestly find it all very funny - comedy's so subjective anyway, it's taste, it's opinion. Do you like Drifters? You might as well be asking do you like red sofas or spare ribs or saxophones? Some people do, some people don't.
Well said. Most of the reviews have mentioned the phrase 'female Inbetweeners' - do you find that label frustrating, as the show isn't that is it?
What, you mean because it's got three people from The Inbetweeners Movie and it's exec produced by the writers of The Inbetweeners and it's made by the same production company as The Inbetweeners?! People are taking a leap of faith! Obviously I can't blame people for drawing parallels but it's a totally new show and that's a lazy label.
What was it like working with Iain Morris and Damon Beesley?
They are teenagers trapped in grown mens' bodies. I loved it. They're the best teachers I've ever had AND they always pay for lunch.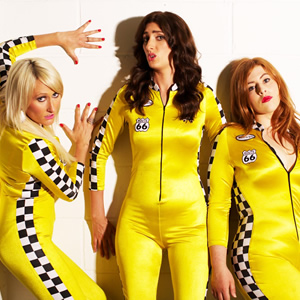 Until now you've been primarily known as a performer rather than a writer - was creating a sitcom something you've always aimed to do, or is it an opportunity that's just turned up?
I always wanted to write for TV. I was in a sketch group so my writing and acting career began at the same time and has always progressed simultaneously, but acting jobs came up more frequently and helped pay the bills. When I left sketch it was a chance for me to start a new project, which is when Drifters happened. I think writing and performing sketches gave me a good grounding in comedy writing and I think I've used what I learned on the live circuit in Drifters.
In the process of making the show what have you learnt? Would you do anything differently if given a second series?
Not to be in every single scene. I think next time I'll write myself out a bit more so I can take more tea breaks and hang out at the monitors eating biscuits. Also, the locations were so unglamorous, sweaty nightclubs and skanky street corners - I'm going to have to rectify this next series if we get one. Did somebody say... Seychelles?
What is next for you Jessica?
I really need to clean my flat, learn to play bar chords and then after that the plan is to get a boyfriend or cat.
Drifters is on E4 on Thursdays at 9:30pm.