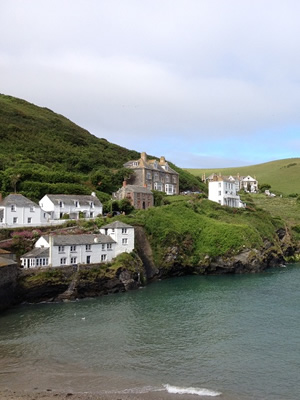 Doc Martin fans will have recently seen the sixth series of the hit comedy drama conclude on ITV with scenes involving the show's hero rushing to the airport. For some fans, just seeing the programme on the telly isn't enough though - when Doc Martin is being filmed, a sizeable crowd forms on location. Philip Bates headed to Cornwall in June 2013, and this is what he experienced.
"Bang!" The Lexus collides with a fruit stall, swerving away from a red van. The air bags explode into life. Part of the stall collapses and a wave of oranges roll down the steep hill - past the school and into the idyllic village of Portwenn.
It's all gone according to plan.
The Cornish fishing village and tourist hot-spot, Port Isaac, has been invaded by the cast and crew of ITV's award-winning comedy-drama, Doc Martin - and a legion of fans from around the world. The crowd has gathered on Fore Street and a wonderful mixture of accents mutter excitedly as Dr. Martin Ellingham himself, aka actor Martin Clunes, storms out of his car, stumbles over the wrecked stall and playfully air-punches the other driver.
"Ooh, he's hitting him!" one woman exclaims. Her husband reassures her: "I think they're just messing around."
Thankfully, this is just a rehearsal. When Martin swerved his car, a shocked gasp went up from the crowd. "Can we not gasp so loudly when the cameras are actually rolling please?" a runner begs, laughing.
They have to let traffic through; a few cars, vans and lorries, then some walkers. A lorry that's been instructed to circle around the block for the past 20 minutes explains that he's actually destined for filming. Clunes sits down on a low wall while the crew set the scene up again. Some walkers pass between the two crowds with an array of dogs - Clunes can't help but fuss over them as he chats to their owners. His genuine love for the animals shines through.
It's been a long day for him already: he's been filming outside the Doc's house since 7am. It's now mid-afternoon and he's still got to shoot this one scene from three different angles, run down a very steep hill numerous times then relocate to the harbour to act opposite John Marquez, who plays the bumbling PC Penhale. He stopped for a coffee at the local café, May Contain Nuts, and was swamped by fans looking for a chat and a photo.
Nonetheless, you never see him without a big grin on his face.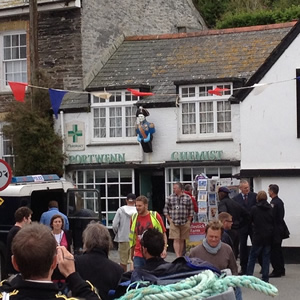 A gaggle of girls walk past and giggle as the Doc slams his car door, stumbles over the wrecked fruit stall and storms over. The other driver is astounded when Martin demands use of his former-Royal Mail van. With the air bag deployed, he can't use the Lexus - and it's an emergency.
The crash is a surprisingly complex scene, so quite a while passes between takes.
The runners use this time to organise the amassing crowds and address complaints that people can't freely move about this part of the village. Sightseers filter through (some genuinely interested in filming regardless; others annoyed by the disruption to their day). The majority are here just to see Clunes & Co working on their favourite show.
The production crew have got it down to a fine art now: Doc Martin has been filmed in Port Isaac and the surrounding area since its debut in 2004. "They're saying this will be the last one," one runner says, "but I don't think it will be. It's still as popular as ever."
Fans never seem to tire of the grumpy GP who suffers from the fear of blood, haemophobia: the first episode was watched by 9.93 million people, and its audience has stayed steadily around 8 million ever since - huge numbers in this multi-channel age. The international fanbase is even bigger.
It's an incredible achievement, but then, Doc Martin is an incredible show.
Perhaps its success is due to its stunning vistas: an American watching filming from the sidelines says she has an Australian friend who travelled to the UK last year just to see Port Isaac. The locals all have different opinions on it, of course, but none deny the amount of valuable extra tourism it has brought in. Meander around the shops and you'll see an array of Doc Martin postcards, bags, magnets, t-shirts, mugs... and then some. Rental properties are well-stocked with DVDs, and a walking tour sets off from the Fish Cellars every Friday.
The harbour-side confectioners' (which doubles as Portwenn Chemist) is extremely proud of its association with the show, selling magazine article prints for charity and a guide to filming locations. Signed photos of the cast are framed on the wall.
"Port Isaac has changed dramatically since we first started filming in the village," Martin says. "On a fine day there are thousands of people who come to watch us. The number of people who come to see us now is phenomenal, particularly people from America."
I visit one of the local shops and ask the owner how she feels about missing out on filming because she's stuck behind the counter. She just shrugs her shoulders and confesses that it's got a bit boring now: yes, it brings in tourism, but it effectively shuts the village down for a couple of months every two years. Thankfully, all the interior scenes are shot in studios just over the grassy knoll behind Fern Cottage (aka the Doc's surgery).
You can see the bad as well as the good, however. traffic delays are an obvious side-effect, but the owners of Fern Cottage have had to install metal posts and a makeshift barrier to stop tourists having their photos taken on the Doctor's doorstep. These are taken down when filming commences, but it looks as if the house, overlooking the peaceful village, is empty whilst all the commotion continues.
It may be an emergency, but the Doc's been lording it over them all for too long. This is where the van driver draws the line. "Oh, I haven't got time for this!" Martin yells and rushes off down the hill.
A chorus rises up from the runners: "Rolling." The crowd falls silent as the Lexus ploughs into the fruit stall once more. The oranges roll down - caught by one member of the production team simply holding a plank of wood across the road.
Now it's Martin's turn to go down the hill and he sets off on his run.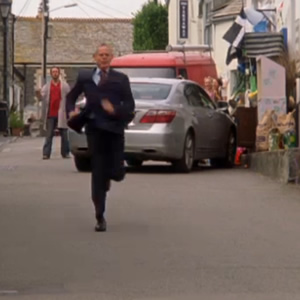 "Cut." And everyone relaxes. A few vehicles are let through again, then the crowd sets off on a mass pilgrimage up the hill as the cameras change direction.
They redress the scene, this time with the cameras facing down the slope. It looks so bare, now that the crowds have been moved out of the way. All this work for a scene that appears on screen for less than a minute! But seeing the final, seamless episode, it's worth it.
Despite running slightly behind time, the take has to be re-done, namely due to Clunes tripping over the oranges and bursting into laughter. Nobody envies him, running down the hill then rushing back up to do it all again and again.
He doesn't do things by half and runs the full length of the hill, just in case.
They have to do it once more, with the camera looking up Fore Street this time, so it's time for the crew and onlookers to relocate again. We're pushed so far down, we can hardly hear any dialogue. But soon, Martin's heading towards us - at a fair speed! He grimaces at us all, cheekily; he's built up so much momentum, he can't stop and someone has to grab him. "Awww!" Martin says, laughing and embracing him in a hug.
Far from his onscreen persona, it's obvious that Martin has true affection for the show and its fans. And that's certainly one reason for its continuing success.
There's no news yet on a seventh series, so if you're planning to visit Port Isaac you won't currently see the show being filmed. BCG will publish the news if and when another series is announced.
See also: Full day filming report
Published: Friday 25th October 2013