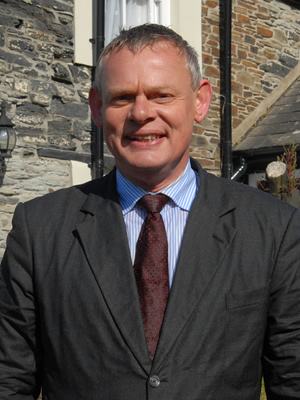 Doc Martin is clearly one of the UK's favourite comedy dramas. The show, which stars Martin Clunes as grumpy Dr Martin Ellingham (pictured), regularly clocks up audiences of between 8 and 10 million viewers. It's popular all around the world too, as demonstrated by the fact that we at BCG regularly get emails from fans abroad asking if they can visit the set to see the show being filmed (the short answer is not really, but you can visit the village generally - it's mainly filmed in Port Isaac, which doubles as Portwenn).
The show's success has been such that fans will soon be able to enjoy the adventures of Dr Ellingham in an entirely different format altogether - publishers Ebury has bought the rights to two novelisations based on the ITV series.
The first, Doc Martin: Practice Makes Perfect, is due out at the end of August (pre-order) - just before the new series is expected to start on ITV. The novel will focus on the start of the Doc's life in Cornwall, as the high flying (but now phobic of blood) surgeon arrives in the picture-postcard fishing village of Portwenn and immediately starts infuriating the locals, none more so than school teacher Louisa Glasson.
Ebury will follow up the title in November with A Doc Martin Christmas (pre-order). As the title suggests, this second novelisation will focus on the doctor's actions during the festive season. Readers will find out more of the turbulent relationship between Louisa Glasson and Martin, and his on-going attempts to tip-toe through the minefield of village politics.
Both books have been written by award-winning author Sam North and, if they sell well, no doubt more will follow.
Speaking about the deal, Philippa Braithewaite from production company Buffalo Pictures says: "We are thrilled that Ebury are releasing a Doc Martin book to coincide with the new series airing this year and we couldn't ask for a better author than Sam North to capture the essence of our series. It is exciting for us to have a new medium in which to explore the stories and their characters in more depth than we are able to do within the confines of television."
Gillian Green from Ebury adds: "We're delighted to be working with Buffalo Pictures on the first Doc Martin novelisations. Sam North is a gifted writer who has truly captured the spirit of this hugely popular and iconic series - which is warm and funny with an edge to the humour and a love story at its heart between Martin Clunes' irascible Doc Martin and local school teacher Louisa."
See also: Martin Clunes talking about his farm in The Radio Times
Published: Wednesday 10th April 2013