This feature refers to an event, offer or opportunity that has now ended.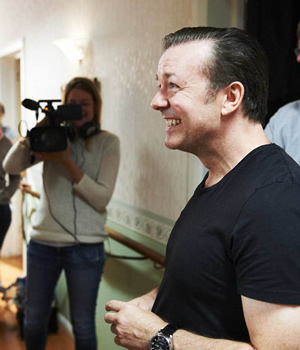 Filming on the second series of Derek has now started.
The cameras began rolling on the new episodes starring Ricky Gervais on Monday 4th November 2013.
The new run is being filmed in London, and - once finished - the series will be shown on Channel 4 in the UK, and Netflix in the USA. British viewers can expect to see Derek's new adventures at the retirement home on TV in early 2014.
The new episodes will once again star Karl Pilkington as grumpy handyman Dougie; Kerry Godliman as Hannah, the kind and caring home manager; and David Earl as seedy Kev. Plus, of course, Ricky Gervais is returning in the role of 'tender and innocent' Derek Noakes.
Ricky Gervais says: "Derek is probably my favourite thing of everything I've done, so I can't wait to start working on the new adventures for the gang."
Phil Clarke, Channel 4's Head of Comedy, adds: "I am delighted that Derek is coming back for a second run on Channel 4. It's an original comic vision, brave, funny and touching, with a star performance at its heart. It has already garnered a loyal following".
The first series of Derek is out on DVD and Blu-ray from 11th November 2013. The release features extras including the original special, a making-of documentary, a bloopers reel and a wide selection of deleted scenes. Order
Published: Monday 4th November 2013