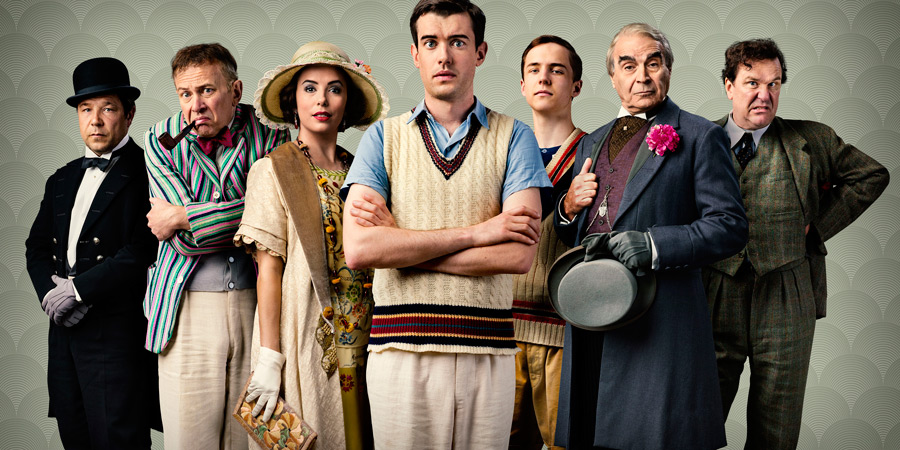 Another comedy also has this name.
Genre

Comedy Drama

Broadcast

Channel

Episodes

Starring

Jack Whitehall, Eva Longoria, David Suchet, Douglas Hodge, Stephen Graham, Vincent Franklin, Oscar Kennedy, Gemma Whelan and others

Writers

Director

Producer
The first television adaptation of Evelyn Waugh's 1928 satire, marking 50 years since the author's death.
Paul Pennyfeather is an inoffensive divinity student at Oxford University in the 1920s, who is wrongly dismissed for indecent exposure having been made the victim of a prank by The Bollinger Club.
Finding work at Llanabba, an obscure public school in Wales, he meets the Honourable Mrs Margot Beste-Chetwynde, who is the mother of one of the pupils. For Paul it is love at first sight, but little does he know the surprises that lie ahead of him when he agrees to tutor her son over the summer holidays.
Of his casting as Paul Pennyfeather, Jack Whitehall says: "I am extremely pleased to be a part of this amazing adaptation by James Wood. I've been a fan of this book since I read it as a teenager, and I just hope that I can do it justice."
Shane Allen, Controller of BBC Comedy Commissioning, says: "One of the greatest comic novels of all time, this satirical masterpiece is long overdue a television debut. Waugh deploys comedy and tragedy to point up prevailing institutional corruption and the dehumanising consequences of elitism, very timely and apposite for today. James has done a terrific job of getting to the core of it, and the writing has attracted a fantastic cast."
Production companies

Laugh track

None
Broadcast details
First broadcast

Friday 31st March 2017 on BBC One at 9pm

Last new broadcast

Friday 14th April 2017 on BBC One at 9pm

Length of episodes

1 hour
Website links