The cast of Death On The Tyne introduce their characters and talk about what they would like for Christmas.
Jason Cook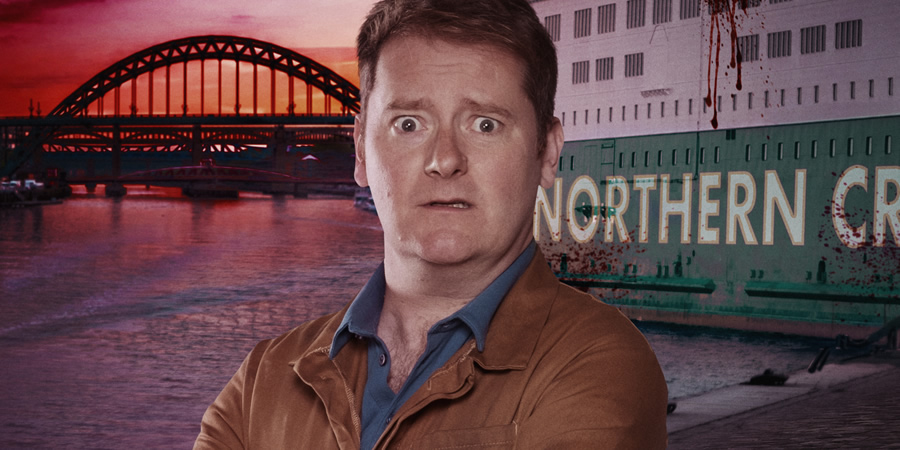 Jason Cook is the writer of Death On The Tyne, and also plays Janus. Suave and debonair, Janus's athletic frame hides behind it a gentle giant. As happy in his beloved Engine Room as anywhere else, Janus is hoping for another uneventful voyage. Sadly, that is not to be.
Murder On The Blackpool Express was the highest ever rated show on Gold. Did you think it would be such a success?
I knew it was a very good show. It was such an amazing fun family team, so I knew it was going to do great.
Were you a big whodunnit fan before Murder On The Blackpool Express?
Yes, I used to enjoy them and enjoy Agatha Christie's Marple quite a lot and Murder She Wrote when I had a hangover.
What do you want for Christmas?
I want a double commission. We were thinking actually we should do a Christmas special. We have a Christmas idea as well. It's about a guy who owns a winter wonderland park and it's failing. You can kill Santa, elves, it will be amazing.
What's the best Christmas present you've ever received?
Probably a puppy, when I was a kid.
Do you prefer writing to stand-up?
I think I do prefer writing for TV, because you get to work with so many people.
Do you watch your shows back when they're on TV?
Yes of course. We had a party at mine for the last one and my mother told me off all throughout the commercial break for killing Kevin Eldon. I watched it with my 15-year-old niece, sister who's 40 and aunt who's 70 and they all loved it.
Was it easy to write a sequel?
Yeah - they're really complicated to write. You need to make it complex, so people enjoy it so making it complex AND funny is the challenge.
Why the Tyne?
Just because I thought of the title first. Someone said Death On The Nile and it popped in my head, Death On The Tyne. I've been on the Newcastle to Amsterdam ferry so many times, I am going on it after we film this, it's something I love very dearly.
How does Death On The Tyne differ from Murder On The Blackpool Express?
Well in this one, I play Janus, the Dutch ship engineer, who is a man with little words, but I do a Dutch accent.
Do you kill yourself off?
He could be the murderer, he definitely has blood on his hands. But we are not sure if it's his or someone else's...
Do you enjoy being on set, or would you rather be in the writer's room?
They are both different. In the writer's room I don't have to wear pants so that helps. I think I enjoy being on set the most and watching it all and being able to change little bits.
Sian Gibson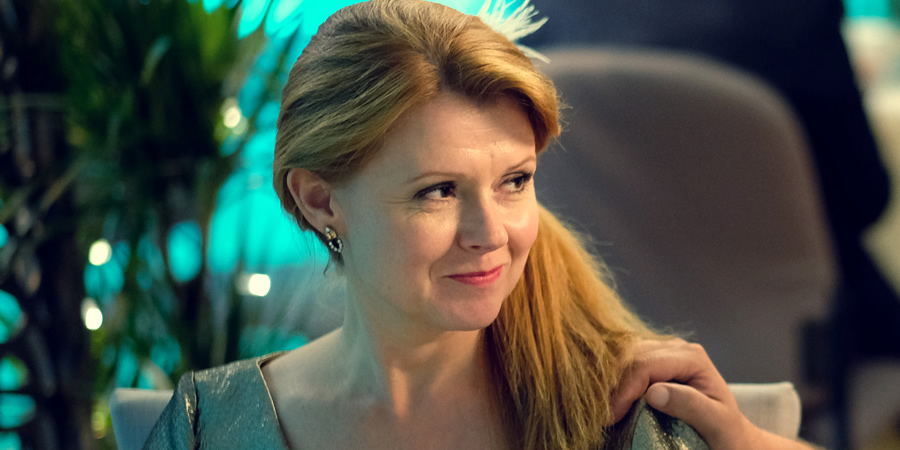 Terry and Gemma are back and once again finding themselves in the middle of a whole lot of trouble. Now madly in love, Terry sees the cruise as a romantic getaway for him and Gemma. No more the aimless loser, Terry wants to show Gemma just what spark he can be, but sometimes a leopard can't change its spots, can it? While the more practical Gemma knows they have a job to do and paying customers to keep happy. She's very happy with Terry but he does get himself carried away sometimes, which is nice, but not exactly the professional face she wants the world to see of Draper's Tours.
Gemma and Terry are still together?
Yes, a year on and they are still going strong. Gemma is still putting Terry in his place. They're like a modern-day Stan and Hilda Ogden.
Is it fair to say that Gemma is not the luckiest person in the world?
Well I'd disagree and say she's doing alright! She managed to dodge being stabbed in the loos in Blackpool and then bagged a boyfriend at the end of it. Drapers Tours is still plodding along and hopefully (no spoilers) she will come out of this trip alive!
Who is your favourite new cast member?
Oh, how could I choose. They are all absolute comedy legends and when I saw the cast list, I was so excited. We had the best time on and off set it really was great fun.
Do you like working with a big ensemble cast, or is a more intimate show like Car Share more enjoyable?
They both have their moments and I can honestly say I enjoyed working on them both equally. I've known Peter [Peter Kay] for years, so we are very comfortable together and have the same sense of humour but with this ensemble cast it felt like every day was a school trip.
Peter Kay or Johnny Vegas?
Peter Vegas or Johnny Kay. You pick.
How do you spend your Christmas?
I am the Christmas Queen - Christmas for me starts in November, with the Christmas songs, films, mince pies and mulled wine. Christmas is always a family affair.
What do you want for Christmas?
Peace and love, and Idris Elba! If that's not too greedy. If it is I'll just have Idris, I'll try and get some peace and love in the sales.
Did working with Johnny again inspire you to sign up again, or maybe it put you off?
I was hoping that they had re cast the part of Terry actually.... no of course it didn't put me off. I adore Johnny and I made a great friend in him when we worked together last year so I couldn't wait to work with him again.
How does Gemma react when people start dying again on this trip?
Gemma feels like her and Terry have got it covered this time around and Gemma is determined they will find the murderer. Last time she was in denial but this time she's like a little Angela Lansbury and starts to spot the signs straight away!
If you could have anyone on set bumped off, who would it be and why?
Oh, I hate these questions! Probably the lovely catering team - I put on half a stone filming this. I felt like I was on a real all-inclusive cruise holiday. Except I was running the excursions.
Do you miss Car Share?
I loved the whole Car Share process, from writing to filming. I do feel quite sad that it's ended as I loved it, but I see Peter and [co-writer] Paul Coleman all the time so I don't have chance to miss them.
Do you watch yourself on TV?
Not if I can help it! Cringe!
Johnny Vegas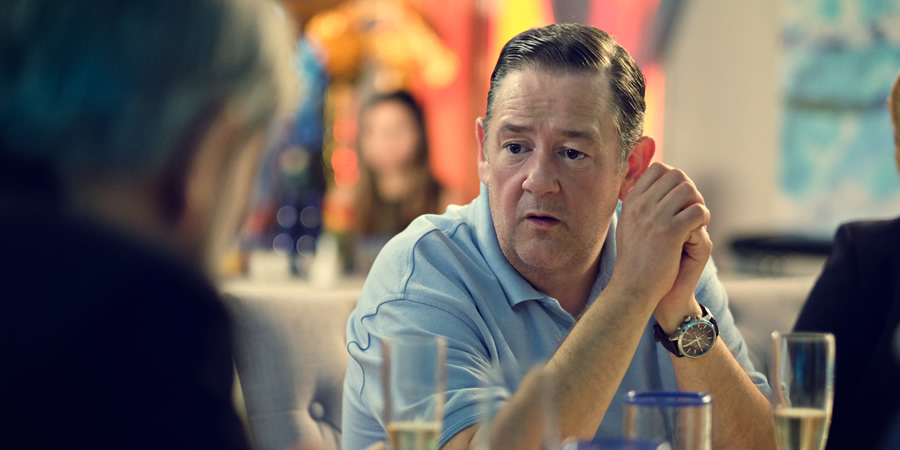 Johnny Vegas is back as Terry. His character has more heart-warming plans than just a cruise, if only he can get his timing right. And, more importantly, if neither of them is killed or end up drowning.
What's Terry up to this time
Terry is head over heels in love, hoping to propose to the woman he wants to spend the rest of this life with and in the process, hoping people will stop dying around them.
You described Murder On The Blackpool Express like the film Speed. Is this like Speed 2?
It's like Speed 2 meets Scarface.
If you had to choose one of the cast members to be the murderer, who's your money on?
I would love Sian to go really dark. She's too bright and bubbly, I would love to find out that all this was her whole master plan with how to get away with the ultimate murder. Playing me like a cheap guitar!
What would you like for Christmas?
I was online looking at this last night but it's the ultimate collector Lego Millennium Falcon. The year before last, my wife got me the Sand Crawler. It's not a kid's toy, it's a proper adult's toy. I am a big Lego fan so any Millennium Falcon Lego or a voucher towards it will do.
Sheila Reid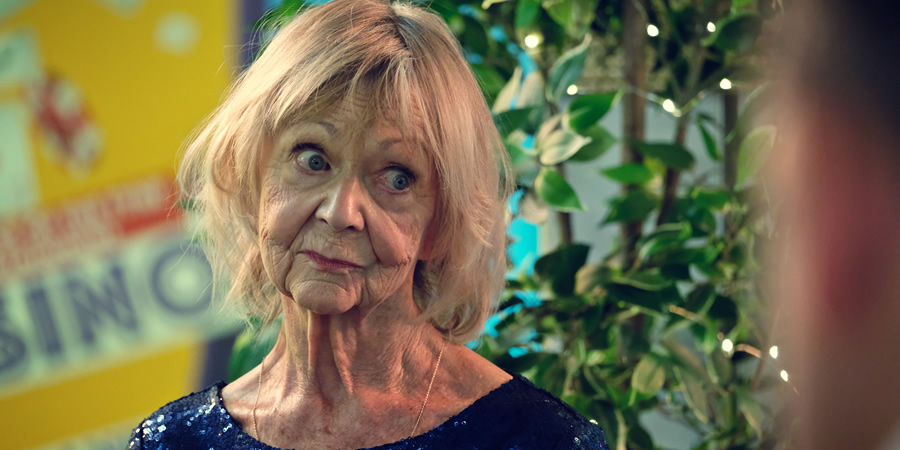 Sheila Reid is back as Mildred. A tiny ball of energy with a twinkle in her eye, Mildred has arranged this cruise, and when she feasts her eyes on the Captain, it looks like she's going to be making waves of her own on this trip.
You survived Murder On The Blackpool Express, congratulations. How does it feel to be back in the sequel?
Absolutely wonderful coming back, it was perfect
Was it nice working with Johnny and Sian again? Having also starred with him in Benidorm, are you not sick working with Johnny?
I could never be sick of working with Johnny. He is the nicest man in the world (apart from my husband). He is just wonderful. And Sian is fantastic, and they lead the company wonderfully, it's just a real joy!
What about Colleen, Sue Johnston's character?
I am not giving any secrets away, but she is slightly out of my league, much brighter, much sharper. She is a joy to be with also because she has such a wonderful wit. As a person, she's divine. Susie and Georgie were delicious to work with, I couldn't have been happier with that.
How is Death On The Tyne different from Murder On The Blackpool Express?
Well, you have a bus one time and a boat the next. But it a very similar format which keeps the audience guessing and hopefully it keeps them laughing because again it's the joy of doing these programmes.
What would you like for Christmas?
Another script by Jason Cook for next year!
Are you afraid of being bumped off this time?
My character is always optimistic. There are so many accidents that appear to happen so there is always a little seesaw of worry.
Mildred obviously lost Marge in Murder On The Blackpool Express and Peggy doesn't seem to have made it to Death On The Tyne either. Does she have a new squad to hang out with this time?
Well yes, she does! She has a very very delicious new best friend played by Georgie Glenn. She's not the brightest of companions but we are already joined at the hip.
Does Mildred still have her sharp tongue?
Well, I wouldn't say she has a sharp tongue, I would say she says things how she sees them and maybe the come out quite clear. But I don't think she is really sharp she just doesn't have a very fine filtering system.
If you could only act on stage or only act on screen, which would you choose and why?
That's an impossible choice. I really can't do it. They are both equally challenging but get a very different reaction from both.
Sue Johnston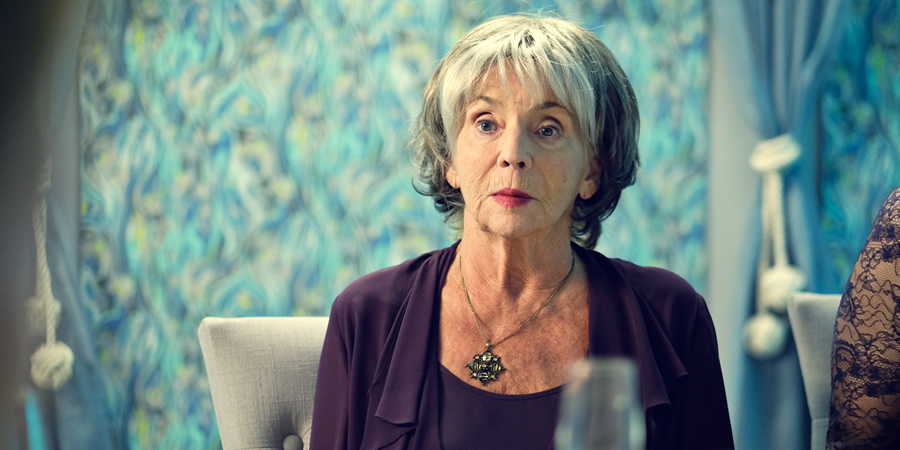 Royle Family star Sue Johnston plays Colleen. She doesn't suffer fools gladly, or, as it turns out, the ship's Captains trying to cosy up to her friends. Never one to be shy about speaking her mind, Colleen isn't afraid of rubbing people up the wrong way, truth be told, she rather likes it.
Tell us a bit about your character, Colleen.
Well, she is not very nice. She has not got many friends except the two that she is on the trip with from the home and they sort of put up with her because they are kind. She is just rather bitter and not a very nice woman and was sort of awful to play. There was some fun, but I always feel so horrible when being horrid to people all over the place.
Do you survive? Or are you the murderer?
Well, that would be telling. There are lots of people that would like to kill her but whether they do or don't, we will just have to see.
What attracted you to Death On The Tyne? Are you a fan of a whodunnit?
Well I love a whodunnit, I have read all the Agatha Christie books and I love them. I have not ever been invited to do an Agatha Christie on the telly so this murder mystery was closest I've got!
It was lovely to work on, I love the last one, Murder On The Blackpool Express, the silliness of it all made me laugh. I love Sian and Johnny, so it was a treat really and I have never worked with Sheila so, yes, all those things add up to having a fun time.
Is Death On The Tyne a fun set to work on?
It was absolutely lovely. Most sets are, because everyone on set including the crew are doing things in their life that they want to do so they are happy people. They are spending a lot of time doing what they love so that's great. We played a lot of silly games that made us all laugh to pass the time. So yeah, it was incredibly enjoyable.
Have you worked with anyone else before?
Only Johnny. I have known Johnny for years because we have a mutual friend, so I have met him quite a few times. I recorded a radio series with him straight after we finished [filming] Death On The Tyne as he has taken over from Eddie Marsden in the Radio 4 series Love In Recovery.
I also did Harry Hill with him before Death On The Tyne which was great. He obviously features a lot in my life these days!
Do you watch yourself on TV? Do you watch The Royle Family on Gold?
I have, yes. Recently I have watched it because there was nothing else on. I found I did not want to watch it after Caroline died, but the other night, which was only a few weeks ago actually, I laughed out loud while watching it... it was actually rather comforting to see her on there. I know they have just re-run a lot of it on Gold and I have had a lot of people telling me how great it has been to see it again, so it has obviously had a good audience. I am very happy and proud to be a part of it.
What's the best Christmas present you've ever had?
I can't remember, because I have had so many! I have had a lot of Christmases and a lot of presents. I suppose the ones when I was little were best and my cousins and I always got the same. We got beautiful big dolls and my grandma had made dresses for them and I remember those very clearly. There was something rather nice about that so that's one of my favourites that I remember.
Georgie Glen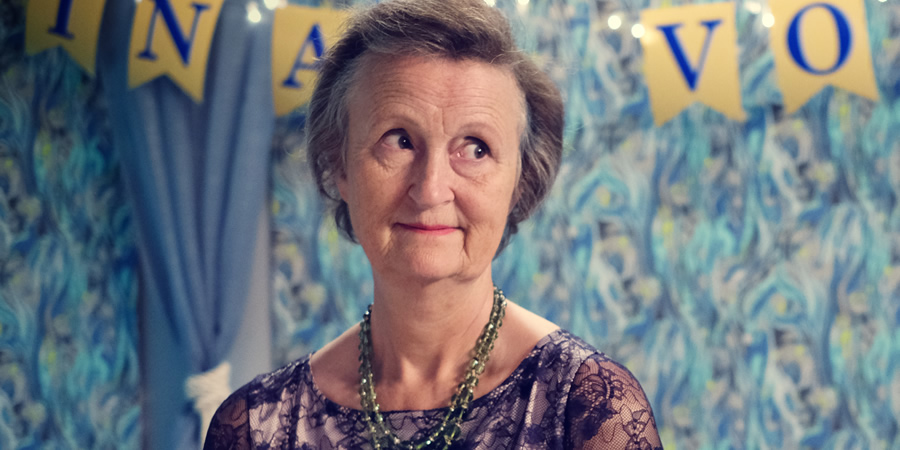 Georgie Glen portrays Hilda, Mildred's new BFF. Sadly, for Hilda, her memory isn't what it once was, but that's not going to stop her finding joy in just about everything she sees.
Tell us a bit about your character, Hilda.
On the first day of filming, I met the writer Jason Cook, and he said simply 'Hilda is like a child'. It was a wonderful note because it gave me a key to her character and the freedom to play! She is wide eyed, innocent and not always quite 'up to speed!'
Is she the killer?
She is a gentle, kind soul. The sort of person who rescues bees and wasps in paper cups to release them outside. The only way she could kill would be with kindness...
What attracted you to Death On The Tyne?
I was immediately attracted to Death On The Tyne, no hesitation! Great cast, great script and they offered me money! I had seen Murder On The Blackpool Express and loved it!
There's an amazing cast in Death On The Tyne isn't there? Have you worked with anyone before?
Yes, the older I get, the more I come across actors I've worked with before! In fact, Johnny, Sian and Sheila were virtually the only ones I hadn't worked with. It was a real pleasure to meet them and work with them so closely. I know we'll keep in touch!
Is it a fun set to be on? Presumably quieter than Waterloo Road though?
It was fun but cabin fever could set in and it was always a very exciting day when there was a set move to a different location within the boat! To be honest being trapped on a floating vessel with a murderer on the loose is quite stressful. Waterloo Road was a spa break by comparison!
What has your posse of care home ladies been like to work with?
My care home ladies, Sheila Reid and Sue Johnston, are my new best friends. They seem to think I am actually Hilda and feel they must look after me! It's wonderful! I love it and them!
Are you fan of whodunnits?
I remember devouring a row of Agatha Christie's on the bookshelf when I was in my early teens! I loved them. It's not a genre I'd automatically reach for to read now but I do like a good murder mystery on screen! I'm currently looking forward to the last two eps of Unforgotten... with our very own James Fleet - great series!
Do you watch yourself on TV? Will you be watching Death On The Tyne?
I tend not to, unless I'm looking to add something to my show reel. I used to, but more often than not, I'd feel embarrassed or disappointed. Having said that, I will be watching Death On The Tyne! There are performances I would not want to miss! Hopefully there will be a cast and crew screening with a glass of warm white wine in a paper cup. It's much more fun watching with people you've worked with.
What's the best Christmas present you've ever received?
Blimey... is that a serious question? I love Christmas as do my twin daughters...we have to have a rule that we're not allowed to play Christmas songs until Dec 1st and once that day comes, there's no stopping us!
What do you want for Christmas?
James Fleet, please.
James Fleet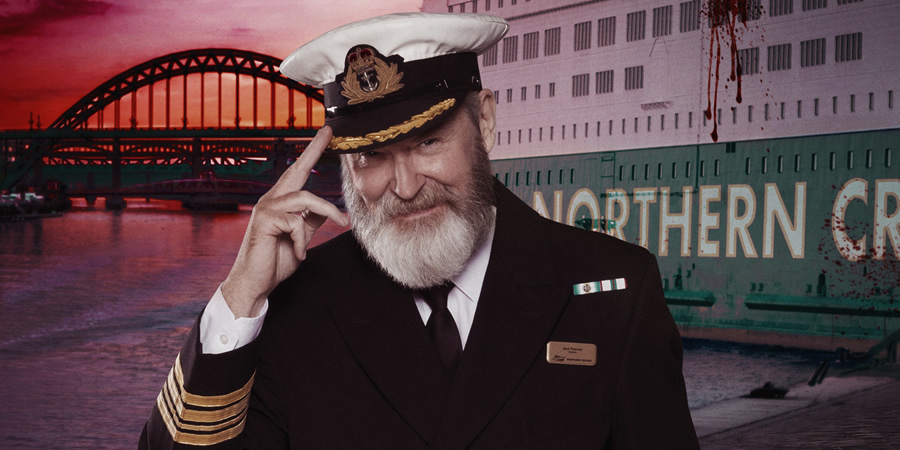 Vicar Of Dibley star James Fleet plays Captain Jack Pearson, the master of the vessel. This is to be his last cruise before retirement and he is determined to get the passengers there safely! Almost as determined as he is to finally find a Sugar Mummy to see him though his elder years. And it appears Mildred may be just what Jack is after...
Tell us about your character. Do you play a murderous pirate?
Jack's one of the suspects yes, he seems to have made no financial provision for his retirement, so he's tried to marry a rich woman and he's left it to the very last minute.
You were involved in a deadly storyline when you were in Coronation Street, and you've been in episodes of Death Comes To Pemberley and Death In Paradise as well. Murder does seem to follow you around...
I don't think that's to do with me, people watch too many programmes with death in the title.
Are you a fan of a whodunnit?
I am a fan, I think everyone is. I watch The Bridge and Endeavour and I read thriller, spy and detective books.
What do you want for Christmas?
I don't think it would be a cruise after this. I don't really want to spend time on a boat. A city break to Amsterdam will be great.
Who do you think would be most capable of murder?
Doon. She definitely has got psychopathic tendencies.
Who do you think Jack needs to look out for most?
I think he needs to look out for Alan because he might end up in prison if he goes to the police. And Colleen who might ruin his marital plans.
Felicity Montagu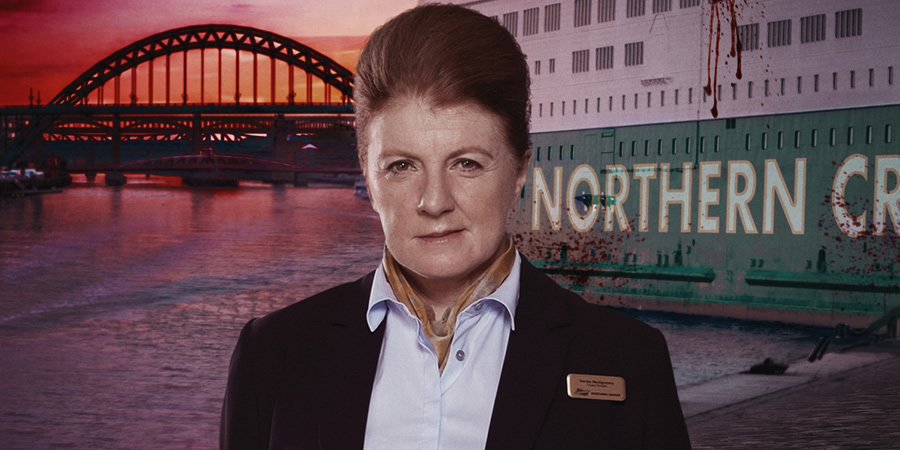 Felicity Montagu is Denise Montgomery, the cruise director. While that may be her title, Denise likes to think of herself as the Mother of the entire ship. She's been there for years and seen it all and has looked after Justin and Emily for just as long. But what would she do and how far would she go to protect them if a murderer comes knocking?
Tell us a bit about your character, Denise.
She's loyal, she's hard working, she's terribly fond of Emily and Justin, they're like a little family as they've been working together for twenty years. She's fun as well and slightly freaked out with what's happening on the boat.
What attracted you to Death On The Tyne?
It's just such a fun project. Jason Cook's script was terrific. I knew [producer] Molly Freedman very well and I know her mother who is the most fantastic producer, I have worked with her very closely. And obviously I love Johnny Vegas, Sue Johnston... it's really a terrific team.
There is some comedy royalty in this isn't there? What's it been like working with them?
I love working with James (Fleet), he is always so subtle. Sue Johnston who I have always had a crush on for years and years and I couldn't believe she was going to be in it. Having the opportunity to work in the same room as Sue Johnston is amazing. She is a phenomenal actress.
Does Denise get on with any of the other characters?
I think Denise and Emily have a fun relationship as she's travel industry and I'm travel industry, we found some lovely amusing bits together. The other actress I loved working with was Taj Atwell (Tracey), we just had a chemistry immediately, she is a terrific actress and a jewel to find.
Is Death On The Tyne a fun set to work on?
Very fun, long hours of course, long scenes as it's a whodunnit, but it's a great cast, everyone is really fantastic. It's a fun crowd, everyone gets on.
Are you a fan of whodunnits?
Yeah, definitely, I am a fan. My favourite genre is Comedy Thriller that has funny and amusing moments in it. I'd go anywhere to see a thriller.
Do you get people pitching TV show ideas to you, like Alan Partridge does to Lynn?
A lot of that goes on all the time, it has done for twenty years. We've just done a series and Steve is absolutely phenomenal in it, Steve is in charge of the ship and he runs it really well.
You've been in modern versions of Porridge and Dad's Army... something tells us you like watching a bit of Gold, is that true?
Yeah! Gold is great. It is the first time I have worked on a larger project, I've done episodes of stuff on Gold, but this is the first time I have ever done a full UKTV Original. It's a great company to work for.
What do you want for Christmas?
I would like a little mini cruise ship toy please.
Tony Gardner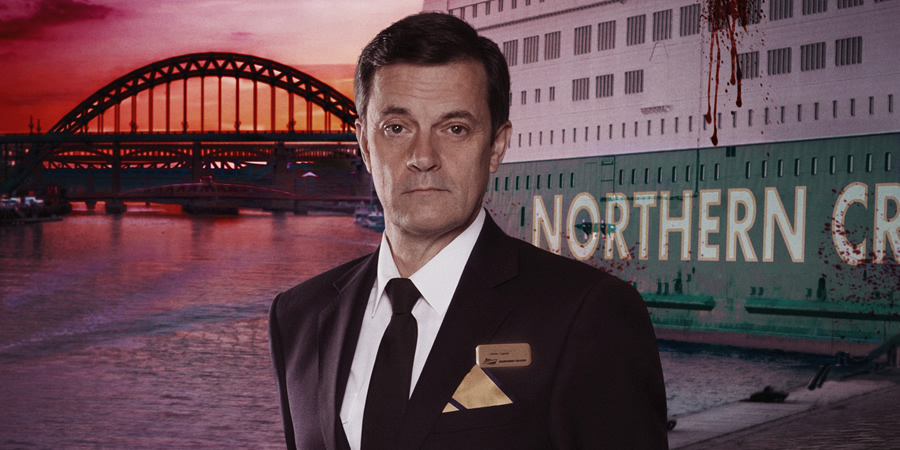 Tony Gardner is Justin Valentine. Smooth as butter and very nearly happy to help any of the passengers, Justin is serving his last day as First Mate, his much-desired promotion to Captain is happening tomorrow. And, while he may be under the thumb of his wife, one day he will be in charge, and he lusts for that day with all of his heart.
Would you agree that, based solely on looks, you are the most likely killer in Death On The Tyne?
No, how could I agree with that? That would give the game away. Killers look like all sorts of people, so you can't base anything on looks.
Tell us a little bit about Justin.
He is in a very important part of his life and he is going to become a Captain of his own ship. He loves his wife deeply so he's capable of great affection.
As a former qualified doctor and GP, did your medical expertise come in handy with all the death on set?
No but funnily enough, more than any other set there has been more consultations. There haven't been any major disasters.
You were in an episode of Death In Paradise surrounded with murder and intrigue, how does Death On The Tyne compare?
It's very similar being in Uxbridge. Sian was in Death In Paradise and so was James Fleet. We were sharing our stories. It's much much hotter there but you still need to have 10 red herrings.
Are you a fan of a whodunnit?
Yes, I am actually. Maybe it's an age thing. This one is done brilliantly.
If you looked at the cast (not the characters) who would you think done it?
Sian Gibson every day, it's not a great leap. She is so close to killing most days.
What do you want for Christmas?
World peace.
Doon Mackichan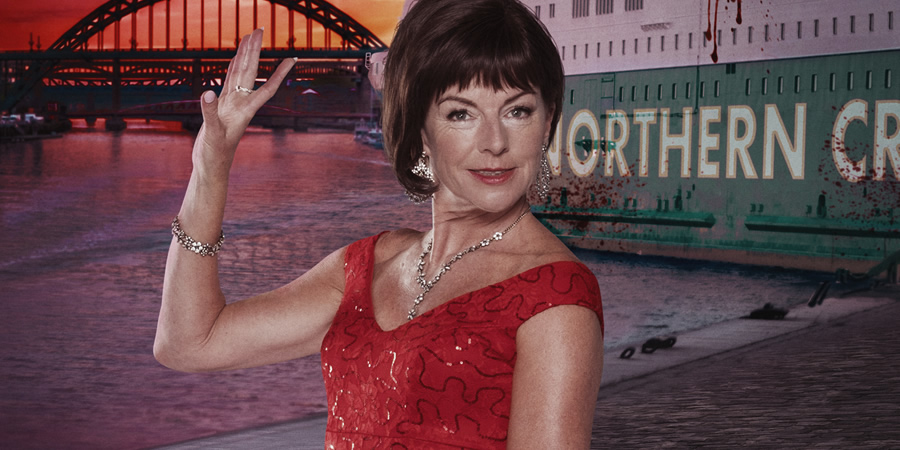 Doon Mackichan plays Emily Valentine, the ship's singer and wife to Justin. Emily is an incredible singer, by her own estimations, but the passengers may have different opinions. But Emily doesn't care, because tomorrow she is going to be a Captain's Wife, and nothing and nobody is going to stand in her way.
Tell us a bit about your character, Emily.
So Emily is married to the first officer, she is about to become a captain's wife which is incredibly important to her because she's pushy, narcissistic and self-centred.
Is she the killer? No, wait! Don't tell us! Just a hint?
She absolutely could be the killer. She's got the side to her that would definitely kick in.
Tell us about her relationship with Alan?
She's had an affair with Alan who is the pianist, he's a bit of an all-round bad boy, so she has gone for him because Justin and her have a straight relationship. He provides her with the house, the cars, the David Lloyd gym membership and they live way above their means, but he dearly loves her. They have the relationship where they snuggle up together, but she soon ties up with Alan as he has a more dangerous side to him. She wants to stop it so he's become a bit of a pain. She's totally ruthless.
What's it like filming on Death On The Tyne?
Totally amazing, such a brilliant bunch of people, we all wish we were in the Big Brother house. It's nice because three of us live out of town and we're staying in a hotel together, so we have had the joy of rosé on the terrace.
You're in good comedy company with Lynn from I'm Alan Partridge, Barbara from The Royle Family, Madge from Benidorm, Kayleigh from Car Share and yourself - what a line up of women!
It's a joy is being in makeup in the morning and there's four brilliant women sitting in the chairs and we are turning over on four or five women and I think that's totally where we should be.
You've swam the English Channel before, would you swim in the Tyne?
I certainly would. I have swum in the river by the hotel and got told off by the fisherman.
What do you want for Christmas?
My own sitcom.
Don Gilet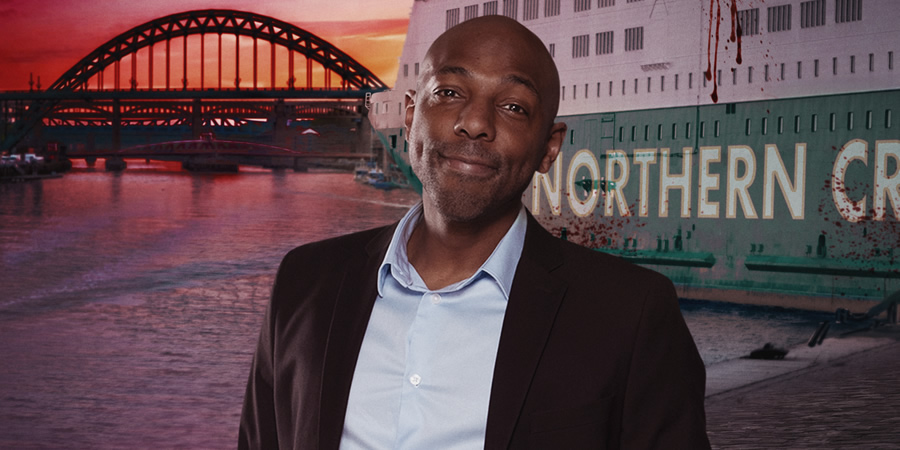 Don Gilet joins the show as a character called Alan - a mysterious stranger whose intentions are unclear as he stows away on board the ship. One thing is known though, he is up to no good. Something he doesn't mind telling anyone who listens as uncomfortable confrontations are his forte. He plays the piano, as Emily sings.
Tell us a bit about Alan...
He's mysterious. He's a little bit of a stowaway but there is more to Alan than you think.
Do you think he's a good piano player?
I don't think he's brilliant but they kind of complement each other. Her voice and his piano playing kind of complement each other. I think he is a better piano player than she is a singer, so he complements her in that way - and maybe that's how they started to make music together, if you know what I mean.
Was it a fun set? Who was the most fun to work with?
No, I don't like them. Sometimes I wish I was the murderer to take the lot of them out!
I've seen most of these people on television, and to be amongst them it's a real treat.
Are you a fan of a whodunnit?
No. When I see a parodied or comedic version of it, I prefer that. I just like when humour is injected into it because things can be a bit too serious and it's still all about clues. It's a fun way of deducing and picking up clues, it's the same route as it would be for Agatha Christie but using humour to navigate through the plot.
What do you want for Christmas?
Top billing and more of these whodunnit's next year. And a twin brother...
David Mumeni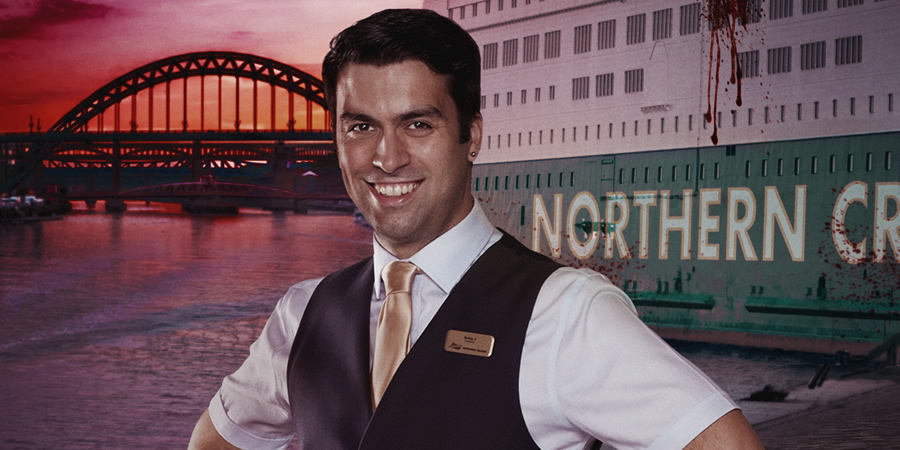 David Mumeni plays Bobby, the ships resident DJ. Where a DJ should be fun and full of laughter, Bobby is still heartbroken about his wife leaving him and manages to bring it up at any given moment. But, has the lovelorn music master's heart become blackened enough for murder? Only time will tell.
Tell us a bit about Bobby...
Bobby works on the ferry as the DJ, but no one really respects him or has time for him. I suppose his nemesis is Emily, the lounge singer and he just feels he should have a bit more time.
Do you think Bobby would make a good murderer?
In some ways, yes... as no one would expect that - people think he's a bit of an idiot. But he can't lie, his life is falling apart.
You're no stranger to comedy having appeared in series like Fresh Meat, Cuckoo, PhoneShop and Johnny English Strikes Again. How does Death On The Tyne compare?
Yeah, I'm having a good time and I think everyone is really nice. I don't want to make everyone feel really old but it's with everyone I grew up watching. They are comedy actors who I really like, it's quite nice working with people at that level.
As the cruise DJ, if you could sum up the programme with one song, what would that be?
Everybody Rock Your Body by the Backstreet Boys.
What do you want for Christmas?
I want a boat - when I was on holiday recently, I drove a rubber boat, it was really dangerous, they shouldn't have put me in charge of it really.
Taj Atwal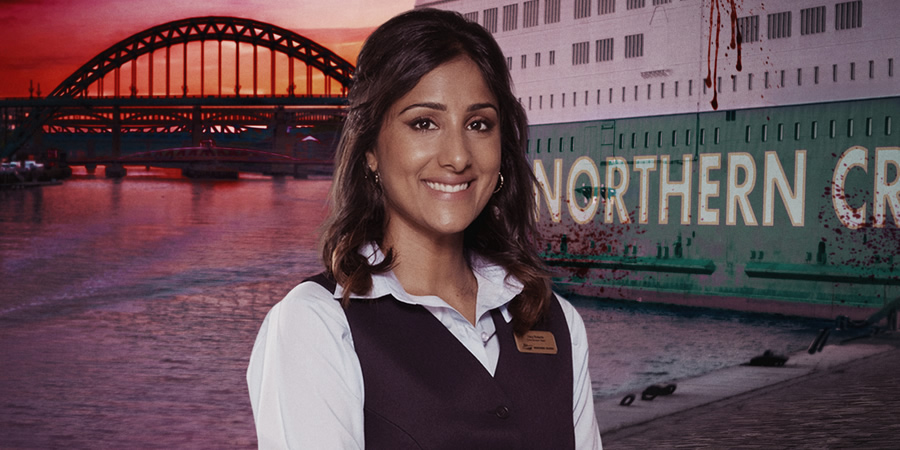 Taj Atwal is Tracy. As well as being the barmaid, Tracy is also allowed to be the ship's mascot! Which she's not sure is a promotion or not, but Tracy is always willing to help, even if she MUST keep talking while she's doing it. Doesn't have to be about anything in particular, as long as she's gabbing, she's happy.
Tell us about your role as Tracy?
Tracy is the one of the youngest crew members and part time cruise mascot, Dippy. She's very much a 'learn on the job' kind of girl. Denise is always telling her off for being easily distracted. Something my own teachers told me off for!
She isn't malicious, just a tad idle. When things start to go wrong on the cruise ship she panics and makes a tonne of mistakes landing her in very hot water.
Is it a fun set to work on?
Other than being very hot, it was great! It amazes me how the art department make random buildings look like cruise ships. They had every detail designed so beautifully. It was an exceptionally caring crew and cast.
We spotted you dressed as Dippy the Dolphin - how was that?
Very very HOT! I was very well looked after by crew and cast.
What's it like to work with the cast - it's a pretty impressive line up?
I met some of my idols (Sue Johnston) and got to work with Tony Gardner again which was lovely. It can be really nerve wracking coming onto a set with such established actors but after the first take you feel fine and everyone is in the same boat when it comes to nerves. They all made me feel super comfortable and gave me so much support and encouragement. I came away feeling elated! Also [director] Ed Bye - legend!
Are you a fan of a whodunnit?
Yes, absolutely. Who isn't?! Even I was shocked by the 'whodunnit' in Death On The Tyne!
Do you watch things on Gold?
Dad's Army, One Foot In The Grave and Last Of The Summer Wine are all shows I grew up watching when I was very young as they were my dad's favourite shows. I always try to catch a repeat for nostalgia when I can! Gimme Gimme Gimme is my all-time favourite show so that is always on when I'm home.
What's the best Christmas present you've ever received?
I'm a December baby so I usually have 'combined gifts'! I've been gifted a few holidays over the years so I'm thankful for those!
What do you want from Gold for Christmas?
More Gimme Gimme Gimme catch ups please! All episodes, all series. I don't ask for much.