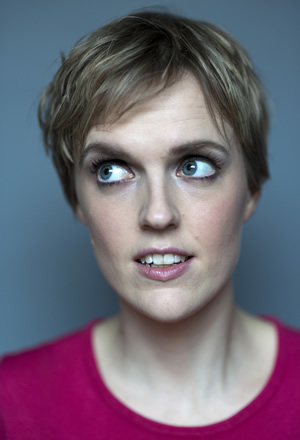 Stand-up comic Holly Walsh (pictured) has co-written new BBC Three comedy series Dead Boss with Sharon Horgan. We gave her a call to find out more about the show and discover what her plans for the rest of the year are...
Hi Holly. Dead Boss has been years in development. It must be nice to finally see it made?
Yeah. We started work on it two and a half years ago, maybe even longer actually - I can't remember. We did a pilot, but it kind of got put to one side, but then at the beginning of this year they commissioned it, so we were over the moon.
I have a lot of irons in the fire, so if one thing doesn't work out there are other things to focus energy on. But we were so happy that it got made in the end.
Dead Boss is set in a prison. We hope it's not based on personal experiences?
Ha ha, no. Sharon had the idea of somebody being stuck in prison for a crime they didn't commit and then she asked me if I wanted to work on it with her, so we sat down at her kitchen table and just sort of went through loads of different ideas and gradually came up with the characters you'll soon see on screen.
It was the most fun job I've ever had in my life because essentially we just sort of sat and tried to make each other laugh at lot.
So, as you've not been to prison, did you have to do some research?
We watched a lot of documentaries, and we also met up with a girl who had been in prison. She was very interesting to talk to and really honest about her experiences.
We sort of decided early on that we weren't going to try and make a social comment about prisons, we were more interested in making something in the tradition crime comedy. So that was more our intention, but I certainly wouldn't recommend going to prison, that would definitely be a top tip...
How did you and Sharon meet then?
We met through Jo Caulfield, the stand-up comedian. She had a Radio 4 show - five years ago maybe - called It's That Jo Caulfield Again. Sharon was an actress on it and I was writer on it. It was one of my first writing jobs actually.
Sharon was a super glamorous, and I was wearing a duffle coat... for some reason we got on like a house on fire. We kind of hung out a bit afterwards and when Sharon was doing Angelo's she said 'do you want to read it?' and asked if I had any ideas for jokes. It takes a while to build a writing relationship, so we have known each other for a long time now and have worked on a few things together.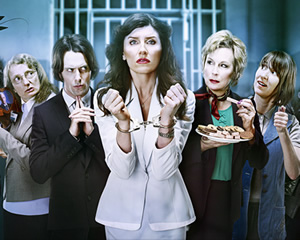 You've got to be pretty happy with the cast list for Dead Boss?
I can't tell you how overjoyed I am with the cast. Getting people like Jennifer Saunders... I mean, that's just like a dream.
We worked really hard at casting a lot of the parts so I think it's a really great combination of established names and then a few people who are coming through who are just amazing. So we were very lucky that they were available to do it and interested in it.
Were you not tempted to cast yourself in a role?
Well, I've never acted before - well, not really - and the idea of doing my first ever acting role alongside some of the greatest actors in the country... err, no. I've kind of got a cameo role, which I'm pretty sure I'll get a BAFTA nomination for - I'm only on screen for a few seconds, and no lines, but I nail it, put it that way.
Ha ha. Having had that taste, would you do more acting if you got a second series?
I don't see it as a launch pad to an acting career but I really loved being on camera. I could never give up stand-up though, and I love writing. I gigged throughout writing it, so I got my 'hit' from that really.
The show has a running narrative through it?
Yeah, it's a big 'whodunit'. The story running through the episodes is Helen trying to prove her innocence. She didn't kill her boss so somebody must have done it, so she has to try and prove that. But when she goes to prison everybody realises life is much better with her not around, and so they're not very keen to help her out. So you've got a combination of a bad lawyer, a horrible family, a boyfriend who is an arsehole...
Do we know which of them killed the boss?
Ah... no. That's the 'whodunit', so if I were to tell you I'd have to kill you.
Please don't hand this interview tape to the police by the way, otherwise this could get awkward. Ha ha. But, actually, me being locked up would be a good little bit of publicity and research, should we get a second series. But I'm not going to do anything like that... I'll put all my psychotic tendencies into the character.
In this multi-channel fragmented world is designing a sitcom that you have to watch from the start a good idea?
Well, I'm a DVD boxset addict, I'll watch Mad Men from the first to the last for example. People do dip in and out of things, so we've tried to make it explain itself as it goes along but I also think it's one of those shows that does reward people who begin at the start. Little details come up and there's some in-jokes, etc.
All my favourite shows - Arrested Development, 30 Rock - there's so many complex bits in them. We've really tried to explain ourselves as we go along but obviously we'd rather people followed the story. We have got a 'Previously...' on the start of each episode though. Also, each episode does have its own storyline as well. 'Stupid stuff happens at a prison', so even if you're not going to follow the more intricate details, you'll still get a lot out of it anyway.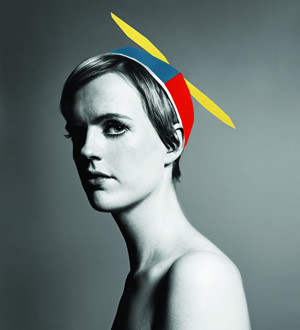 Great stuff. Switching topics, you're performing your stand-up show Hollycopter at the Soho Theatre later this month. It looks like it might be the last dates for that show?
That's sort of looking like my last dates for Hollycopter, as I haven't got any more booked in. To be honest, I loved doing the show, but it was about a particular event that happened nearly two years ago now and I think I've dealt with it all now. Without wanting to make it sound too much like therapy, it was a good way of dealing with that part of my life.
That 'event' being you injuring yourself taking part in Worthing Birdman Festival (BBC News). It must have been an odd week, you in pain, but lots of media attention?
Yeah, it was a bit peculiar. It was filmed from every single angle, and it was just a ridiculous way to have an accident. I guess I'm lucky I'm a comedian in way, in that I could then use such a stupid accident to my advanced. I don't think you could do that if you were a dentist or something, so I really lucked out in my line of work... but it really hurt. It really, really hurt - that's my over-riding memory of it all.
Hollycopter has picked up much praise, and gained you an Edinburgh Comedy Award nomination. With that in mind, if you could go back in time, would you still jump, knowing the negatives but also the positives which were to follow?
Er... I probably would not have a metal elbow given the choice. I think I'd err on the side of having natural elbows. But, you know, getting a nomination was a nice side effect of metal elbow. Ha ha.
Do you beep in airports?
Surprisingly it doesn't go off. The first time I went to an airport, I was flying out to Belfast, and I was like to the security there, 'guys, just so you know, I've got a lot of metal in my elbow, so this is probably going to go off'... and I walked through and nothing happened. I'm almost certain they were doing wanker signs to the other security guys behind my back because I made such a stupid fuss about it.
Aww. What's next then Holly?
Well, Sharon and I have got another couple of projects to work on and I'm going to do stand-up in earnest - I'm really going to work hard on it.
I did perform throughout writing the show and stuff but I want to concentrate on it a bit more. It's hard to juggle the two, so I'm looking forward to getting back to doing a lot of stand-up writing and what not. I went to Manchester for three days and stayed in a hotel and just wrote for three days, and then gigged in the evenings. They're such nice gigs up there.
Dead Boss is on BBC Three on Thursday nights.
Holly performs 'The Hollycopter' at The Soho Theatre on Friday 22nd and Saturday 23rd June 2012. Info & Tickets