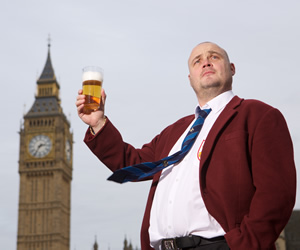 On the 7th May, The Pub Landlord (a fine figure of a man, who some say looks a bit like Al Murray) is aiming to win the seat of South Thanet in the General Election. He's already outlined his manifesto for the FUKP party, so now time to find out more...
Hi Guv. Before you decided to stand to become MP for South Thanet, had you even visited the place?
Oh yes. Sandwich I've been to before, and Margate (though in North Thanet) is somewhere I have attended many times. This part of Kent gets kind of forgotten about - but Ramsgate's port is a delightful place, and Broadstairs - with all its Dickens heritage - is a true gem. Though god, if I have to eat another ice cream again...
During your publicity campaign you aimed to parachute into the constituency. You weren't allowed to though?
Yes. Health and safety gone mad mate. Said I was too heavy. They measured me in Kilos you see. If it had been Imperial measurements then I'd have been able to jump. Another tragic victim of the EU and the Obesity Epidemic.
Have you met any interesting people whilst out campaigning?
Yes. Campaigning brings you face to face with all walks of life, but also mainly with people who want selfies. Local issues seem to be what people want to talk about: which has led me to conclude that maybe the last thing they need in South Thanet is someone using it as a springboard for some kind of national profile.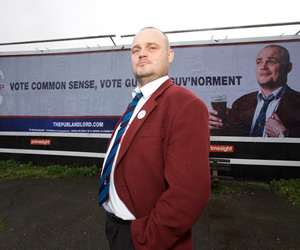 Nigel Farage is also standing in South Thanet. Have you met him out on the campaign trail?
No. Our paths have not crossed.
You seem to share some similar views with UKIP, for example your views on foreigners. So how comes you decided to stand for FUKP instead of UKIP?
Because nothing UKIP do goes far enough. Also, how can you trust a party that is against the European Union having seats in the European Parliament? We'd never do that. France is only visitable as a booze cruise.
If you get elected, are you going to have time to actually be a good MP? You've still got a pub to run?
Yes. The last thing I'd do is not take the seat. And, as for having another job, I think it's essential that MPs stay in touch with the money that is out there in the outside world. And people. Obviously.
Election Day is nearly here. What chance do you think you have of winning?
This answer might seem to you like spin: I'd say it's 50/50 I'll beat the Lib Dems who are in the government right now. So that's the kind of impact I'm having, OK?
There's been a lot of talk recently about how the political parties aren't explaining how they are going to cut the deficit. Could you please explain how FUKP are going to tackle this issue?
We would consolidate the deficit into one easy repayment, sign the forms with my left hand, grow a beard and lie low for six months. That or take a leaf out of George Osborne's book and borrow tons more money.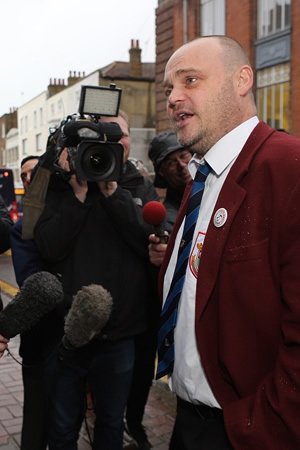 The media keep mentioning an election 'fight', but we've not actually seen anyone punch anyone yet. If the leaders do fight, who do you think would win?
I think Cameron probably did fencing or was in cadets at Eton so he might be quite tasty. Clegg would look sad and that might make you not want to hit him. Farage - any man with the word rage in his name is potential trouble. And Miliband - raised by Marxists - who knows what he is capable of?
Are you mates with any of the party leaders? If not, and you had to pick one to become your friend, who would you choose?
I don't know any of them. I'd like to make friends with Nicola Sturgeon, because she seems to be able to make money appear out of thin air to pay for free stuff. Genius.
Your election campaign is being followed by cameras, for broadcast on Dave. Has it been annoying having a film crew following you around?
It's been fine though they're tricky bastards and try to catch you out. What they really want is you to cry. I never cry. So I'm safe.
Have they caught anything on camera you rather they hadn't?
There is some footage of me eating a battered sausage a bit too enthusiastically.
Thanks Guv, and good luck on the 7th!
Dave's Election Night Special is on the 7th May at 10pm on Dave.