Steve McNeil and Sam Pamphilon are the creators of computer game comedy show Go 8 Bit. They also star in the show as the team captains. Meanwhile Ellie Gibson acts as the show's resident expert. The trio explain more about the format here...
How would you describe your roles in the show?
Steve: I'm a gaming wizard, Sam is a gaming muggle.
Sam: ... in that Steve is a grown man who plays video games, and is probably good at them, and understands them. I stopped playing video games when I was about 14, so my gaming history stops dead at Street Fighter 2 and Sonic.
Ellie: My job is.... I'm sort of like, in Dictionary Corner in Countdown, I'm the Richard Stilgoe of this operation. I'm the only one on the show with a little desk, which I'm very excited about. I think it does lend me an air of authority that I probably don't really deserve. I've got a little computer and everything. The idea is that I am a sort of games expert and I know about games, which I do... and also I have the internet!
How did Go 8 Bit come about?
Steve: I just really like computer games, and I've always played computer games. I just kept playing computer games. All that happened is my wife had to stop being angry at me that I was playing computer games, because it was bringing money in instead of flying out to eBay on a daily basis!
Sam: Steve said to me "I just would like to make playing video games be my job." And I thought he was stupid when he said that. And then he made playing video games become his job. And I still think he's stupid, but I have a lot of respect for him now. Unfortunately he made it my job as well.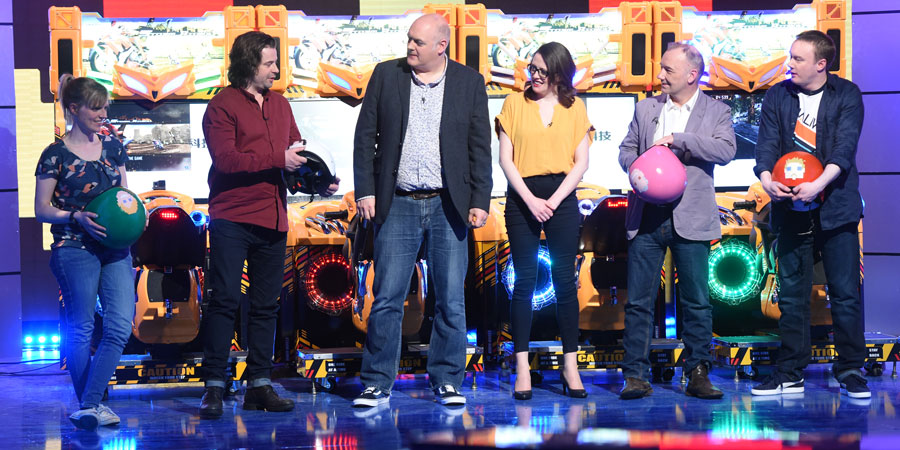 What was it like making the show?
Ellie: The best moments are when you feel it in the room, and the contestants are really into it and the audience are screaming. To be honest, I remember rehearsing on the first day and it felt a little bit flat when we were playing the games and I was like "Is this gonna work, is this going to be alright?" That night, when we had the audience in, and hundreds of people just screaming at David James to fire the thing to the left and to the right, it was amazing - "wow, this feels like a real event, a real sporting event that people really care about and really love."
What was your favourite moment during the show?
Ellie: I love that we did a bubble-popping game, our own version with Dara's head on it, I thought that was brilliant. I loved the Makey-Makey with the lookey-likeys, I thought that was really fun.
Steve: Bob Mortimer was great. I have no idea what it looks like in the edit because I've not seen it yet but Resident Evil... Bob was just so stupid!
Sam: I just felt that, no offence to whoever made it, but the game was so stupid! It was so hard to control.
Steve: Tank controls, innit.
Sam: I don't know what that means.
Steve: So, you're sort of...
Sam: No no, I said "I don't know what it means", not "please tell me what it means."
Steve: Fine, live in ignorance.
Sam: Just don't tell me.
Steve: Well, for those who know about games, tank controls...
Sam: ... Awful. So hard.