Cradle To Grave is a BBC Two comedy drama written by Jeff Pope and Danny Baker, loosely based on Baker's own upbringing in the 1970s in south London.
It's 1974 and 15 year-old Danny is our guide through the ups and downs of life with the Baker family.
Dad Fred, known to all and sundry as 'Spud', is a proud south London docker with a penchant for rackets, fiddles and schemes, hopefully "nice and tasty" ones. Wife Bet loves him deeply but longs for the family to go 'straight', and do daft things like pay taxes and put money in the electricity meter instead of always trying to scam it.
With eldest daughter Sharon's wedding looming and the docks facing closure and a switch to the dreaded 'containerisation', putting thousands of dockers out of work, times are challenging. So too are Danny's attempts to get closer to the opposite sex. Full of humour, warmth and drama, Cradle To Grave is based on actual events and characters.
An introduction by writer Jeff Pope
The roots for this series were laid down more than 30 years ago, in 1983, when I first met Danny Baker. We were working together on a TV magazine show, he as presenter, I as a young researcher - and we hit it off immediately. More importantly, shortly afterwards I met his dad Fred Baker, known to all and sundry as 'Spud', and that was it. I realised recently that ever since I had sub-consciously been shaping Cradle To Grave in my mind, never realising that one day the stars would align and Danny and I would actually get to make it.
Throughout my career true stories have fascinated me, and this is the strength of this series - it is all based on actual events, stories that have got better and better in the telling over the years. 'Spud' is now long gone, but there were times when we were writing that I could swear Danny was channelling his late father, so clear was his voice as we shaped scenes. Sometimes we felt more like guides than writers as the episodes more or less told themselves. And now that we've finished we just hope you find this romp through Spud's life as funny and fulfilling as we have found it.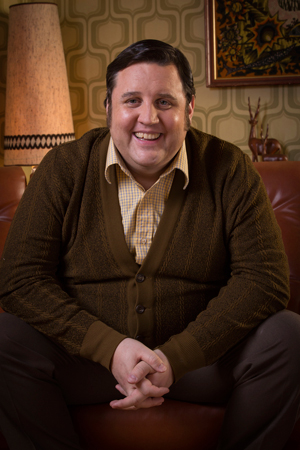 "Donchoo warry abert dat, I'm jas instook fernah."
I shall translate later, but it took some getting used to hearing cockney twang like that coming from the mouth of Bolton's finest, Peter Kay, on the set of Cradle To Grave.
Peter was our first choice to play Spud. We thought to ourselves who could play a cockney docker with a penchant for "pulling strokes" and - believe it or not - Danny and I both immediately said "Peter". We wrote a couple of episodes with him in mind before we plucked up the courage to ask him and were delighted when he said that he had been looking for a long time for a purely acting project to take on - and he felt this was the right fit.
He loved the idea of playing a family man and taking on a character so far removed from anything he'd done before. We worried that playing a cockney might be comedy Kryptonite to such a famous northerner but Peter simply applied the same perfectionism to his portrayal of Spud as he has to all the other wonderful characters he has created with postcodes north of the Watford Gap.
He worked very hard on Spud's accent, typically refusing to settle simply for 'London' and instead mastering the more particular nuances of south London, where Spud was from. Within a few moments of watching him Bolton becomes Bermondsey, you forget about Peter and you totally believe he's now Spud. He's really that good - accent too. The series is meant to make you laugh but it is a drama too, and has given Peter the opportunity to show what a fine actor he is, as Spud and his family are tossed from side to side in the choppy waters of 70s working class life.
Peter is used to writing, producing and directing the stuff he appears in but revelled - just for once - in being able to concentrate on acting.
And so to that translation. Spud's line, as you've probably worked out, actually read:
"Don't you worry about that, I'm just in schtook for now..."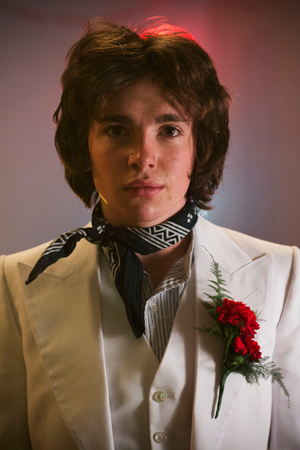 How would you describe Danny?
He is very confident, cheeky and he has this air about him that he knows what is going on. He is in control of things. He is a fun person to play.
What do you love most about your character?
His confidence is fantastic. He is 15 in the show and right away you see that he is different to the other lads. He knows he is going to go up and up and he is fine with that. He knows he is going to fly.
Which scenes did you enjoy most?
We filmed in over 60 locations all over Manchester, which was amazing and then three weeks in the studio doing the family stuff. There was lots of nice stuff like my lad mates and I running down the streets of Manchester at midnight screaming and then putting ladders up against windows! I really liked the family scenes where we were all sat in the living room at home.
Are you like Danny at all?
I am from a big family and the family stuff did remind me of my own. He was always happy and I would say I am a happy person. I had a lovely upbringing growing up on a farm near the Shropshire/Welsh borders and my parents have always been so supportive.
What does it mean to you to be playing Danny?
I feel so lucky and proud. What a great and fun show to be part of.
Tell us more about Bet.
She's a survivor. She is kind, fun and she is always striving for the best for her family, to better themselves. She is a strong matriarch and she reminds me a lot of my own Nan. She has a very humbling quality - I warmed to Bet and loved playing her. In that era they were great at learning how to make a silk purse out of nothing. She is a doer and she knows how to keep Spud in line. You wouldn't want to upset her either. Like any mum, she goes along with everything but then when the straw breaks the camel's back, she goes for it. You think, where did that come from? But she is the same as any mum.
Where there any scenes that stood out for you?
All the scenes were great. The 60 different locations were fabulous and I really loved all the Baker family stuff we shot in the studio in the final three weeks. We really became a family there. We've got some great scenes of us watching TV eating biscuits! It gives you an insight into the home life and it was Bet's castle.
How do you feel to be working on this project?
I am so chuffed. I've been a huge fan of Danny's for many years and Jeff's back catalogue is amazing, I've seen all his work. I couldn't quite believe the two of them had come together for this, it's such a dream team. And then to add Peter Kay in the mix is mind blowing.
Did you like the 1970s era?
Yes I loved the outfits I had to wear! You can think of the 70s as a horrible era but I loved the clothes, the patterns on the shirts and the amazing flare on the material. They look glamorous and they really fitted well. Also we used a 1970s camera lens to shoot through. They went the extra mile with everything. Danny and Jeff both constantly kept saying they had never seen anything like it before. Everybody went above and beyond. I am excited about it hitting the screen soon. Peter's cockney accent was brilliant. You do fall in love with the Baker family.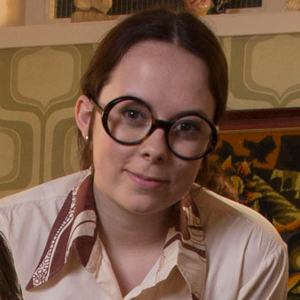 Tell us about your character, Sharon.
She is a fun character and she is also feisty. This is an aspect of her character that I know I have definitely got too. She doesn't let anything bother her and she is a strong character. She respects Danny. She cares a lot about her family, and even though they have their ups and downs the family is a very tight unit. Nothing will come between them.
Are you anything like Sharon?
She has got a fire in her that I definitely have got and she has been through relationships that I definitely have. She gets on well with her dad and I am very close to my parents. I can definitely see a lot of myself in her. She takes care of a lot of people.
What was it like on set?
Shooting was absolutely brilliant. There was a big cast but we all got on so well. To go to Manchester and take your life there was so scary but I loved the idea of meeting new people. Laurie, who plays a young Danny, has become a great friend. We clicked instantly and we get on so well. Danny was there every day on set and he is a strong, brilliant, amazing man. He supported us through every decision we made. He encouraged and helped us to mould the characters. Laurie and Peter turned to Danny a lot and he was incredible. We all had a duty to tell his story and he had so many funny stories to tell us on the set. It was amazing fun and I loved every minute of it all.
What does landing this role mean to you?
It's not sunk in yet! It's a really big thing and even though we have finished filming, I still can't quite believe it! I really do feel like I am living the dream right now.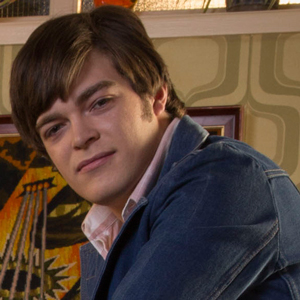 How would you describe Michael?
He is a typical big brother. He is a very loving person but he enjoys winding his brother and sister up! He is a very confident person and he is a typical wind-up, loves having a laugh and a joke.
Did you know a lot about Danny before landing this role?
I knew of his massive presence in broadcasting. He wasn't somebody that I had watched as a child but I was impressed by his legacy. It really threw me when he was at the audition and I was a bit nervous. His brother, Michael, isn't around anymore and I didn't want to insult anybody by giving a poor performance. I was so excited when I got the call to say I had landed the part. I was over the moon. I've admired Jeff's work for years and Peter is a huge figure. I am very proud of this job and I have had a lot of positive feedback from Michael's family. When someone passes away, you feel a duty to do right by them. I would have loved to have met him. I think we would have got on like a house on fire.
Could you see yourself in Michael?
I could relate to him 100 per cent. I am a middle child and I could relate to the whole close-knit family situation.
What was filming like on set?
Great fun. Every day was a pleasure and I loved every second of it. Danny and I formed a friendship and we had a great laugh. He is a funny guy, loves his music and he can talk forever. He is a great person to have a conversation with.