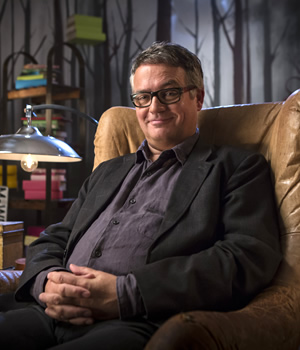 Charlie Higson talks about books, The Fast Show, and his role in Crackanory...
Hi Charlie. You've been in comedy for a number of years now. Do you ever look back and reflect on your past projects?
Obviously I think about it. The DVDs are still there - I watch them occasionally with the kids. I still enjoy watching them, but, yeah, the first series of The Fast Show was 20 years ago now...
I'm always very busy doing new stuff, so I don't want to be someone who is constantly turning up and going on about the things I used to do. That said, I doubt I will ever doing anything else in comedy that would quite have the impact that The Fast Show has. You only really get one chance of that in your lifetime.
What do your kids think of The Fast Show? Do they find it weird seeing their dad on screen?
They enjoy it. It has stood up pretty well I think.
They're used to seeing me on screen. I was doing it before they were born, so it's quite matter-of-fact to them. They're certainly not blown away by me. Ha ha.
The Fast Show is fondly remembered. There are a lot of shows that were popular that some people now say, 'oh I never liked it', or whatever. I'm sure there were lots of people who didn't like The Fast Show, but people are generally nice about it, for example when you're stopped in the street, which happens very rarely.
So people don't stop you in the street to quote catchphrases back at you?
Very rarely. I hardly ever go out, ha ha.
Most of the characters I did, I adopted fairly heavy disguises, and it was a long time ago. I think it's very much that if you've got something on at the moment, something contemporary, then people will recognise you a lot more.
I don't think my face is a 'household face' - what a phrase! But, if I'm out with Paul [Whitehouse]... Paul is recognised everywhere, because he's done a lot more, he's still doing stuff - he does a lot of stuff on BBC One with Harry [Enfield], and those adverts - he really can't go anywhere without being recognised. But luckily people are fairly genial towards him, he doesn't get hassled in a nasty way. If I'm out with him, they'll say 'oh look, it's Paul Whitehouse' then after about five minutes they'll say 'oh look it's him too'.
It's a weird thing. I've only ever been on the fringes of it - I've never been in a really huge programme or a soap opera or something like that. I've seen Harry go through it, I've seen Paul go through it, and I've seen Vic Reeves go through it - that moment where it suddenly gets huge - it's very hard for people to cope with that. Luckily I haven't had to face that.
As you said earlier, The Fast Show is 20 years old next year...
Yes, it is the 20th anniversary coming up. It's also the 50th anniversary of BBC Two, so they're going to be doing quite a lot of stuff next year looking back at the history of the channel and comedy, and things like that. So we will be doing something around The Fast Show - probably using the stuff we did for Foster's.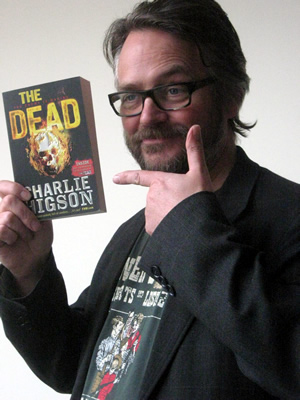 In recent years you've become as well-known as an author as you have for comedy. How did that come about?
It hasn't been a plan, like a career path... I was offered to write some Young James Bond books - that was completely out the blue, but it was at a time when I wanted to write something for my kids, and I was also getting... um, it is quite tiring making comedy.
I'd been making comedy shows back-to-back for 15 years, and it is hard work because it is emotionally draining, and it's mentally draining - particularly doing sketch shows, because you've got a huge turnover of material. You're writing thousands of mini playlets in a way - writing a drama is much easier.
Most comedy is done by young people, for the reason that you burn out quite quickly, so I wanted to step back a bit and the chance to write some James Bond books was brilliant. It went really well, and I found I really enjoyed writing for kids. It was quite interesting to have a whole new career at a relatively late stage of life, and also suddenly finding a whole new audience. I remember having a meeting with the publishers quite early on and they said "it'll be great doing events because all the kids will want to come and meet Charlie Higson off the television" and I had to say "they're all too young, they won't know me off the television at all!".
If you're not on the television you're quickly forgotten. So for those kids growing up I'm now Charlie Higson who writes the books. It's nice to have a success in a different field, which was quite unexpected. But having done the Young Bond books, I've carried on and now write some horror books, and those have done well. It does take up a lot of my time, but I am doing script writing at the moment too, and I kept my hand in at comedy with Paul on the radio series Down The Line.
Bellamy's People [the Down The Line TV spin-off which ran for one series] brought it home to me. Doing a TV comedy sketch show like that is a lot of work - a year planning it, then six months making it, and if it then if it isn't recommissioned, you're then back to square one and you've got to think of a new idea... that's quite exhausting. Quite frankly, off the back of Bellamay's People I thought 'I'll stick to writing books, it's a bit easier'. But I want to do more comedy, I do enjoy it.
Why horror books rather than comedy books?
I don't really read comedy books. I've very rarely found one that's really made me laugh. I tend to write what I like to read - I was really into horror as a kid, and I still am, and my boys are really into horror, so it seemed like the natural thing to do.
I think I've been very lucky in my career that I've been able to have outlets for different things. If I've got a comedy I would do it for television, as that for me is a medium in which I'm comfortable working with for comedy... but if I've got other stuff, I've got other outlets for that.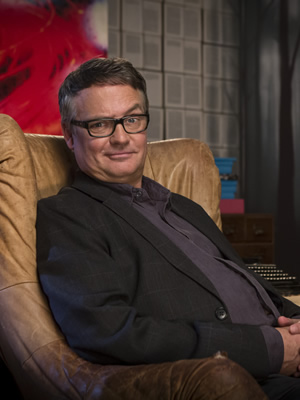 So your latest TV role is in Crackanory. Could you explain what the show is about?
Anyone from my generation will have grown up with Jackanory, which was basically all the greatest actors of the day reading children's stories direct to camera, with Ken Morse camerawork showing the illustrations. It was a great British tradition, and it was always a sort of mark that you'd arrived if you'd got the job reading a story on Jackanory. We grew up in a generation where everyone thought 'maybe one day I'll get the call'... and then they stopped making it.
So this is sort of harking back to that, but saying 'let's do it for an older audience'. Some of them are quite macabre, some of them are funny. They're not all funny I don't think - I've not seen them all. Certainly mine was more of a horror story, written by Jeremy Dyson from The League of Gentlemen.
Did you have to memorise the story?
At my age?
No, luckily we didn't have to do the old Blue Peter thing of having to learn the entire script and do it live. No, we're just sitting reading. It's one of the easiest jobs I've ever had... sitting in a nice comfy chair, and just reading something off the screen.
Television hasn't seen a format like this for a while.
It's a really interesting format - it's nice to see something a bit different on, it isn't another panel show. [Charlie quickly adds] ...Not that I've got anything against panel shows! I'm very happy to do them.
That's another reason I've been enjoying The Wrong Mans, it's great to see something a bit different on - someone trying a different way of doing something, so I'm up for new formats and new ways of doing things.
It'll be really interesting to see if people do stick with it and are happy to just sit and watch. Although what they have done on this is they've got a mix of straight to camera narration with live action and animation - it's going to be quite interesting I think.
Crackanory is on Dave on Wednesdays at 10pm. Charlie's episode is on 4th December.