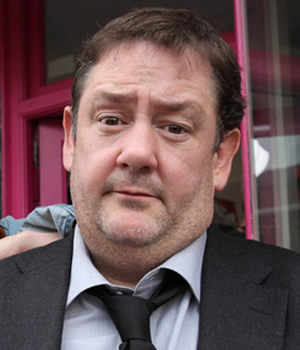 Johnny Vegas stars in 'Rupert', one of the episodes of Common Ground. He plays a man who reluctantly takes on the family tattoo parlour business following the death of his father. He talks a little more about the episode here...
Hi Johnny. How did Rupert come about?
The idea came up a while back. Myself and Tony Pitts, who wrote the main nuts and bolts of the script, had the idea to do this as a live studio show, perhaps more in the style of a traditional sitcom. The development ground to a halt a bit, but we really liked the idea and had a few of the characters in mind. Baby Cow then approached us and asked if we had anything that would fit into the ten-minute format and luckily Sky liked this idea. We knuckled down and thought about how we could trim what we had and make it into a self-contained story.
Did you always intend to play Rupert yourself?
Yes, that was the idea. What we liked about the show was the idea that all the other characters belong to this world, while Rupert is really there against his will. He feels guilty and that he owes something to his father, so he ends up trapped there. I'd never stepped foot inside a tattoo parlour before, so that worked in terms of Rupert being a reluctant member of this gang of odd bods who hang out together. He's somewhat removed, like the fish out of water desperately looking for a way out.
How did you find working within the shorter time frame? Were there any problems condensing down what you had?
No, Tony is fantastic. If you ask him to produce a script, he'll go away and you've got something to start working on in a couple of days. Plus, this came up not too long after the Little Cracker which I'd written and directed, so I'd had a valuable bit of experience in terms of knowing how to make this story work quickly enough. I find it a nice length to work in, it makes the writing leaner.
How did you approach the rest of the casting?
We wanted the other characters to be eccentric and were very lucky that the rest of the cast came in and got a handle on things straight away. All our first choices were available and wanted to do it, which was great. With Josie Lawrence (Fiona), it was case of us wondering why she wasn't doing more. She was a big comic inspiration for me growing up and we knew she could play the role. She could make it believable that perhaps, somewhere down the line, something could develop with Rupert, but you're still not sure. It was also just lovely to meet her - I ended up quoting her stuff back to her.
With Celia Pacquola (Jill), I'd been to see an open mic night in London and she was just brilliant. She was one of the funniest acts that I'd seen in such a long time. She then came up to do a show for us in St Helens and from that point onwards I was determined to find something for her.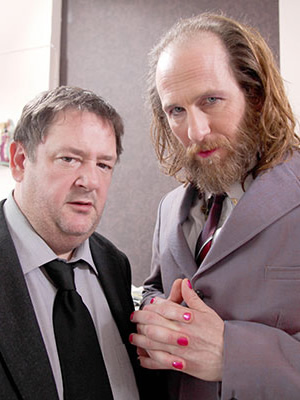 Paul Kaye (Spinks, pictured) was a no-brainer. His character is so odd - you're left wondering whether he' s a cross-dresser, or a pre-op transsexual. You don't know, though, as nobody ever dares mention it to him and Paul somehow manages to pull it off. He gives such a chilling performance.
He also plays perfectly off Tom Davis (Sunshine Simon), who crosses over from another episode in the series. That was really fun to play around with as we'd always wanted our own gangster, and luckily it fit in that Paul's character could work for Tom.
Shaun Dooley also came in and nailed it. He can read a line five different ways and it's hilarious every time. So, all in all, it was a case of us just spoiling ourselves a little bit, and it came off. Every time the camera moves and reveals someone new it's a really strong actor.
It was a case of everybody clicking right away then?
Yes, definitely. With the exception of Rupert, all these characters had hung out together day and night so that was important.
Do you think there's scope to develop the idea further?
Yes, we'd love to. We've already been thinking about where the show could progress to and the directions that the different characters would take. It will be really interesting to see how this is received and whether people would want to see more. If that's the case, there's a lot we would like to play around with. We were asking ourselves whether Jill would leave the country, or whether Rupert would marry her in haste. There's also the question of whether or not something develops between Fiona and Rupert.
Have you enjoyed working with Sky?
Yes, I've loved it. Everyone there is incredibly supportive. The Little Cracker I did was the perfect size for my first experience directing and it definitely gave me the bug. I've done an episode of Moving On for the BBC which is coming out in February, and we're in pre-production for a Sky Arts project which I'm directing with Ricky Tomlinson [Ragged]. It's based around the time when he was imprisoned for his involvement in the Shrewsbury picketing. It's quite a heavy piece, but Sky was incredibly willing to take a chance.
Not a lot of broadcasters are, they're worried about doing something that might be too original. They end up asking themselves whether something can be justified if it doesn't look like anything else. Sky seems dead keen on pushing the envelope and encouraging people, like myself, that perhaps don't have a track record.
Is there anyone that you'd particularly love to work with?
I nearly ended up doing a project with Shane Meadows a while ago and this is me publicly pleading for that to happen. There's also Ben Wheatley, who directed the last few series of Ideal. He's gone on to make some amazing films and is just a really exciting British director.
Funnily enough, there was a short film project that I was talking about when Ben was discussing something similar. So, if I can get off my lazy backside and write my half of it, then maybe that might happen.
Ken Loach and Mike Leigh are others. There are a lot of British directors that I would consider it a privilege to work for. I'm not looking around and wondering why I'm not doing this or that, though. I'm very fortunate that there's always something to be getting on with. Coveting what others are doing is a road to madness.
Our guide to 'Rupert' View