Warming up again for Red Nose Day (this year: Friday 24th March 2017), Let's Dance For Comic Relief - the show in which celebrities bust out their best moves to accompany some classic songs - is back. However, the format has now been supersized to become Let's Sing And Dance For Comic Relief.
Mel Giedroyc and Sue Perkins will be hosting the shows over the next few Saturdays. They explain more below...
Why did you want to host Let's Sing And Dance For Comic Relief?
Sue: I've never discussed this before but I am the rhythm of dance, rhythm moves through me like water and this is my chance... Sorry, curry moves through me like water. We just wanted to have fun!
Mel: As Cyndi Lauper said 'Girls...'; Actually no, we can't say girls anymore as I'm nearly 50 and you're close behind.
Sue: 42!
Both: We love dancing!
Mel: In our youth, we could cut - I don't want to be smug - we could cut a bit of an old rug couldn't we?
Sue: I'd like to think we cut through the dancefloor, but now with hindsight and being older I realise that people were just leaving the dancefloor so that they weren't associated with us. At the time you think: 'Wow! My moves are so stellar that I'm creating space, my shapes are creating space'. People were trying to run away.
Mel: They thought we were insane.
Sue: I think to be honest it's pure joy with the show. There's no angle, there's no side, there's no end game other than to make money for a really good cause.
Who is the better dancer out of you both?
Mel: I think we do different things.
Sue: I'm more Grime.
Mel: I'm very 80s.
Sue: And I like to pop a lot.
Mel: Her popping is legendary.
Sue: And krumping, I'm a real krumper. I was an international krumper at one time, I can't talk about it really because when you've lived for krump like I have, when you get a bit older and you move away from it it's hard. I'd say we're about the same in that we're both equally poor.
Mel: We like singing together.
Sue: We do.
Have you ever done karaoke together before?
Both: Oh yes!
Sue: We used to go to a great Chinese restaurant in North London and they had a fantastic karaoke machine upstairs and we'd just belt out the hits. I did Midnight Train To Georgia which gave most of the front row tinnitus, probably for life. It was very intense.
Mel: I like Joan Jett's I Love Rock 'n' Roll because it's got a nice low singing voice. Sue's got a good range actually. Sue hides her singing light behind the old bushel, definitely. She's got a very good voice.
Sue: It's passable, I can hold a tune, I wouldn't say more than that.
Mel: But we do like singing together and we always used to when we did our live shows. We always liked a song and dance.
Sue: Always.
Mel: We've never had choreography; we've always just sort of worked out our own little moves. It would be hilarious though could you imagine production having to do some choreography?
Sue: We love singing and we love dancing but Shakira said: 'Hips don't lie.' And my hips said: 'You're now too old for this.'
If you were to enter Let's Sing And Dance what would be your performance together?
Mel: So we've done Elaine Paige and Barbara Dixon for Stars In Their Eyes which obviously doesn't involve much dancing.
Sue: We sang I Know Him So Well - we couldn't look at each other when we were doing it and became too hysterical. The choreography was us crossing this checker board, but as soon as I caught a whiff of Mel dressed as Elaine Paige, the bladder went quite significantly.
Mel: It was the Barbara Dixon wig for me and the pencil skirt.
Sue: I looked like a Portuguese Water Dog.
Mel: We got into real trouble because the dress rehearsal, which was supposed to take about 20 minutes because there were five acts on, we were laughing so much that everyone was really annoyed with us - it took over an hour. And we still came second to last.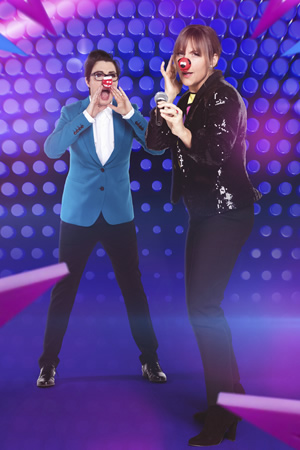 Would you say you're very competitive?
Sue: No.
Mel: Not really, I don't think so. We're competitive when it comes to gags because I think we both like to get in there and come up with a pun or a punchline, but when it comes to singing and dancing, definitely not.
Do you have any advice for the contestants?
Mel: I think it's interesting because there's such a range of people taking part and some of them we have been led to believe on the down-low are actually really good. And they will be competitive. So some of them will seriously be putting their game face on.
Sue: Putting their game trousers on.
Mel: And some I should imagine will just be there for a laugh.
Sue: I think it could be pretty slick and the great thing is we're just going to sit back and admire everyone else's hard work and panic.
Mel: It's such a great job.
Sue: It's a great job, we don't have to judge, we don't have to do anything.
Mel: We just come in and go: 'Wahey, here's some great people and they're gonna make you laugh!'
Is there a celebrity you would love to take part in it?
Mel: I'd love to see Kate Bush.
Sue: I'd love to see Kate Bush full stop. We're just both in love with Kate Bush and everything she does is magnificent. But Mel, Kate Bush does sing and dance for a living, so what's she going to come on and do? Is she going to come on and be Kate Bush? It's too meta!
Mel: Oh you're right it can't be a singer and a dancer.
Sue: It's better if it isn't, if you'd said to me: 'I'd like to see Steven Seagal doing Wuthering Heights' or 'I'd like to see Jean-Claude Van Damme doing Florence and the Machine.' I'd really like to see Mary Berry busting out a Pitbull number!
Mel: Oh that would be good...
Sue: 'Mary Berry featuring Pitbull.' I might have to ring her up and suggest that. Mary can move, she's like liquid.
Mel: Helen Mirren doing Meatloaf would be good; 'Mirren does Meatloaf'. I'd like to see that, I'd enjoy that.
How would you describe your onscreen partnership?
Sue: Overrated. [laughs]
Mel: Shambolic and contractual. [laughs]
What's the best and worst thing about working together?
Mel: The best thing is just hours and hours of titting about basically.
Sue: And there's no downside to that. It's just gas, gossip, merriment and then usually Mel will just go 'tired now' or wee herself. There are two outcomes to the hilarity, Mel will either void her bowels or she will fall asleep and that means that the day is over.
Mel: I can't believe we get paid to do this stuff!
Sue: We're not getting paid mate it's for charity, and if you are getting paid then a) you're not a very nice person because there are people who really need it and b) I'm on the phone to my agent right now and sacking them.
Will you feel nervous or excited about presenting live on Saturday night together?
Sue: I feel excited because Mel's celebrating 60 years in showbusiness on the first night of the live show and so it will be amazing - it's a tribute to her really.
Mel: It will be ruddy mayhem is what it will be. It will be such a laugh. I don't feel nervous about it - I just can't quite believe we're about to do it and it's going to happen and be seen. But we often feel like that with the stuff we do.
Sue: I'm hoping we get fired out of a giant cannon!
Mel: There will be some aerial fun, definitely, so don't adjust your aerial.
Sue: Or a trip to A&E depends how it goes.
Mel: I think probably both, we'll just pop into Holby City and get Patsy Kensit to, you know...
Sue: There's a possibility that Mel might be doing an intimate lift, that's all I'm going to say. If it goes wrong it could be an extremely intimate lift.
Mel: It will be! I can't wait!
---
Let's Sing And Dance For Comic Relief is on BBC One on Saturdays at 6:45pm.
Below is a guide to who is taking part. Each week, the public will vote for their favourite who automatically goes through to the final. The two runners up in each show will go head to head in a sing and dance-off and the panel of judges will pick which act makes it to the final.
Show 1 - Saturday 4th March
Paul O'Grady, Jo Brand and Frank Skinner are on the judging panel.
Harriet Thorpe and Helen Lederer will perform one of ABBA's greatest ever pop songs, Dancing Queen, which topped the charts worldwide.
Matt Edmondson will perform Superbass by the American rapper and singing superstar, Nicki Minaj.
Rickie Haywood Williams and Melvin Odoom will perform a massive mash-up of Will Smith's biggest tunes.
Russell Grant is performing the 1980's iconic disco hit Chain Reaction by superstar diva Diana Ross.
Sara Pascoe will become Sia in her sensational chart-topping hit Chandelier.
Show 2 - Saturday 11th March
Claudia Winkleman, Adil Ray (as Mr Khan) and Russell Kane join the star-studded judging panel.
Boys Allowed (Ben Ofoedu, Duncan James, Gareth Gates, Jon Lee and Ritchie Neville) will perform the single Biology by Girls Aloud.
Casualty and Holby City actors (Amanda Henderson, Chizzy Akudolu and Tony Marshall) will do a special rendition of the huge hit phenomenon Uptown Funk by Mark Ronson feat. Bruno Mars.
The Chasers (Anne Hegerty, Jenny Ryan, Mark Labbett and Shaun Wallace) are performing a medley from the classic musical Wizard Of Oz.
Danny-Boy Hatchard from EastEnders will take on the legend that is Elton John and perform his iconic hit I'm Still Standing.
James and Ola Jordan will perform All About That Bass by Meghan Trainor.
Show 3 - Saturday 18th March
Miranda Hart, Jennifer Saunders, Julian Clary and Tameka Empson will be judging.
The One Show reporters (Alex Riley, Angellica Bell, Dominic Littlewood, Iwan Thomas and Michelle Ackerley) will perform Born This Way by global superstar Lady Gaga.
Alison Hammond will transform into American rapper Missy Elliot to perform Get Ur Freak On.
Sally Lindsay will be Noddy Holder singing the rock classic Cum On Feel The Noize by the legendary Slade.
Steph & Dom Parker from Gogglebox will perform Dead Ringer For Love by Meatloaf and Cher.
Pete Firman and Ellie Taylor will take on a huge pop number from one of the UK's biggest girl groups, Black Magic by BRIT award-winning Little Mix.
Grand Final - Saturday 25th March
The six winners from the the heats will return to sing and dance once again, and the public will decide who should be crowned the champion of Let's Sing And Dance For Comic Relief 2017.
Published: Thursday 2nd March 2017