Holiday-makers at a London airport could be forgiven for thinking that a new airline has been set up to rival some of the UK's favourite budget airlines, as two glamorous check-in "girls" start checking in passengers at the FlyLo desks, dressed in their bright blue uniforms and sitting near advertising boards adorned by the airline's smiley-faced owner, Omar Baba. But easyJet and Ryanair need not worry. The glamorous "girls" are, in fact, David Walliams and Matt Lucas, whose new series lands on BBC One on Christmas Day.
As memories of Little Britain catchphrases such as: "Yeah but no but yeah...", "I'm a laydee" and "I'm the only gay in the village" begin to fade, David and Matt return with their brand-new, much-anticipated series, Come Fly With Me.
Set in an airport and following the lives of the people who hold it all together - including airline owners, check-in staff, fast-food workers, immigration officers, pilots and cabin crew, as well as the passengers - Come Fly With Me is a mockumentary series which sees Walliams and Lucas doing what they do best: dressing as over-the-top characters and making the nation laugh.
The pair are used to being recognised in public but filming in a busy, working airport is a completely new experience for them. "I think you surrender your privacy," says Matt, as he returns from answering the call of nature in the gents on the concourse at the airport, in full costume, minus the wig.
David continues: "The interesting thing is we get recognised by some British people who might have seen Little Britain but, obviously, as we're in an airport, a huge percentage of people are from other countries who probably don't recognise us and are just utterly mystified as to why there are two men dressed as women having a pee next to them in the toilet!"
Despite the occasional awkward moment, the pair are determined that Come Fly With Me appears as close to real-life as possible, much like the genre they are sending up. Says Matt: "Sometimes members of the public gather behind the camera and like to watch. But what you gain is hopefully a show that looks like no other comedy show; that has a kind of authenticity and a scale about it that you could not easily create in a studio, unless you had tens of millions of pounds to build one."
"Nearly everyone knows what an airport looks like and sounds like, so you couldn't fake it," adds David. "If we had faked it, it would look pretty puny I think. It's exciting, the scale of it. I think if it was hokey in some way, from the moment it started, people would go, 'That's not a real plane, that's not a real airport,' and the whole thing would kind of fall apart, especially as we're quite larger-than-life characters, so we need it to be real-life to bounce off."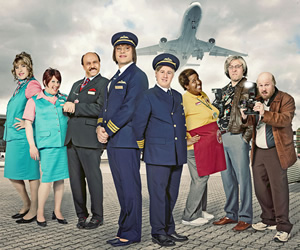 "It is hard though; there are a lot of distractions. We're used to being on a set and people saying, 'Quiet please, action'. But here, any moment, a tannoy can go off, a vehicle can go past beeping or someone can start shouting or running through the airport, so you've got to try to concentrate with that going on around you."
"The staff at both airports have been wonderful," adds Matt. "We couldn't have done it without their goodwill."
The inspiration for Come Fly With Me came from a desire to do something different, following the success of Little Britain and its transatlantic counterpart, Little Britain USA. Says David: "There have been two major series that are real documentaries on the airline business, Airport and Airline, but we were looking to do another multi-character show and we thought that would play to our strengths. We didn't want to do a sketch show as we'd done that with Little Britain, and the more we thought about it the more possibilities there were. You can have everybody, from someone who runs an airline to someone who cleans the toilets. And many people have had bad experiences of airports and airlines, so we felt it was right for comedy."
Matt continues: "You can play regular characters but you can also have one-offs - passengers at the airport; people you just see once. And also, unlike Little Britain, it doesn't have a laughter track because it's all filmed entirely on location and the characters are aware of the presence of the camera because it's a mock documentary, so this gives us the chance to have a slightly different relationship with the camera."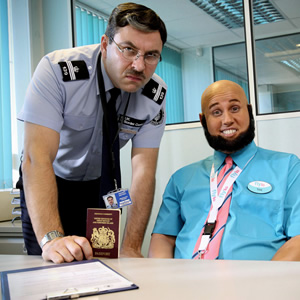 Another big difference from Little Britain is that the characters interact with each other as they all work at the same place. "It's something that we weren't able to do in Little Britain," says Matt. "We never had a sketch where Vicky suddenly met Emily but, in this series, after three or four episodes, we start mixing and matching a little bit."
"They're all in the same place and also the level of reality with the characters is more equal than in Little Britain," continues David. "So it felt right and it was exciting - the more we wrote the more we got to know the characters and thought it would be good to put them together. For example we've got an ignorant immigration officer, Ian, and we thought it would be great if he does a review of the staff and then meets Taaj from FlyLo. So it was like we've met both these characters and now we're going to bring them together and it felt really interesting."
What viewers won't see, though, is any camera trickery, as when the characters meet it'll be one of David's playing opposite one of Matt's. "It's possible but I think if you just did it once or twice you'd be so aware of the camera trickery," says Matt, who appeared opposite himself in the blockbuster movie Alice In Wonderland, as Tweedledee and Tweedledum. "I'm always very aware of the trickery when I see it. When you watch Eddie Murphy play all the Klumps around the table you marvel at it but, in a way, I think it can detract; it's not that it isn't great. Also we probably just wouldn't have the time to do that and you need to be filming in a much more controllable environment to do that technical stuff."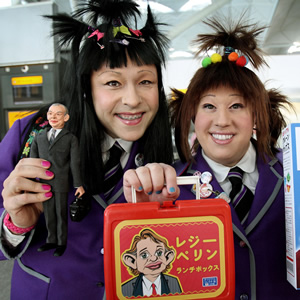 Costume and make-up has always played a large part in David and Matt's comedy, right from the early days of Rock Profiles (1999), and Come Fly With Me is no exception, with some characters taking up to four hours to create. "We've got the same make-up and costume people we had on Little Britain and now we shoot in HD there's a little more attention to detail needed," says Matt. "But we always try to make our characters distinctive from each other because we play so many and we enjoy transforming ourselves, it's like being kids with a dressing-up box. So I think there's the same attention to detail that we had in Little Britain. I was about to say it's slightly more naturalistic but, if you look at my [prosthetic] nose, I probably can't win that argument right now," he laughs.
"A show that was a useful reference was Summer Heights High, the Australian comedy series, which was fantastic," adds David. "Chris Lilley plays three different characters - a schoolgirl, a schoolboy and a teacher. And although you know it's the same guy, you still believe it, so we kind of kept that in our heads. Generally with mock-documentaries people have wanted it to be as close to life as possible, but as soon as I'm playing the 60-year-old owner of the airline it becomes a very different reality."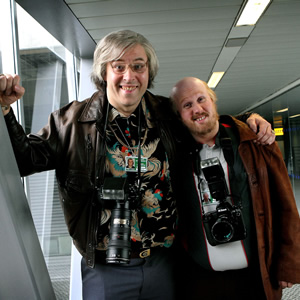 And while three-to-four hours in a make-up chair might be some people's idea of hell, David says it's just part and parcel of making a character-based comedy series. "You just factor it into the day, so you know it's coming. If you were doing a big prosthetic you probably know you're going to be in that character all day because of the expense of doing it, so to make it work financially you don't go from that to another character and back into it, you do it all in one day. And it's great when you see the finished results."
As well as the same costume and make-up people, David and Matt also have Geoff Posner, their executive producer from Little Britain on board, too. "It's exciting that we're working with new people as well, though," adds David. "We've got [producer] Adam Tandy at the right time, just as he's won every award in the industry, for The Thick Of It, and [director] Paul King, who directed The Mighty Boosh. They're both brilliant."
While Come Fly With Me will inevitably be compared with Little Britain, neither David nor Matt feel any pressure to match its phenomenal success and Matt says he actually feels less pressure: "When we were writing Little Britain, the first series was so successful, and with the second I was really aware that we were writing a show that had become more written about than a lot of TV shows and it had taken some sort of strange cultural significance. With Come Fly With Me, I think well, we can't - and we shouldn't aim to make something as big as Little Britain. Something like that probably only happens once in your career if you're extremely lucky.
"So in a way I was always aware that a lot of people were anticipating it with Little Britain whereas this feels like something else."
David continues: "Yeah it's new - the only baggage we're carrying is having had a big previous success but then again we're starting over with something new."
One thing everyone will want to know, though, is how many new catchphrases there will be in Come Fly With Me. "We have some catchphrases in this show but not nearly as many as Little Britain," says Matt.
"The thing is," says David, "to call them catchphrases now is a mistake because they're not. They're just things that certain characters say, like you do in real life. If the public like something and latch on to it then they make them into catchphrases. And it's the public that makes something a success."
Is there any chance that one of those catchphrases could be revealed now, just so we can get ahead of the game? "No, you'll have to wait and see," says Matt. Or, in other words, computer says no...