This Christmas Eve, Sky One release Cinderella: After Ever After, a re-imagining of the beloved fairytale story, starring David Walliams as Prince Charming ('Charmo') and Sian Gibson as Cinderella.
Described by Walliams as Sky's "jewel in the Christmas crown", it's a family-friendly adventure packed with slapstick-fuelled tomfoolery and a stellar cast (Tom Courtenay as the dumb King, and Celia Imrie as the Wicked Stepmother, Madame Blackheart).
The central premise is this: What happens after the fairytale? Marital bliss, prancing off into the sunset, or the stresses and strains of sharing the rest of your life with someone you've just met?
As Sky put it, "The anarchic 60-minute Christmas special begins where the fairy tale ends; Cinderella has just married her Prince Charming, but soon has a rude awakening when she realises married life isn't all it's cracked up to be when you have an image-obsessed, floss-dancing, hip-hop rapping husband. Perhaps a glass slipper fitting your foot is not sufficient grounds for a lifelong commitment after all?"
As Walliams added during our Q&A, his kid is always asking what happens next, after the ever after. The future for the married couple, he underlines, "felt like a story still to tell". We caught up with the writers, The Dawson Brothers, as well as main cast members Sian Gibson, Tom Courtenay, and David Walliams (who also co-wrote the standalone episode) to find out more.
The Cast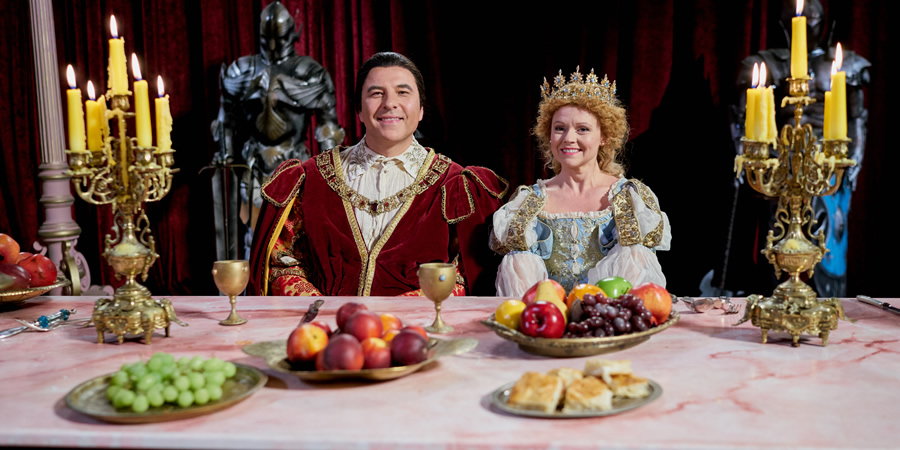 Sian Gibson revealed that she was thrilled to be offered the part of Cinderella, and was pleasantly surprised that, now in her 40s, she was playing the princess, not the princess' mum! She also told us that she had given the script to her daughter to read, and was chuffed when she could hear her merrily laughing away from the next room.
Kevin Bishop voices Cinderella's trusty companion Buttons the Mouse, and Sian Gibson confirmed that she honestly forgot at times that there was a person lying underneath the puppet, so skilled were his performance and gestures.
Matthew Steer plays a tongue-twisting Herald, and the ugly stepsisters are named Dumbella and Rubella, played by Ruth Bratt and Camille Ucan respectively.
Tom Courtenay, now 82 years-old and with a distinguished acting career behind him on stage and screen, plays Prince Charming's permanently flummoxed father, the King. Courtenay emphasised that, having played several 'serious' kings in past roles, such as King Lear and Hamlet in the famous Shakespearean tragedies, he was only too glad to take on a 'dumb' king, which was 'nice and silly'! His befuddled character is played with good humour and warmth, and a wealth of fart jokes, mostly around mispronunciations: "Clearly de-farted - departed!", "will never be fart - far! - from our thoughts", "Queen of farts - hearts!".
Giving Voice To Cinderella
During conversation with The Dawson Brothers, we learned that they often read classic fairytales with their daughters only to find several parts deeply "problematic", and this provided the fuel for Cinderella: After Ever After. Indeed, when asked about these re-workings and re-hashings of traditional fairytales that offer more agency to women and girls, David Walliams stressed that although the one-off special is a light-hearted show, this was an important consideration.
Likewise, Sian Gibson pointed to Frozen and Moana as modern examples of emancipated, empowered women or princesses who do not necessarily need men to 'complete' them. Indeed, we might add that we always thought it odd that Prince Charming almost immediately forgets what the supposed love of his life actually looked like - only that she wore a glass slipper! Here he is presented as a narcissistic, power-hungry, spoilt brat (he goes 'peasant-hunting', not pheasant-hunting!), and Cinderella must have her wits about her to get out of a tight spot.
Only recently, Hollywood actress Penelope Cruz revealed that when she reads bedtime stories with her children, she tweaks the endings, so that when the prince proposes to Cinderella, she refuses in favour of becoming an astronaut or a chef. It's a genuine cultural zeitgeist, what with shows such as Once Upon A Time hitting the mainstream, and Disney smash-hits The Beauty And The Beast, Aladdin, Frozen, Frozen 2 and Maleficent all receiving increasingly feminist re-imaginings - and reeling in huge box-office takings - in recent years.
Filming Curiosities
During the Q&A we learned that the Christmas special was filmed in Bulgaria, in the same studio as ITV2 sitcom Plebs. Indeed, David Walliams noted that they would see comedy actors such as Tom Rosenthal frequently walking through the set, and plenty of extras and secondary cast members would act in both shows due to the convenience and coincidence!
Due to the nature of that ITV show, the set was already established with a Roman coliseum, pillars, and buildings of that architectural type, which worked perfectly for much of Cinderella: Ever After. There was even a 1-to-1 replica of St Paul's Cathedral, used in the 1st scene where Prince Charming and Cinderella get married. Most of this show's crew were Bulgarian, as a result, but all the actors attest that they laughed very hard at all the jokes, proving that the abundant playful, slapstick humour was eminently translatable. Films such as Rambo and London Has Fallen had been filmed there too, and Sian Gibson added that Andrew Lloyd Webber was even there in Bulgaria as well, shooting a new project.
After After Ever After?
Walliams hinted that there could be more Ever Afters if this is well-received, with more instalments following the same characters or even sequels/what-happened-nexts to other treasured fairytales. He hopes that kids will love this one-off special, noting that children watch things again and again and hardly ever get tired. His own son will watch something one morning and then, the very same afternoon, claim that he's desperate to watch it again! Kids are hardly ever bored by good-quality, funny material, so watch this space for more to come. After all, as we learn at the very beginning of this Cinderella Christmas special, the old fairytales are all out of copyright, so it's relatively hassle-free to do!
Published: Monday 23rd December 2019