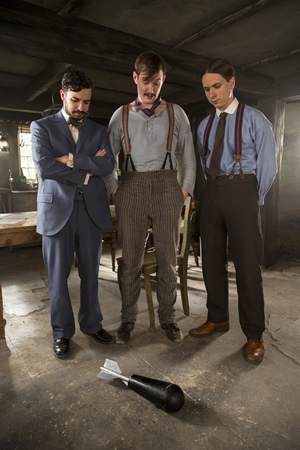 Producer John Rushton has worked on shows including Early Doors and Hundery. Here he talks about his involvement with Chickens...
Hi John. Why did you want to be a part of Chickens?
I'd worked on the pilot, so was keen in any case, and knowing the guys' backgrounds - Simon and Joe from The Inbetweeners, and Jonny having won the award at Edinburgh [Best Newcomer in 2009] - there was great pedigree for comedy genius. They're such nice blokes. It was also really interesting to do a period comedy. At that stage I hadn't done Hunderby and we were breaking the mould; I don't think it had been done since Blackadder.
Was that the main challenge you faced making Chickens then? Nailing the time period?
It was certainly one of the biggest. We were trying to make period programming, which is normally the exclusive domain of drama, on comedy budgets. Straight away, you knew it was going to be a challenge, but, at the same time, you wanted to rise to the ambition and make it on a scale that hadn't been seen before in comedy. To take on the village in Finchingfield was a monumental task and we did it, and, more importantly, we were really pleased we did it.
Generally speaking, how tricky is it to get comedy right?
It's entirely dependent on the scripts. If they're right, then the battle is half won. I know it's an easy thing to say, but if the dialogue's spot on, artists and actors get the tone, the comedy beats and everything else.
What made the Chickens scripts stand out?
Simon, Jonny and Joe are very specific. They know exactly how they want to hear the intonation to get the maximum comedy out of it. Good comedy writers know every inflection, as well as the timing, how long to sustain the beat before delivering the line. That is the trick. The boys were writing for at least a year and a half to hone those scripts and I've got a lot of admiration for them. They read like a really enjoyable, good book, your imagination just takes over.
Interestingly, the scripts were too long for the slots we had at Sky. We satisfy 22 minute slots and they were coming in at 28-30 pages and, roughly, you allow a minute a page. Ordinarily, I'd be terrified at having scripts so long, but they're very pacy and a lot happens within those 22 minutes. Some of it's tongue-twisters - if you could see the outtakes! [laughs].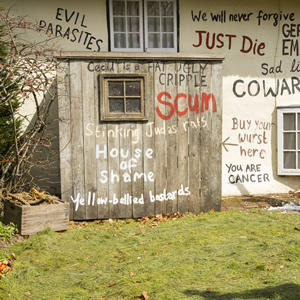 Can you recall your favourite day on set?
I loved being in the studio because it's like a comfort blanket, and I loved the days in Finchingfield. They were so satisfying, not only because the onus of responsibility of taking over a village was enormous, but meeting the villagers and chatting to them. I used to wander around every day, saying hello, having cups of tea here and there, and the locals were so welcoming. That's when we thought, this is going to work, OK, we can make this happen.
What about your worst? Any days you wanted to call it quits?
I know this is going to sound really cheesy, but, no, never. We had some challenging days, where, as I said, there's quite a lot of material to cover in the time available. Those are never great fun for a producer. However, I can put a positive spin on anything [laughs].
You do seem like a happy-go-lucky kind of guy...
Which is why I don't have a bad day. I'm so optimistic it can be annoying.
An attitude that has probably held you in good stead in the TV industry?
I couldn't possibly say [laughs].