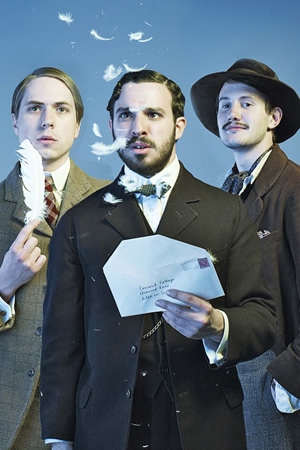 Simon Bird, Joe Thomas and Jonny Sweet are the writers and stars of Chickens...
How would you describe Chickens?
Joe: The show is set in World War One and it's about the men who stayed behind and didn't fight. Cecil, George and Bert are the only three men left in the village and all the women hate them. That's pretty much the gist of it.
Jonny: Each of us has a different reason for not going to war: Bert doesn't know what's going on; Cecil wants to go to war, but has flat feet and is very disappointed he can't go; and George is a pacifist, so he's against the war. It's just three guys staying at home while lots of other men are being brave and heroic.
They're just hanging out in a sleepy English village being picked on...
Joe: Although they're quite different in their own way, they're equally pathetic in the eyes of the village. They're like three naughty boys who have been put in detention. They don't necessarily know each other, but because they've been lumped in together, they've had to talk to each other and get on until they're allowed back out again [laughs].
How did the three of you meet?
Simon: We did a couple of Edinburgh Festival sketch shows when we were living together just after university [under the name The House Of Windsor] and that's when we started to talk about doing a sitcom. Then the three of us auditioned for The Inbetweeners, where two of us got quite big main parts [laughs].
Jonny: We all got parts, though, that's the main thing. We all got parts. Will we do a Dean offshoot? A spin-off series? Well, it's in the hands of the writers and creators of the character.
Joe: We've all been involved in other projects and haven't always had the time to work on Chickens, to commit to the writing of it. Then our schedules freed up and, gradually, we made the connections we needed to make it. Big Talk weren't the first production company we tried to develop a sitcom with, but it happened to be the relationship that worked.
Did you have a few ideas in the pipeline, or was Chickens always the one the three of you wanted to work on?
Simon: We definitely wanted to write a sitcom before we knew what that sitcom would be. Originally, we had a list of about 20 or 30 ideas that we whittled down to five, and Chickens had legs and raced to the top.
And how was the writing process?
Joe: Every writer is different, and the main thing is getting to the point where you trust other people's opinions. Writing, particularly collaborative writing is badly understood by lots of people. It's a delicate balance. The relationship between the writers is very important, and I really hate these shows where writers are just thrown together and expected to get on.
What would you say your individual strengths are in terms of the writing?
Joe: We're a three-pronged attack. Simon is probably the best at seeing the structure of an episode and what has to happen when, that sort of thing, the grand arc, and I suppose I'm the opposite of that because I get obsessed with the little details and minutiae. And Jonny, to be honest, is just naturally funny, a brilliant joke writer.
Did you have many creative differences?
Jonny: We were always disagreeing...
Joe: But, at this stage, we're beyond getting offended.
Jonny: We bin an enormous amount of material, but because we discuss everything, if a scene isn't in it, we know that we've explored it thoroughly.
Simon: It's been given a second and third chance. When something is removed it's usually for a good reason.
Jonny: The story is the most important thing and the tone, so we will lose a lot of material because we have to keep that in mind.
Joe: Comedy is like a 'how' word, you don't tell a funny story, you tell a story and, in the course of telling the story, you might happen to be funny. It can be painful and it's a really hard thing to get right. The trick is to forget you're writing a comedy and just let it come out.
Why did you go for the wartime setting?
Jonny: I don't think it was the period element that drew us in, what we found funny was the idea that this war was going on, one of the most important wars in history, and that there are these three guys who don't quite make it, that all these important things that were happening were slightly elsewhere.
Joe: We wanted a fish-out-of-water device and, actually, it's a bit like Home Alone. All the adults have gone and you've been left behind. You shouldn't be there, but, because you are, it's slightly disgraceful, naughty and, at the same time, kind of fun. They're not growing up, they're not being grown-ups and, in a way, that felt like a modern frame of mind. This is a big serious world full of incident and tragedy, however my life is pretty humdrum. It felt like we'd be able to write a modern sitcom with our particular brand of humour, which is based around a certain amount of being stuck in your own little world.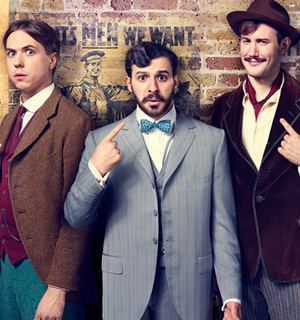 Did any of your comedy influences come into play?
Jonny: Unavoidably you bring them in because your sense of humour is affected by them. The Office is a massive one, and we love Seinfeld, The Thick of It, Curb Your Enthusiasm, Peep Show...
Simon: Peep Show has a lot to answer for in terms of Chickens. We could have seen ourselves writing a sitcom a bit like Peep Show, but actually we couldn't because Peep Show is so totally brilliant and has nailed that idea of being rudderless in your mid-20s.
The Evening Standard was talking about the QLC (the Quarter Life Crisis)...
Simon: I think that's what Joe was talking about. It wasn't that we wanted to write a First World War sitcom, we wanted to write a sitcom that felt relevant to us, about men who feel they aren't contributing to the real world. That's what Chickens is about.
Can you tell us about your characters and what obstacles they come across?
Joe: My character, George, the main source of pain in his life is that his relationship is falling apart because he hasn't joined the army. He's torn between his principles and what social etiquette dictates, and his fiancée's friends have stopped respecting her because of her choice of husband. George isn't a combative man and he doesn't want to rub people up the wrong way, but he has and now he doesn't know what to do about it.
Simon: Cecil, in a nutshell, is undergoing an existential crisis. He is desperate to go to war, but isn't allowed to and, because of that he's paralysed with fear about what people think about him. His story is one of constantly trying to convince the rest of the village that he genuinely did want to sign up. It's a losing battle, though, because he is automatically associated with these two, one of whom is vehemently anti-war, and the other one doesn't really know the war is going on.
Jonny: Bert has got obstacles and problems on a much smaller scale - it's like a dog trying to get into a packet of biscuits while there is a fire going on around him. These two have fundamental, genuine problems with their lives and one of those is Bert.