As Series 21 of Celebrity Juice starts, Keith Lemon talks about the show...
It's all change for Celebrity Juice with the departure of Fearne Cotton, how did you feel when she told you she wanted to leave the show after 10 years?
She called me which is very rare, we text about three times a week normally. We text a lot because we share an interest in clobber, so we're always talking about clothes. For her to call me is very peculiar. I thought she was going to tell me she's having another baby, so when she said she was leaving to focus on her other projects I was quite shocked.
Did you think about quitting?
Initially I said, 'That's it, I'm leaving too'. It's been 10 years and Holly, Fearne and I don't see each other all the time, but we're a close group of mates. Ages ago we said to each other if one goes, we all go. After I found out Fearne was leaving, I went to bed and slept on it and woke up the next day thinking that I can't leave the show because I still enjoy it so much. I thought, 'If Holly leaves because Fearne is then that really is the end, I'm not doing it without them both'. But then I spoke to Holly and the first thing she said was, 'Who are we going to get then?' I said, 'So you're still up for it then?' and she said, 'Of course!'. She did say she thought she would be the first to leave though. I thought so too!
Why did you think Holly would be the first to quit?
She's so busy! She's got This Morning, Dancing on Icicles and she's got M&S, she's always busy. When she said she was still up for doing the show I thought 'We can continue the legacy'.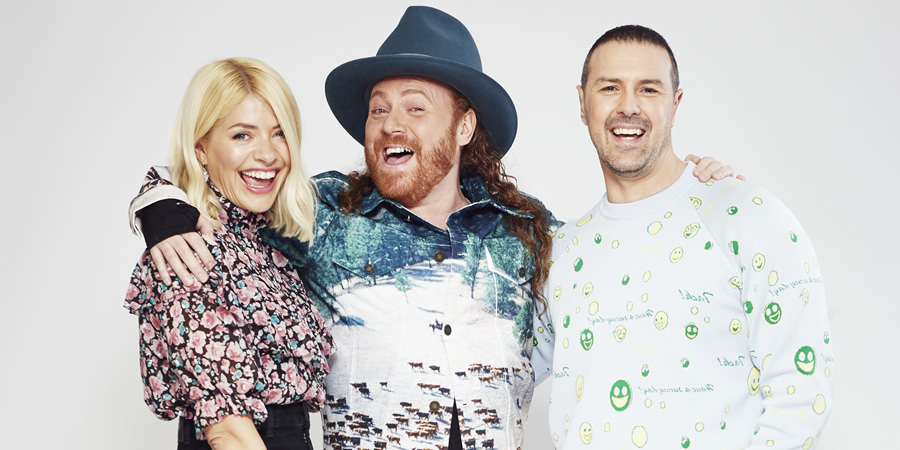 How did you decide on Paddy McGuineess as the new team captain?
There were rumours about it being Emily Atack and I love her to death, but it was always going to be Paddy. Me and Holly met up to discuss who would take over and we just agreed immediately that it had to be Paddy. She's really good mates with him and while she's my TV sister, Paddy's my TV brother. I think it's great because if we'd have got another girl there would have been too many comparisons with Fearne.
Was it easy to convince Paddy to join the show?
Yeah! When I asked him at the TV Choice Awards last year I said, 'do you fancy coming and doing Juice with us?' and he was like, 'yeah, cool!', and that was it. We just had to work out schedules to see if it was possible because he's also doing Top Gear. Once he knew he could, that was it.
What do you think he'll bring to the show?
I honestly think it's chapter two of Celebrity Juice, it's new school. It's like when you go from middle school to high school. Paddy is extremely funny, he's like my big brother. It's going to change the dynamics quite a lot I think. I'm really excited about it. It's nice when new people join the Juice team. It's going to be three mates having an ace time, like it was before, it's just this time one of them stands up when he pees!
Do you think Celebrity Juice will allow Paddy to show a different side to him?
He's quite naughty with me anyway! With The Keith And Paddy Picture Show we're obsessing about films, but it's not a naughty programme so it's going to be nice to see how he deals with this show!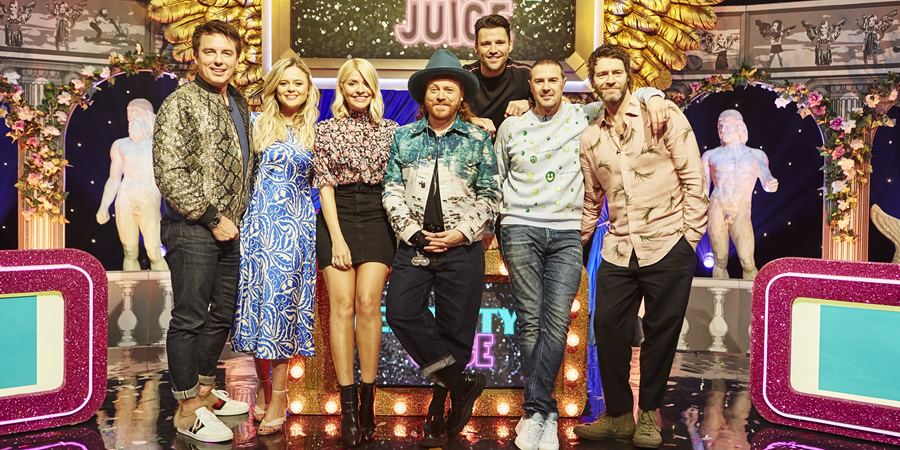 What's your advice to him ahead of the first show?
Drink! He needs to drink like I do and as Holly does! You know what, we just never know what's going to happen because it changes at the last minute. When we did the Christmas special, we never rehearsed anything so I'm there doing a special dressed as the Grinch going, 'What's happening next?'. Anything goes on our show, it's chaos! I like not knowing, it keeps it exciting.
Is Paddy as competitive as Holly?
Yeah he is actually. He's very alpha male, he's a manly dude who won't want to lose. I can see it getting out of control because Holly is so competitive, it's going to be great!
Being the new boy, will you prank him?
Oh there's got to be some pranking going on, definitely, but mainly backstage! Our budget for the show is probably going to disappear because Paddy has double main courses and puddings when he eats. I've never known someone to eat so much, but be so fit. He likes to show off his abs, I like to take the p**s out of that!
Stacey Soloman will be a regular guest on the show this series...
It's fantastic news that she's having a baby, but I thought, 'Oh no, she won't be drinking!'. I'm a good luck charm for women and babies! If you can't get duffed up just hang around with me and it happens!
Why do you think you get away with so much naughty stuff with the celebrities who come on the show?
It's really naughty, but on the night it's quite booze-fuelled naughtiness. Everyone has their inhibitions pushed to the curb. Everyone knows what they are getting into after 10 years so people don't get too offended. I always think that if you get offended by the show then stop watching it. We've been going 10 years now and it's still working and I think it's because there's no nastiness. Also, I think people enjoy watching us enjoy ourselves and that's part of the chemistry we have between us.
Can you see the show running for another decade?
I wouldn't like to say! I didn't think we'd last 10 years! I always said if we got three series then that's pretty successful, so to be back for our 11th is crazy. I guess if we're all still having fun and ITV want it then we'll be there.
What makes a good guest on Celebrity Juice?
It's someone who's willing to get dirty, get mucky, get involved and talk a lot! The quiet, shy and retiring ones end up the casualties of Celebrity Juice because if you're not saying anything then they are clearly not into the show. You have to make yourself known and have a good time.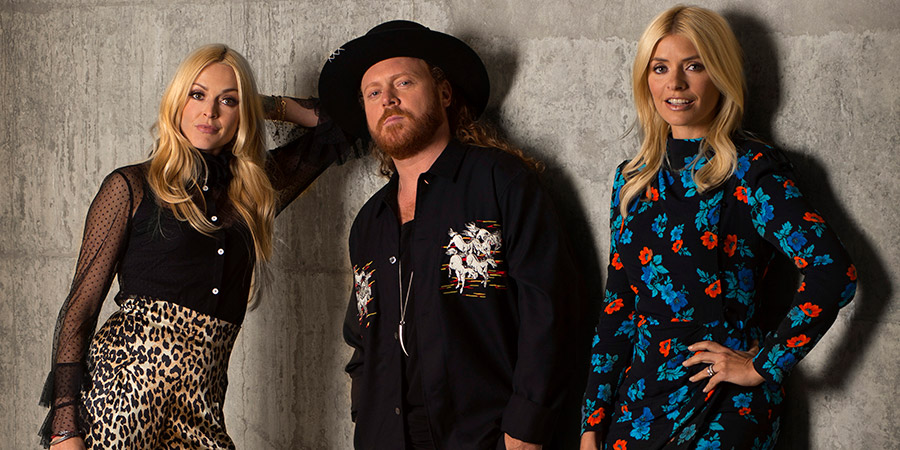 Who has been your favourite guest?
It's always people I know in real life or Americans! If I know someone in real life then that's great for me because I know how far I can push it without offending them and when we get Americans on I just love watching their confused face wondering how we get away with what we do! They can't believe we can say c**k and f**k on TV.
Are there any celebrity guests you have your eye on?
I'd love Kylie to come on. I tweeted her about it years ago and she said she would think about it so I hope she's still thinking! It's exciting to meet people you're a fan of. I've done a cameo in the Rocketman movie about Elton John, if you blink you'll miss me but I had a few lines. I'm in the trailer, I've got yellow trousers on! I've known the director for years and he asked me if I wanted to do a cameo so I said yes.
I've only got four lines, but it was really exciting. I've done a scene with Taron Egerton and Jamie Bell. Taron is amazing in it because he sings all the tunes as well, I want to get him on Celebrity Juice. I've had a cameo in his movie so he can come and have a cameo on Celebrity Juice!
Would you ever have a politician on?
No! I'm not interested in politics, I don't think politicians and Celebrity Juice would mix well! The only political satirist we've had on is Danny Dyer! I'd have him on every week.
Who is a bigger drinker out of Holly and Paddy?
Oh Holly, she's a robot! She's Holly Willough-boozy. She'll always win a drinking competition. I don't know how she does it. Like at the National TV Awards, she gets boozed up and then goes to work the next day. I can't do that! My next day is a write off! I don't book anything in the day after Celebrity Juice unless it's a writing day, I need a day to recover.