Fearne has made the decision to leave the show, how did she tell you?
She called me. It was a funny one because I was definitely surprised, I didn't expect it. Celebrity Juice is one of those shows we started doing what feels like a million years ago. You think it's going to go on forever and always be there. I knew something was up because she called me and she never calls me! She texts me a gazillion times, she's fast at texting. When my phone rang and it was her I was like, 'What's happened?', I knew she was going to tell me something big.
How did you feel in that moment?
I was sad because I'm going to miss her. You never want anything to end, it's been brilliant and such fun and I love the fact that I've had my friend there with me every series. I could really understand why she decided it was the right time and I totally respect that. I hope that she comes back for one off specials every now and again, that she'll come back and play with us some time because it would be lovely.
If she does come back for the odd episode will you fight to have her on your team?
Yes, definitely! We've never been on the same team before so I hope if she does come on as a guest she'll be on my team. That would be amazing, so much fun! We can totally gang up on Keith, I'd love that!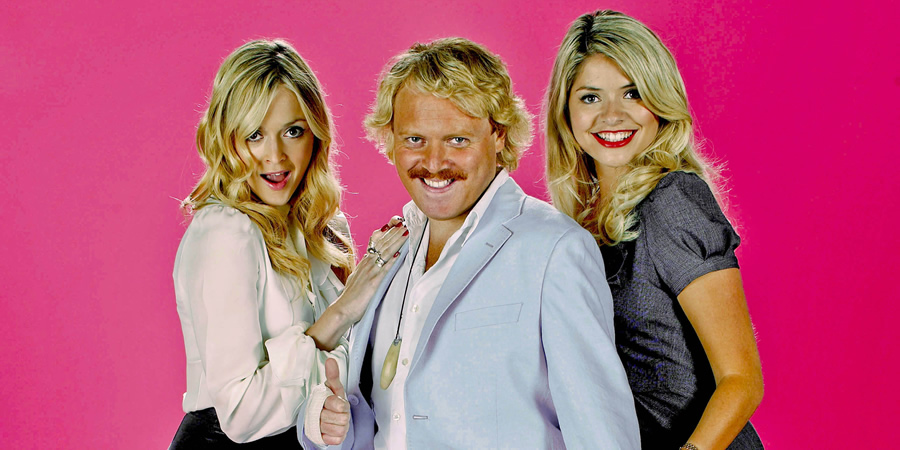 What made you decide to carry on?
To be honest we [me and Keith] were both still really enjoying doing the show and we weren't ready to say goodbye to it. He felt the same as me and just wasn't ready to let go of it yet.
So you both had a big decision to make about who would fill her seat...
Yeah, for me it all boiled down to who was going to come in and be the other team captain and actually it was the quickest and easiest decision in the world for us. Keith said to me, 'Who do you think would be good?' and I was like, 'Paddy?'. Keith said, 'Yes! That's exactly who I was thinking'. It was great.
Why was it such an easy decision to pick Paddy?
Keith's got such a great friendship with Paddy already, they do loads together and are really good mates and I've known Paddy for years, he has become a really good friend of mine too. There's a real friendship between all of us off camera and you need to have that before you go into a show like this. That's why Fearne with Keith and I was so good and easy because we were always just mates having a laugh together. Paddy has been on the show loads of times, he gets it, he knows everyone backstage, it just felt right.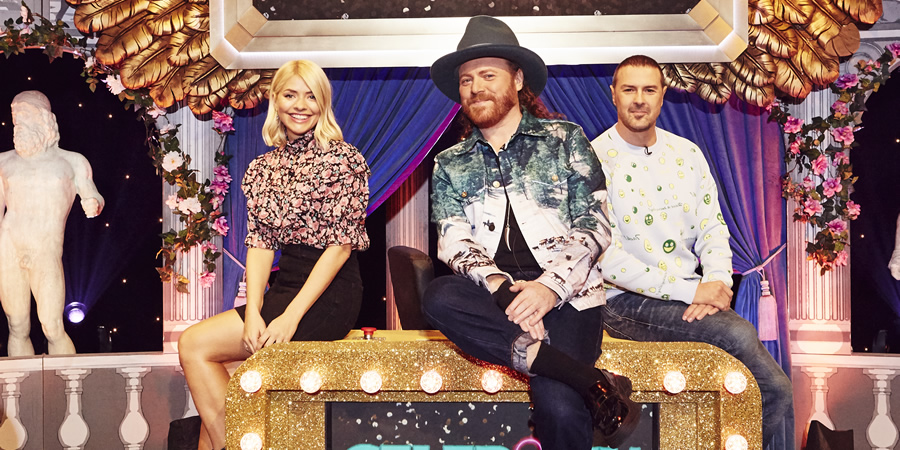 He's super competitive though, so are you ready for him?
You know what I'm like, I'm really competitive so bring it on Paddy! I can't help it, I really want to win all the time. On this show it's a bit ridiculous because the scoring system is dubious, to say the least! Even if you think you've won every game, you probably haven't won so what will be, will be. But if Paddy wants to have a bit of competition, he's got it!
As Keith and Paddy are really good mates do you think they might gang up on you?
It will probably go in cycles. One minute I'll be in the hot seat, the next minute it'll be Keith, the next minute it'll be Paddy getting it in the neck. I think it'll be like it always has been. It will just be a case of whose turn is it to get picked on that week, that's just how it goes!
Keith always used to get you and Fearne doing naughty games together, will you have that same dynamic with Paddy?
The good thing is he's always been really up for playing games in the past. He's happy to have a good laugh at himself and get stuck in which is why he's perfect for the job. He could be up for anything. This show definitely changes people!
You see people come on who are straight laced, or that's how we're used to seeing them on TV, but then they come on Celebrity Juice and you're like, 'Oh hi! This is what you're really like...!'. I think we always get people in their New Year's Eve mode, if that makes sense, they bring that game to the party.
Why do you think you guys get away with all the crazy stuff that just wouldn't happen on other shows?
I guess there's a little bit of a freedom on our show where people can relax a little bit more than they usually can on TV. It's not like we're doing anything that's massively outrageous. It's just people having a bit of fun!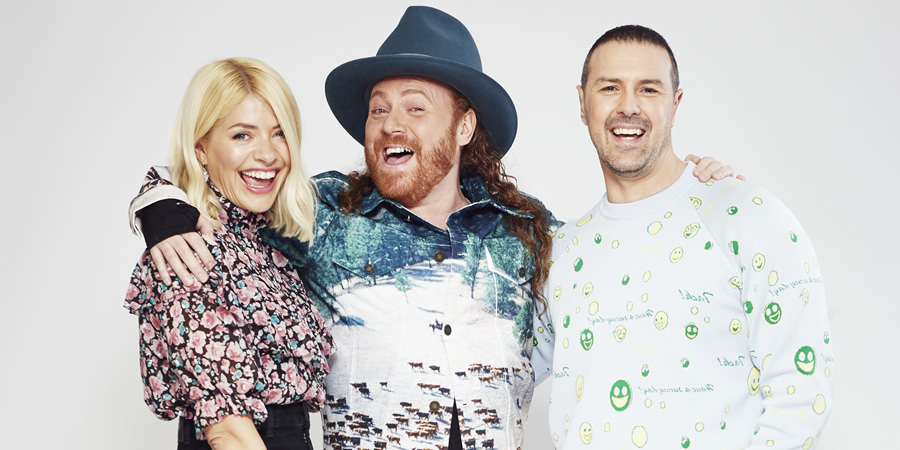 In terms of the games he gets you to play, is there anything that you just won't do that's off the table?
Oh yes! There's definitely some things, and I can't think what right now.
It's the same for the guests as well. If they come on and there's something they really don't want to do, they're never going to be forced to do something because we want people to have a good time.
We always make everyone feel part of the gang and there's never a joke at someone's expense. That's why I'm always shocked when people say to me they're too scared to come on the show in case Keith tears into them. I'm always like, 'Do you know what? I've never seen him tear someone to bits, ever'. I mean, he's a bit cheeky and a bit naughty, but it's never nasty in any way.
Stacey Solomon is going to be a regular guest this series, are you excited to have her on board?
I'm so excited to have her on the show. Stacey is another one who has been on the show so many times that it seemed right to ask her to play more of a role this time around. She's the perfect Celebrity Juice team mate because she's up for a laugh, she enjoys having fun and she's a good friend, so it's nice that she's going to be playing such a big part in this series.
What do you think makes a good guest?
I think anybody who doesn't try and overthink anything or tries to be funny. We like people who just come on, have a laugh and lose themselves for a couple of hours. I think it happens naturally that we see more of someone's personality than we usually do.
Do you like having Philip Schofield come on?
Yeah, he loves it! It's nice to work together outside of what we do on This Morning. I remember the first time he agreed to come on I was really nervous. I was like, 'What's he going to think? What's he going to do? Is he going to approve or question what he's got himself into?' Now he knows exactly what he's getting himself into and keeps coming back for more so he clearly enjoys himself! I always say, 'If you come on, you're on your own! Whatever happens, happens. It's not my fault!'.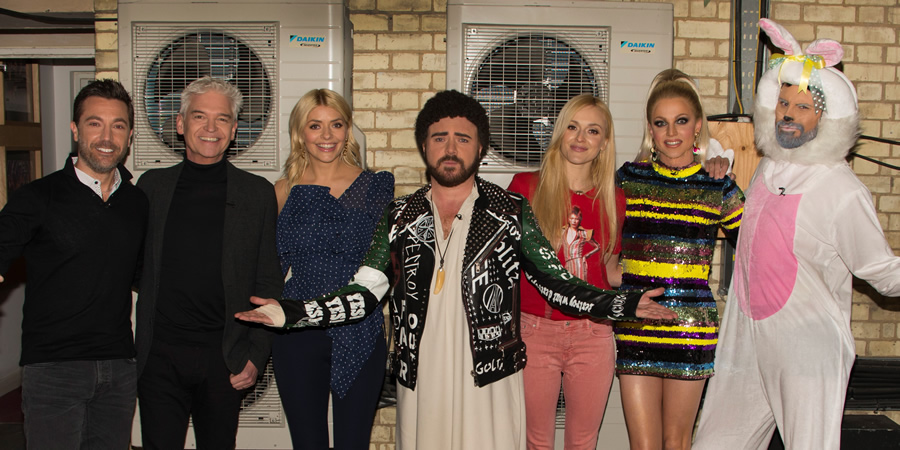 Is there anyone you'd like to see on the show?
Keith says Kylie has said she might come on one day and I think she would be an amazing guest. She would be really good fun. To be honest, I'm up for anyone really, they just need to be up for a laugh.
You have so many TV projects and a young family so is your time precious?
It really is, but the thing with Celebrity Juice is it doesn't feel like work. I come to the studio and it feels like I've gone to my local pub quiz for a night out! I come and hang out, have a laugh and then go home.
People seem very interested in what you wear, do you try and mix things up on Celebrity Juice?
Yeah, it's a late night show so I can dress up a bit more and probably be a bit more eccentric. We usually end up playing stupid games though so while I might step out in something I love, I end up in a bright pink boiler suit. It's great to have fun with my wardrobe, Keith loves to dress up too so it feels exciting.
How do you feel about people referring to you as a fashion icon and constantly talking about what you wear?
It's really flattering - it's nice that people say that. It's odd because you're just getting dressed to go on the telly. In real life I'm much more likely to go home, stick on some jeans and a t-shirt and a pair of trainers with my hair scraped back and not worry about it. It's lovely and really nice to play dress up, but when I get home it's a very different story, I'm just a mum!
Does what you wear feel like armour to do the job you do on telly?
I think it does feel like armour, yes. It's quite nice to try on different things for different shows that I'm on. My stylist encourages me to try different things that I wouldn't necessarily try before and that's really quite fun.
It's nice to try new things that I would perhaps be nervous of doing on my own. My stylist says, 'Put this on with this' and I'm like, 'Really?!' and I put it on and realise it looks good! I enjoy that side of things, experimenting and not just doing the same old, same old every day.