So, Catastrophe is back for a fourth series. When we left, Rob had just had a car accident while over the limit. Is Series 4 just going to be him, alone, in a prison cell for weeks on end?
Pretty much, yeah. Sharon visits him once, briefly, in Episode 4, but otherwise it's just him in solitary, in complete silence, for every episode!
No, I'm kidding - he gets in trouble, and he has a hole to climb out of. Whereas he was wrestling with his drinking in Series 3, in four he really tries to surrender and understand that it is a deadly problem. Then they grapple with more problems of being a family with young kids and wacky in-laws and stuff like that. It's a very fun fourth series, it's grander and larger and we travel further afield. It's more cinematic. We're very, very excited to get it out.
As you say, the show deals, fairly frankly, with Rob's alcoholism - what kind of feedback have you had from people about that? Do you get any criticism for mining it for comedic purposes?
I suppose some people get uncomfortable, not in the sense of "Hey you shouldn't do that," but more "gosh, I had pins and needles watching that." I like to instil physical discomfort into people who tune in to watch a comedy. I get off on that! But also people have said that they feel we're dealing with it very responsibly and accurately, and that they found it affecting - and thank goodness! Because it is a serious subject. Yes, you can laugh at it, but also it kills people.
Does the fact that you're playing an alcoholic character take a toll on you at all?
No. I don't find a vast difference between playing a character wrestling with alcohol or a love scene or a fight scene. It's all so utterly unreal and fake when you're filming stuff - the number of people in the room, all the equipment, it's freezing but you're pretending it's really hot, or you've got something happening in your own personal life that's perpendicular to what you're acting. So even if you're just acting someone going into a shop and buying an orange, it's so artificial. So it's no harder or weirder filming a scene when you're drunk and crying than it is filming a scene when you're buying an orange.
Speaking of filming in discomfort, Rob spends a lot of this series in a neck brace, which looks really irritating. How much time did you spend in it?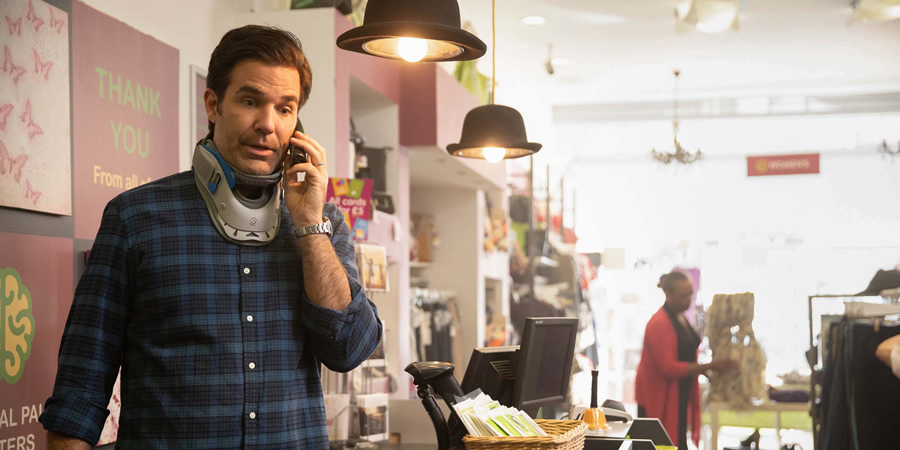 Oh God, I hated that, it was awful. We shoot out of order, so it's not always a whole day, but sometimes I'd be in it for the whole day. And then suddenly you get used to it, and then you start depending on it. By the end of the day, my neck would hurt and feel weak. So if you're going to write your own sitcom, don't put a neck brace scene in for yourself. Or, at least, don't put 37 neck brace scenes in for yourself.
One of the strongest elements of the show has always been its great supporting cast, hasn't it?
I sure think so, yeah.
There are some excellent cameos this time around - who have you got lined up?
Apart from the regulars, we've got Julie Hesmondhaulgh, and she's amazing! She's in the first episode, and she was so great. Then we've got some wonderful Americans - we've got Michaela Watkins, who plays my sister. And we've got Academy Award winner Nat Faxon, and we've got Chris Noth and David Alan Grier. Some amazing people, for sure.
There's a terrible rumour doing the rounds that this is the last series - is that true?
Yeah, it is!
So much of the series rings true to life, and everyone can see their own relationships reflected in there. Do you get material from your own life?
I get feelings from my own life - that's the most important thing, that the feelings are realistic. Data, or actual things that have happened from my life, not really anymore. Somewhat over the first series, but over time we've expanded the world and done crazier stuff. So yeah, I've felt the way Rob in Catastrophe feels, and I've felt the way Chris and Fran and Fergal have felt - because obviously we write them all.
People ask if the characters of Sharon and Rob are based on us, and the answer is all of the characters are, we're every character. I'm as proud of represented by the peripheral characters as I am by the one called Rob.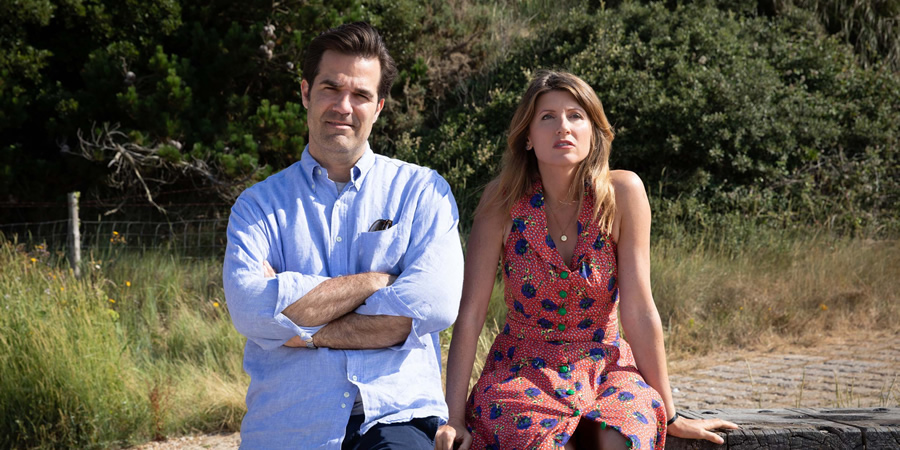 Do you guys find that, as you're writing, one of you does one character more than the other?
Absolutely not, we genuinely enjoy writing for each character. Sharon's imprimatur is all over every character, for sure, and so is mine. We love them all.
You're very political in your everyday life - certainly on Twitter. Was it a conscious decision not to feature too much Trump and Brexit in the show? Is that difficult?
We do more explicitly get into that a little bit in this series. In the third series, we were all too stunned. We finished shooting it at the end of 2016, when we were all still feeling like "Is this stuff really happening?" And by 2018, when we're shooting Series 4, yes, it's happening, you can't avoid it. The show was never about that, but politics would sometimes come into it - like Rob, for example, has a mortgage in Central London and so has to take a job that he hates, so there's oblique political commentary in the show even when we're not talking about politics. But it does get a little more explicit in the fourth series, just because that's what's for dinner right now! That's what's happening.
You're very vocal and prominent on Twitter. It's a pretty febrile place at the best of times. How do you avoid getting sucked into endless slanging matches?
I think because I was doing stand-up before I was ever on Twitter, so I was used to people saying "Hey, you suck!" to my face, or "You're the greatest thing since sliced bread," to my face neither of which are true. So I kind of got desensitised through that. Now if people slag me off online I don't care.
Plus, since I'm in the public eye and I have a lot of followers on there, I'm not going to drop an atom bomb on some civilian who said something mean to me. Maybe they just had a bad day. I don't need to ruin their online experience forever by some offhand comment.
It's bad enough for the rest of us to try and work out what we'll do in a post-Catastrophe world. Have you thought about what you will do? Are you going to work with Sharon again?
We have nothing in the hopper at the moment, but of course I have undying respect for her creativity, and we've had an amazing time doing this. I'm going to be doing some strand-up. I've acted in a bunch of other people's movies that will be coming out in the coming 12 months or so. And I'm going to be doing some more writing as well.