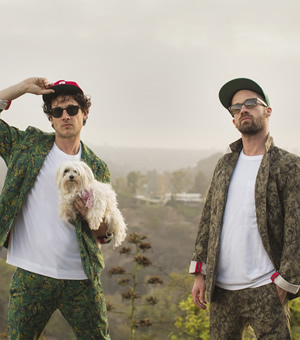 The second series of the TV sketch show from Cardinal Burns has just finished on TV. We gave BCG readers a chance to ask Seb Cardinal and Dustin Demri-Burns some questions. Here's the results...
Which are your favourite characters to play?
Dustin: There's a few, Jonesy, Bukake, Phil from Paranormal investigators. More recently one of my new faves is Curtis the 80's rapper. Huh huh hun!

You are sometimes in sketches alone. Do you try and divide up screen time fairly?
We don't give it a huge amount of thought when writing; we tend to just go for what's funny. Perhaps in the edit we are more aware of cutting directly from one sketch to another that may both feature one of us more heavily.

Who are your main comedy influences?
Dustin: A fair few. When I was young I remember loving Lenny Henry, French & Saunders, Blackadder, Fry & Laurie along with Woody Allen, Gene Wilder and The Naked Gun. In my teens it was The Fast Show and Alan Partridge. In more recent years, Summer Heights High, Flight of the Conchords, Eastbound & Down, Louis, and The Trip. All sorts.
What advice would you give to someone wanting to start a career in comedy?
Try your material out live if possible to get an immediate reaction. If the thought of that makes you feel sick, then try filming bits. Try stuff out!
I'm 18 and preparing to go to uni to study Creative Writing & Drama. I have started uploading comedy sketches to YouTube. All my sketches are too long I think. Do you have any advice?
Well, you're already ahead of the game by realising that. Less is more.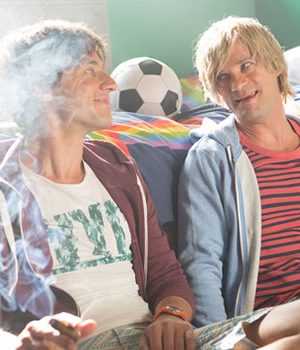 What is your favourite sketch from Series 2?
We honestly don't have a favourite. Matthew and Leon the time travellers (pictured) came out particularly well though.

Will you be performing abroad at any point?
We are about to perform at the Just For Laughs festival in Montreal. Previously we've played in Stockholm and at the Melbourne International Festival. Does Scotland count?

Which characters will be in your live tour?
You can expect to see some favourites from both TV series and some never before seen characters.

Can New Guy and Charlie give me some flirting tips please?
Charlie says: 'get them excited and then leave them wanting more. Then they'll be putty in your hands.'
Is it true you're both French?
Half french. Paternal. Our mums are from Essex.

You can do lots of different accents. I wonder, can you impersonate each other?
No. We're both empty vessels. Void. Nothing to latch onto.
Do you have any ideas for new characters for a Series 3?
Absolutely none!
All the episodes of Cardinal Burns are available to watch for free on 4oD
Cardinal Burns will be touring the UK from September. For more information and dates see cardinalburns.com
Published: Thursday 29th May 2014