Bugsplat!
Sitcom pilot about a team who fly drone planes in Afghanistan
Genre

Sitcom

Broadcast

Channel

Episodes

1 Pilot

Starring

Hugh Skinner, Lauren O'Neil, Rufus Jones, Vincent Franklin, Fiona Button, Sacha Dhawan and Aimee-Ffion Edwards

Writer

Director

Producer
At UK Drone HQ, life for 13th Squadron crack pilots James, Lexi and Peter is almost back to normal after returning from Afghanistan.
Or, as normal as it can be when you run spying and bombing operations from a porta-cabin by day, before ambling into the leafy countryside for a few drinks in the pub with your mates, or indulging in an affair... until a lone peace protester sets up camp at your only exit.
But this office-bound and plane-free life is not dull... The Squadron has intelligence on a high-ranking terrorist, some of the best tech around, and a mission to run; Wing Commander Barry is being harassed by Gina from RAF intelligence to spin their first cock up into a PR triumph; James is more interested in his love life and finding some drugs; Lexi just wants to get on with the job and blow up anything she can; and Peter is becoming more and more convinced that Mo, who runs IT, is up to no good.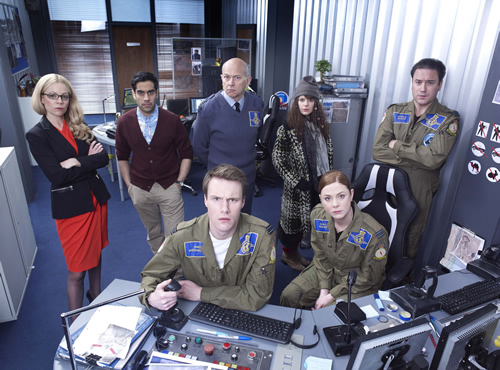 Production company

Laugh track

None
Broadcast details
First broadcast

Wednesday 6th May 2015 on Channel 4 at 10:30pm

Episode length

30 minutes