To celebrate the 25th anniversary of the hit BBC sitcom Brush Strokes, the complete first series has just been released on DVD. To mark the occasion and the new release, we had a chat with the show's star, Karl Howman, better known as the archetypal jack-the-lad, Jacko.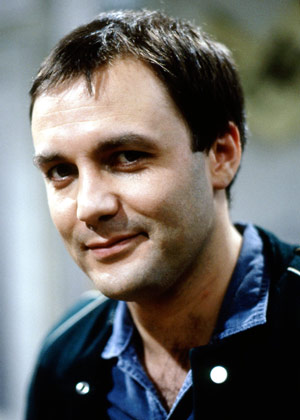 How did you first get involved with Brush Strokes?
I'd done the last series of Get Some In! for the writers, John Esmonde and Bob Larbey, for Thames; I'd taken over from Robert Lindsay in that last series when he'd gone over to the BBC for Citizen Smith. They'd seen me in The Sweeney in a guest lead role, and they cast me from that. So I'd done that and became good firm friends with both writers and did a TV play called A Touch Of The Tiny Hacketts for them in 1978. And then when they came up with the idea for Brush Strokes they were championing me for the role really, both at the Beeb and with Sydney Lotterby who was the producer. I had to audition and go through the mill a bit, because I don't think I was his first choice, but the boys persuaded him - and I'd like to think my auditions might have helped a bit! - and in the end I got it.
You played Jacko for six years, and then a not dissimilar character in the Flash TV adverts for a number of years after that - was he a particularly fun character to play?
Erm - well, I think that the Jacko in the series was a listener, really. They moulded him around a guy that really liked women; he didn't necessarily want carnal knowledge of every woman he saw, but he really liked listening and talking, and this is where he didn't get a lot of painting done: if he saw someone, he'd have a chat with them. And it was this sort of amiability that was quite appealing, and of course also he was a catalyst for all the craziness that went on with Elmo, Lionel, and all the various other things. He wasn't a sexual comedy character like Leonard Rossiter's Rigsby, for example - they were the 'laugh out loud' and he just seemed to move amongst them. And yeah, I did enjoy it, very much.
You've worked fairly steadily since the early 1970s. Certainly as far as comedy goes, you seem to have played more than your fair share of the self-assured, at times cocky, ladies' men characters, from Jacko in Brush Strokes to Charlie in Babes In The Wood, and even Mulberry to a certain extent - was that a conscious decision to take those sort of roles, are they particularly fun to play perhaps?
Well, Mulberry was ethereal, a whole different case again really; he was the son of death - and everything that goes with it - rather than in any way a ladies' man, and he was there to take this old lady to the hereafter... But yeah, I just sort of landed them and was asked to do them. I think to some extent, once Jacko was a success, the TV companies saw me as a similar character, at least comedically, and so to keep with the television industry one moves in that similar direction. But as far as the stage is concerned, which was then about 70 - 80% of my work each year, that was different; and really, one enables you to do the other, the stuff that you really want to do.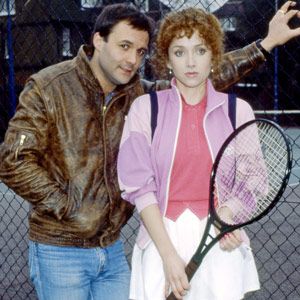 And did the irresistible-to-women nature of Jacko follow you into the real world? Did people treat you differently?
No. No, not really. You leave the leather jacket on the wardrobe hanger, it's just part of your job. You don't wander around checking everyone out, it's just part of the job. And how other people perceive you is up to them obviously, but you know, it's a small part of your life. It was a popular show, and I hope people will buy the DVD box set because I'm always told how good it was to watch as a whole family, that there was something for everyone, and although it's not really for my tastes, it's a good show I think. But the point I'm trying to get at is that whilst you're doing it, it only takes about 3 months of the year from beginning to end. I could be Bill Snibson in Me & My Girl, or I could be a guy who's lost his son in a shooting in Wild Justice, a play that was written for me to do in Stratford, or a social worker even - and those all take far much more of your time, and you're immersed in those characters.
How do you see Jacko now? Would he have finally settled down, do you think? And would you consider a revival of the show to see where he is today?
Oh no, no, it was 25 years ago now! I've got two happily married daughters, granddaughters, a grandson on the way. No, ha ha, no I'm too immersed in what I'm doing now, running my own film company; apart from these interviews, Brush Strokes doesn't enter my head I'm afraid. There's 25 years of people growing up now who've never heard of it, and even when it was out, even it got 16 million watching - which with 4 channels was really good of course - that still meant that 46 million or so weren't watching. So no, I don't think so!
Mulberry was, to say the least, somewhat of a unique sitcom. Can you tell us a bit about it from your perspective?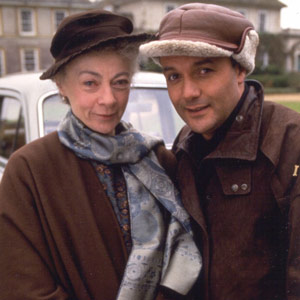 I loved that series. I really did. I absolutely adored what they were trying to do. Well, we did 2 series of the show; it was a really off-the-wall idea for Esmonde and Larbey: a sitcom about the son of Death... His father wants to pack up work and pass it on to his son, who's previously looking after the horses (the four horsemen of the apocalypse, that is), and his mother, Springtime. And so his first job is to take this old lady - Geraldine McEwan - but he likes her so much and brings her out of herself so much that he doesn't get the job done! Well, this was, I thought, beautiful in its concept.
I still get letters - and I don't say this about many things, but it was really dear to my heart, what it was trying to do - and it was shown in Canada and America who seemed to have taken to it on PBS really well, and I know both me and Bob Larbey still keep on getting letters asking "what happened?". Well, sadly, there was another show on at the time, So Haunt Me, starring the wonderful actress Miriam Karlin who sadly died just a few months ago; anyway, the controller of BBC1 at the time felt that with both series having elements of supernatural and ghostliness about them, he could only continue with one, and for whatever reason he chose So Haunt Me rather than Mulberry. I don't know why, but hey, that's just part of life, that's how things go in this business. But had it gone on I think it would have brought a lot more satisfaction to people, I know I really enjoyed it, and I loved working with Geraldine.
Particularly within the comedy field, an increasing proportion of writers seem to be becoming performers, and vice versa. Have you ever been tempted to pick up the pen and have a go at writing yourself?
Well I did actually write the last film my company produced, which starred Ray Winstone, Fathers Of Girls, and I've written the next one too! Co-written with my business partner that is; and we're currently writing a third, the life story of a guy who's done amazing things in Miami. So yes, I do write! I'm not saying I'm any good at it, but we had an opening in Leicester Square, and when you've seen something in development right from the very beginning, that's such a wonderful journey to go on, and once you've achieved it - it's just such a great feeling of satisfaction. A lot of people would love to go on that journey, and it's a great one to go on, a wonderful thing to be involved in. And that's what I'd like to carry on doing.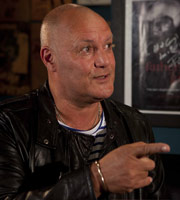 Well that rather pre-empts our next question then! Do you have any upcoming projects you're excited about, or perhaps anything you're hoping to tackle in the future?
Well yes, exactly. The next film is written, and we've got the biography of this guy's life too. Whether that's a TV series or a film, we're not yet sure, but it is just such an extraordinary story, it's all true, and when the initial book comes out, I think people are going to be amazed at what he's done.
Wow, well, we'll keep a look out for that one then. Good luck with it! So finally then Karl, looking back at your comedy career, is there anything you're really particularly proud or happy to have worked on?
It's a bit of a clichéd answer, but I really did gain something from absolutely everything I worked on. From working with Alastair Sim early on in my career, right the way through to people like Robert Lindsay in That'll Be The Day, and Tony Selby in Get Some In! and Mulberry, not forgetting Geraldine McEwan, all the different people that you work with, you pick something up from, and it's wonderful. But I think probably my happiest time, and I think largely because I was there from the concept right through to the very end, was Mulberry. Brush Strokes was great too, but extremely hectic because I was for 11 years doing the radio series King Street Junior as well, and inbetween Brush Strokes I was performing in the West End for a year at a time, whilst I was filming around it, and it all just went by in a whirl! But the memories, you know you hear people saying to "take time to smell the roses", well with Mulberry I had that time.
Brush Strokes - The Complete Series One & Two (containing the first series, which was produced as two) is out now from Acorn Media, RRP £19.99. Full Details