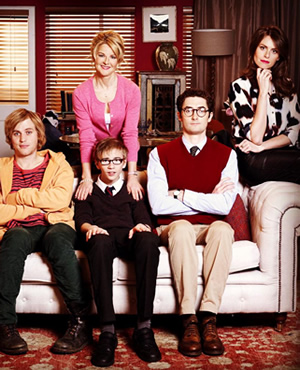 Below is a chat with Ben Ashenden, who plays the uptight Dan; Johnny Flynn who is the laid-back Toby; Sarah Hadland, aka Auntie Debbie; and Ellie Taylor, who plays Dan's work colleague Poppy.
Hi all. Can you tell us a bit about the show, and your characters?
Ben: Brotherhood is an original British sitcom for Comedy Central. It's about three brothers but it focuses on two who become surrogate parents to their younger brother after their mother passes away. I play Dan the eldest, who is a neurotic and uptight guy. He likes order, likes cleaning and likes to be in control of everything.
Johnny: I play Toby the middle brother, and we are in our early 20s with a younger brother, Jamie who is 14. We are about 10 years older than him; in a sense we are cast into the role of parents.
My character is a loveable idiot. He is unintentionally funny with things that he says because he doesn't really understand what is going on, which makes a great dynamic between the two older brothers because Dan is very clever and Toby doesn't know what on earth is going on! We are both trying to bring Jamie up in the best way possible, but we have different ideas of what that is. Toby is a bit more laissez-faire.
Ben: The fundamental problem with our characters as to why they aren't good parents is Toby is too cool, and Dan is not cool enough. Dan has completely the wrong idea of what is good to do, I am completely out of touch with my younger brother who is only 10 years younger and Toby wants him to be a ladies' man at 14! A middle ground between the two of us would be a good parent.
Sarah: I play Auntie Debbie who is the sister of the mother who has passed away, and I live very near to the boys. In this series we don't see her flat but I'm hoping we will do in future series! She's quite a busy body and tends to pop round to the flat interfering. I think she would like to catch the brothers out not looking after the younger brother as well as they should.
She's definitely got a good heart and that's something we talked about a lot. She's the kind of person that just when you think she's really mean, when push comes to shove, she is good to them and is there for them. There are a couple of nice little moments when she does actually do really nice things for them. She's a fully rounded character in terms of she can be quite full on but she does mean well at the end of the day.
There is quite a dysfunctional family dynamic; do you think people will be able to relate to them?
Sarah: I think in all families there is a different generational dynamic. Auntie Debbie is of their mother's generation and would like to be perceived as being younger than she is. There's always something a bit cringey when someone from an older generation tries to be cooler than they are. Particularly with Jamie, she wants to baby him quite a lot and no teenager wants to be babied. Particularly not by someone who is physically smaller than you! I think everyone can relate to that. The first time anyone lives without parents or a responsible adult is an interesting dynamic and a rite of passage.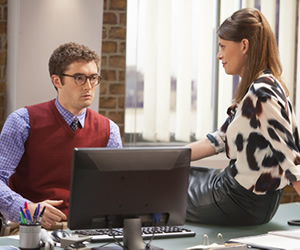 How do you fit into all of this Ellie?
Ellie: I'm the younger brother! No I'm joking. I play Poppy and I work with Dan at a magazine, called List London. She is really fun, but a bit nuts. She likes to wind Dan up, she likes to drink and she loves a man! She is more like Toby in regards to not being a grown up, she is very silly - God knows how she got a job in the office. I am known to the family so I will go round to the boys' house, and not help but cause more chaos.
What first attracted you to working on Brotherhood?
Ben: I liked the premise. It's what drives it for me - people who live in a flat but with a very strong reason to go on living well. Not your average sitcom about people trying to pay the rent, or being cool and going out to parties. They want all of these things but they also need to look after a younger vulnerable human being. This is a comedy with a strong emotional drive.
Johnny: You see these people at a really amazing point in their life, where they want to carry on being young but they need to grow up very quickly or at least understand what is required of them. It's a point at which I definitely found myself quite recently because I had my first child four years ago, and I wanted to go out all the time but had to remember there is someone at home that needs feeding.
It is a little bit like that: when you are young parent you get caught slightly unawares. However, they didn't plan this at all. Their mum sadly died and they have been left to look after their younger brother. The irony is everything is okay. They think they need to do things all the time to keep the ship on track but actually you see they love each other and that's the most important thing.
Ellie: The fact that it was a studio sitcom filmed in front of a live studio audience was interesting for me. I am used to stand-up comedy, which are live performances so that was an interesting thing. It had a whole different dimension to TV and is really fun to still be in front of an audience.
Sarah: I'd played Stevie in Miranda, which was quite high energy and youthful teenager type role and then I played Trish in The Job Lot and she's quite a worrier, nervous and slightly old fashioned. So you've got two very different characters there; Auntie Debbie appealed to me as she's quite glamorous and inappropriate and will say things in front of the boys where they're all cringing and she's quite fine with saying that, and she's quite an out there character. I'm always very keen to play different characters and like to think of myself as a character actor, so it's really nice to play something that's different to what you're doing.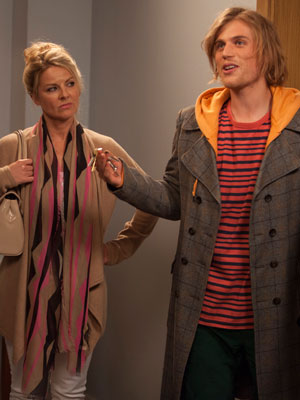 Would you say performing in front of live studio audience makes it more nerve wrecking?
Ellie: It does, but it heightens everything so you are more nervous but you also have more energy. We are all natural show-offs so with the audience there it ramped things up a little bit. As much as we would have rehearsed in the week, on the night it goes out the window. Ben loves to adlib so that would make it exciting and fun and you didn't know where it was going to go.
Ben: I would try and change things as early as possible...
Johnny: We dared each other to do things between takes.
Ben: The other thing about studio sitcom... you spend all your time doing single camera stuff without audiences and you are in an environment where everyone around you is paid not to laugh. So you do things that are funny and you hear silence and get used to that. Coming from my background where you get instant responses, and you tailor the tone of what you're doing to suit the room, a studio can be disconcerting: after a week of rehearsing the lines the laugh gets less, however you do it fresh with an audience and opens it up again.
Sarah: I've done a lot of studio work and it's a really exciting dynamic because the camera is right in front of your face and then you have the audience there, which is really encouraging and gives you a sign post to what works and what doesn't. I get incredibly nervous but I'd probably be more worried if I wasn't. I pace up and down, muttering my lines!
Sarah, given your experience, did you offer any advice to the other cast members?
Sarah: With the audience, it's important to remember that they're just people! People want to be entertained and they want to laugh. If you correspond with them and enjoy that there's an audience, hopefully you'll feel a bit more relaxed. The key to it is to know what you're doing and repeat it. That's another skill, to keep everything fresh and spontaneous and repeat what you've done.
Making people laugh is wonderful and it's always great fun. This was a lovely group of people to be working with. Johnny and Ben are absolutely great and little Scott - well, not so little Scott! He's gone past me since we've been filming, he's grown past me. Paddy and Paul who've written Brotherhood are fantastic lovely guys. It's been a real pleasure to be part of.
Do you have any funny anecdotes from when you were working together?
Johnny: There were a few... the funniest moments on set are usually Ben because he has bigger balls than myself and Ellie. We would have a few takes done and there would be some room for improvisation and Ben would take off on this off-piste monologue.
Ben: Scott, the guy who plays Jamie, was target number one because in the show his character hasn't spoken for the last 6 months so I would always try and make him laugh as much as possible.
Johnny: He was bad at keeping a straight face. Sometimes you would be like "this is my best stuff" but Scott would have his head in his hands laughing and we couldn't use that take.
Sarah: Ben is training to do the marathon, which I've done twice, 'Pause for appreciation...' sub four hours both times! I've been giving him a lot of training tips and he's taken to lifting me up like a barbell! Ben and Johnny are fantastic because they're both interested to learn. They were constantly watching and asking advice. I think it's a good thing for all actors and a really good sign. I think they're both brilliant and very funny.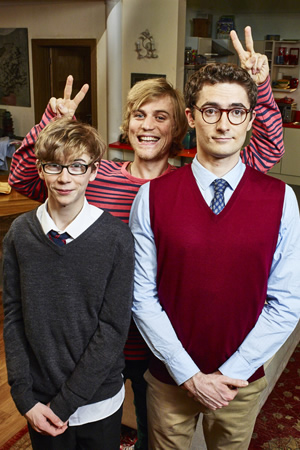 Like you said earlier Ben, Jamie hasn't spoken for six months; did that provide any challenges when you were acting with him?
Ben: If I was trying to do that at his age, it would have been a car crash. So much acting with his eyes, but yes his only weakness was that he found things funny.
Johnny: The nice thing that provides is that we often had to talk for him, for our own gain.
Ben: Will he ever have the courage to speak? He is actually a confident character.
Johnny: I would go as far to say that he should be our parents. On an emotional level, the youngest is the most grown up and wisest, the people who are having a break down are the people who are supposed to be looking after him. That is one of the funny dynamics in the show.
Ben, your character has a funny dynamic with colleague Poppy, can you tell us if that develops?
Ben: It is not a classic relationship. Poppy is incredibly intimidating because she is weird and mischievous so it is a "will they/won't they" where you hope that they won't!
Ellie: That would be disastrous.
Ben: They are definitely better suited as friends, they do help each other on to do various things.
How do you think audiences will relate to your characters when they watch the show?
Ellie: I think everyone can relate to a dysfunctional family setting of some sort. Everyone can relate to the type of characters; Dan being straight laced, Toby being chaotic and then me. I genuinely think it's really funny - but they have a heart. Which makes me sound cringey but I don't care. It is a really nice warm show.
Can you tell us about any of the guest stars who pop up in the show?
Ellie (looking at Ben): You had a surprise when you did your first scene with Gemma Chan [Miss Pemberton]...
Ben: Oh yes, well in the first episode Gemma is in a state of some undress and I wasn't aware that it was going to happen the way it did. But for me, I was so excited that Tony Way was there because I love Game Of Thrones.
Johnny: I love Tracy-Ann Oberman because she has been in some very class comedies.
Ben: Oh yes, she was fantastic.
Ellie: Each week when different people are on it, it would change it up and be interesting.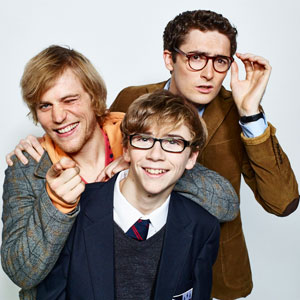 Can you sum up why people should tune in to watch Brotherhood on Comedy Central?
Ben: So that in 20 years you can say... I watched the first episode!
Sarah: It's really good fun and the chemistry between Ben, Johnny and Scott is superb. I believe they're brothers and they've all got a really unique style. There's something really different about it and they've created something really lovely. The combination of the writing and their performances is really lovely.
Johnny: There isn't anything like it on television, maybe because it is made by Comedy Central but it has an American format and presentation with using the multi cam but it has a very British sensibility with characters and problems with their emotional inadequacies.
Ben: I once heard that American comedies are about successful people, and British comedies are about unsuccessful people. To an extent that is true and ours is different from that because it isn't all about failure. It always ends on a heart-warming friendship.
Brotherhood is on Comedy Central on Tuesdays at 9:30pm.