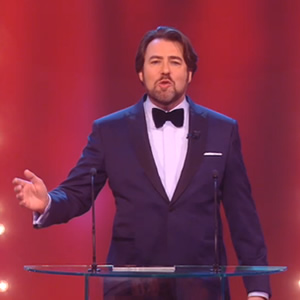 Here's Jonathan Ross's full opening monologue from the 2012 British Comedy Awards.
What a start. How about that? Incredible fireworks! I must say thank you to my friends in al-Qaeda for setting that up for us.
Hello everybody, and welcome to The British Comedy Awards 2012. You know it's wonderful to be here, I feel honoured and proud to be here and the reason is - look around the room, look at the faces in the room - I maintain we produce some of best comedy in the world, and much of it is thanks to you guys in here!
I would also - if pressed - agree we make some of the worst comedy in the world... and much of that is down to some of you.
There has been some remarkable television this year, you've been working harder than Christopher Maloney's sense of hope.
There have been so many great moments this year - like Caroline Flack, we all love Fresh Meat. Jack Whitehall went from playing an ultra posh student to playing a state school teacher in Bad Eductation. Jack has not been stretched like that since his first night at public school.
Who didn't love Would I Lie To You? ... or as it's also known, Newsnight?
Ricky Gervais caused controversy this year with his new show; he answered his critics by saying he was not mocking a man with mental problems - but I've watched An Idiot Abroad. I think they're laughing at him, I really do.
John Bishop appeared on Who Do You Think You Are? and managed to trace his act all the way back to 1973... Evening John, that's what you get by not turning up!
There was another series of the brilliant Rev., which despite being set in an inner-city parish managed to be as hard hitting as The Great British Bake Off. Or, as Sarah Millican calls it, porn.
And Britain's Got Talent was won by Pudsey the dog, it was actually Simon Cowell's second dog of the year, after Red Or Black' or, as I like to call it, The Million Viewer Drop. It got a smaller audience than an Eric Bristow sex tape. Honestly, it had them turning off like an all-female Live At The Apollo. [Gasps from the audience] Come on girls, we can all take a joke!
Tonight we have the cream of British light entertainment in the room, and you might not recognise them all but in a few years time they will all get immortalised - or some of them - in silhouette form in Britain's tabloids above the sentence 'helping with their enquiries'.
Where do we start with that? Let's start with Horrible Histories, by which I mean the Jimmy Savile documentary. Since that went out the police have been busier than a Top Of The Pops 2 edit.
It's like television has taken all the good will from the Olympics and flushed it down the toilet. What's going on at BBC Television Centre? Or - as we now call it - CSI White City. Suddenly it all makes sense, that's why the BBC moved to Salford; they're in the witness protection programme.
But it is genuinely sad what's happening over there, Brucie is turning in his grave. Evening Brucie - that's what you get for not turning up.
You know how shambolic BBC management are right now? I'll tell you. When they were looking for someone to replace George Entwistle, George Entwistle was top of the shortlist. You want my opinion - the new Director-General: they need someone with broad shoulders and big balls... I say give it to Hilary Devey.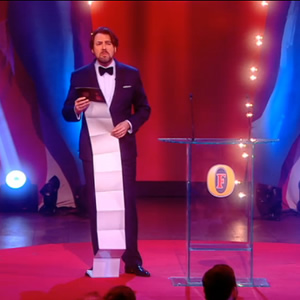 Accusations are flying, everyone wants to know who is next. I mentioned this to my friend Phillip Schofield and he very thoughtfully prepared this list of names for me. [Ross unravels a long piece of paper that reaches the ground] I can't name them, but if you're playing sex pest bingo at home, table 13 has got a full house.
Honestly, it's made the judges' job on this show so difficult. We've had to be so careful we've given the lifetime achievement award to Josh Widdicombe just to be safe (because he's young).
Anyway, we're all a bit traumatised by what's happened, so tonight's going to be nice. Tonight is about giving you a little TLC. Not JLC, obviously. Justin Lee Collins - the only man to make Abu Qatada look like a feminist. After the details of his case came out, Alan Carr's got more chance of getting lucky with a woman.
Tonight we're going to keep it warm, concentrate on some of the happier stories. For example, James Corden got married - isn't that lovely, ladies and gentlemen? He got married this year - I'm not saying it was a showbiz wedding, but the bride was only invited to the evening do.
Paddy Kielty and Cat Deeley got hitched as well, and like 'Brangelina' they now have powerful showbiz name... Cat Deeley. Apparently, it was a beautiful wedding based around Paddy's act: something old, nothing new, something borrowed and something blue.
And David Mitchell and Victoria Coren tied the knot, and they are a beautiful couple, even if at first they seem like the oddest pair in showbiz since Russell Howard's eyes. I love Russell, but his eyes are like a boyband - Two Directions.
So we're going to go easy on you tonight, because of what's happened - not just because of what's happened actually, but also because many of you had tough lives. And I know this because in my day job I had to read about it in your autobiographies. All happily out just in time for Christmas. Honestly, there were so many out that Waterstones have had to open a new section called Fifty Shades of Shit.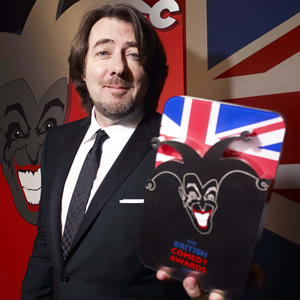 Jimmy Carr had two books out this year - one was his real accounts. Jimmy Carr: the only man who is a tax exile in his own country. Actually, technically he's half Irish but his accountant says he can get that down to 5%.
He's not the only one - I hate to be the one to draw this to your attention, but I was shocked to find out that, last year, Stephen K Amos only paid £2,000 in tax. Although it turns out that's all he was supposed to pay. This year he's worked less than Julian Assange's Oyster card.
As always, you've made the effort, you're looking wonderful this evening, some of the gentlemen have adopted a retro look - I can see more wrinkled old DJs out there than at a police ID parade.
Ladies, you look radiant, like a Come Dine With Me hostess who has pulled out all the stops. What a look! And I think we're all going to 'get it on' later on, it's like a big celebrity version of Take Me Out... as Paddy McGuinness might say, 'let the spanks see the ankles'.
But, to the awards. Let's get on with it - it's not a long night, it does sometimes feel like one - it feels like being on a train journey with Tim Vine.
I can see a lot of you are nervous, you're sweating like Alan Davies at Anfield. And why? because you don't know who has won, it's a mystery, it's an unknown - it's like Russell Kane's real age. No one has any idea. Could be anything.
We must get on, time is flying faster than critics rushing from the Spice Girls musical...