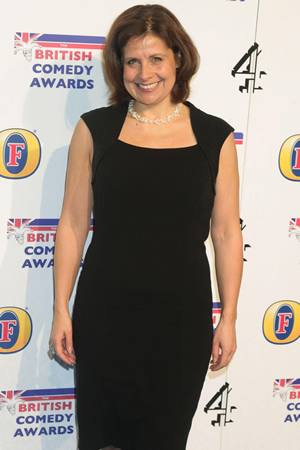 British Comedy Guide was backstage at The British Comedy Awards last night. Our favourite moment was spotting a man whose job was to follow close behind Joan Collins wherever she went with a makeup bag in hand, but aside from that here's what else we learned...
Vic & Bob are writing a film, which they will also star in. It's hard to get an idea what it'll be about though, as we overheard them telling various different ludicrous premises to different journalists.
Charlie Brooker said his new 3-part series of Black Mirror would be out early next year and fans can expect "all sorts of unpleasant things". He was keeping fairly tight lipped about what the shows would be about, but did let slip one is based around a 'what if' type scenario. He explains: "What if, you died and your Twitter feed and Facebook statuses carried on going? What if there was some software that emulated what your personality was like."
Hunderby co-writer Barunka O'Shaughnessy didn't understand why people were calling the sex scenes in their show 'horrific', joking: "I thought they were beautiful. What do you mean horrific? That's how I make love. We were writing from experience!"
Meanwhile, Julia Davis gave a very slight hint that perhaps her much-loved dark BBC Three series Nighty Night could return one day. When asked about the possibility she said: "Er... I don't know. I mean I've got ideas, but I don't know!". So at least she's been thinking about it.
Later the same question was posed to Rebecca Front (pictured), who co-starred in the macabre comedy. She said "I'd be there like a shot - I'd love to do it again. She's always said 'no' to me when I've asked her."
Front is currently one of the hardest working actors in British comedy. She said: "I'm taking a little break over Christmas, and then [I'll be doing] quite a lot of stuff next year. But you know what it's like, when you're freelance, whenever a job finishes you think I'll never work again... so you just don't say 'no' to things. But I try and only do things that I think I'll enjoy."
Lee Mack told us he was surprised to win the Best TV Comic prize, particularly as he had little support from his family. "I left the house tonight and the last words I heard were my son going 'you've got no chance - Harry Hill is going to win'."
The Not Going Out star also revealed he was looking forward to gloating to fellow Would I Lie To You? team captain David Mitchell. "I won't be particularly nice about it. I will literally beat him with it. He lauds it over me comedically often, so I'll hit him with it. This is not a time for modesty, this is a time for bragging and threats. I saw this is a victory for the working classes - let's storm the palace!"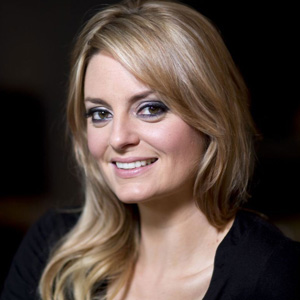 Morgana Robinson (pictured), winner of Best Breakthrough Artist, might now have to get used to getting spotted in the street. "I don't get recognised, I really don't. I just walk around like an old scruff bag. I can just walk around as me - I guess I just have so many guises no one knows what I look like - it's quite nice."
She says she's now met many of the people she's done impressions of, and "everyone has been really nice. No one wants to be seen as taking it badly, as that'd be bad press. A lot of [the sketches] are quite light hearted, they're not nasty. The worst one we didn't end up using - we were mean and horrible about Peter Andre."
Stephen Mangan, who is soon to be the voice of Postman Pat in a big movie, gave us a hint that The Comic Strip Presents... could return for another special, adding: "I'm hoping there'll be more. They're all so good, and for me they were who first got me into comedy so working with them is quite surreal."
Although Harry Hill couldn't be at the awards himself, his TV Burp team were very happy to receive one last reward for the show. At the same time, they're somewhat pleased it has ended: "The process of doing it was a killer, because we had to watch lots and lots of terrible telly, just to get the little nuggets we found."
They said working with Hill was a real honour though: "We miss the fun we had in the meetings. If you had half an idea then Harry would turn it into a full idea, which is quite rare... because you can work with a lot of people for whom it's the other way around - you go in with something and it's how much it loses between you writing it and them presenting it... but Harry it's always the opposite."
Cardinal Burns were delighted to win, but the duo are still keeping tight lipped about a second series, even though it's un-officially already been announced. However, it's still not all plain sailing: "You've got so much pressure on the first series, the second series would be a different kind of pressure." They did, however, let slip that they had started writing it...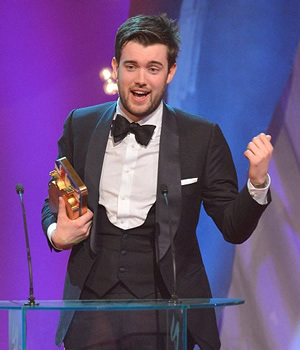 Jack Whitehall looked genuinely shaken, having been voted by the public as the King of Comedy. The stand-up comedian and actor was visibly struggling to hold back tears as photographers prepared to take his picture. He told us later: "I'm so appreciative of people who voted for me. I genuinely didn't expect to win."
He had modest celebration plans though: "I've brought my mum along, so I'll go and have a drink with her - pretty rock'n'roll!". He added: "A bit of Bublé might get played later."
Whitehall has a busy 2013 ahead of him with another series of all of his TV shows, but says he would be up for doing a film: "Yeah, if the right one comes along - I'd be up for that. I'm just taking things as they come. But I'm quite busy doing more Bad Education, Fresh Meat and A League Of Their Own."
He was still feeling bad about his acceptance speech though, and nearly forgetting his parents. "I didn't thank them quick enough - I'm so stupid."
Meanwhile Sarah Alexander - who presented one of the awards - told us backstage she was still cross that BBC One had cancelled her sitcom Me And Mrs Jones. "I sob every night. I've got a petition going on Twitter to try and drum up interest. I absolutely loved every second, it's the best thing I've ever done. The most fun I've ever had, the best part I've ever had - it's fucking annoying. In the words of Alan Partridge: 'Give us a second series, you shits.'"
Fans of the sitcom were left with an un-resolved cliff hanger. Sarah says: "I'd love to know where my character ended up. I think in all those situations - head or heart - you've got to follow your heart and we saw, slowly but definitely, she fell in love with Billy. She resisted as long as she could... but I think love conquered all."
Sarah is still busy though, as she explained: "I'm working on a special of Jonathan Creek, which will be shown next Easter. I'm loving it - it's really lovely to work with Alan Davies - I've known him for many years but we've never worked together. I'm a huge, huge, enormous fan of David Renwick - from One Foot In The Grave, to all the other brilliant things he's written. I was quite star struck when I met him actually. He's such a comedy god and now I get to say his words!"
Full Results and videos of the winning speeches
Sky Atlantic keen to order more Hunderby
Morgana Robinson reveals C4 have axed VIP