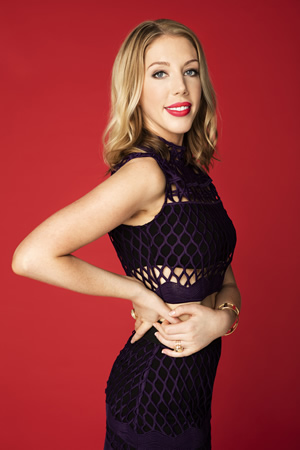 Katherine Ryan is currently the 'resident funnylady' on Sky1's music and comedy show Bring The Noise. Below she talks about some of her favourite music...
What has been your favourite moment of the series so far?
I really like watching the performances. Because a lot of the stuff that I do is comedy, it's not often I get to be in a studio with someone like Mel C singing a vintage Spice Girls girl power anthem. It was a really surreal moment for me, she's got such a beautiful voice. If I could tell my 15-year-old self that I would be seeing that...
What's your favourite game on the show?
I think Flip-Reverse. It seems to be everyone's favourite. You can guess along with any of the games at home, but this one, it's really amusing how if you've got a musical ear, you can listen to the song backwards and figure it out before it's played forwards. A lot of people tweet during the show and try to figure it out first, and any time you can get an audience involved it just makes the show better.
What is it like working with your co-stars?
Nicole is beautiful and glorious and amazing in everything she does and it's so cool to see a musician like her just be such a pro - every genre, she just nails it. She is on a team with Joel, so they are obviously my rivals, my enemies...
Joel and I worked together for many years, I always go to see him on tour - I love Joel, he's a good boy.
And then Tinie, he's just really cool, he's got a very peaceful aura and I love that about someone. He's so successful, but everyone in his crew is his family and he's really nice.
Then Ricky obviously has a background in being a rock star, but again, he's just really good at his job, really laid-back. Nobody is too Hollywood - I love the British way of being really welcoming but also really witty, and I get along with everyone. It's just such a fun job.
Now, Bring The Noise is obviously all about music, so what song would you pick to soundtrack the following moments and why...? When you want to pull off your signature dance move...
It changes. It depends on what is a cool song. I really like Hotline Bling at the minute. I love that Drake is, number one: Canadian; and, number two: that he dances with such reckless abandon. That video has been made into a meme because some people think it's really good dancing and some people think it's really bad, but that's what I love about it, because it's subjective, isn't it? You can tell he's having a really good time, and that's how I dance.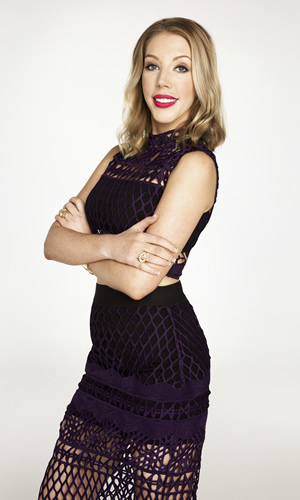 Your first kiss...
Still Haven't Found What I'm Looking For.
To impress everyone at karaoke...
Shoop by Salt-N-Pepa, because I'm actually a pretty good rapper. I know all the words because I grew up listening to a lot of Salt-N-Pepa, and that was a very feminist song before there were many. It was about the ladies - Salt, Pepa and Spinderella - taking control of a situation and being very aggressive and powerful. I liked it.
To get yourself psyched up before going out on stage...
I like Tinie Tempah's Pass Out. It's funny, I loved Tinie before I met him. I love bits of that song like: 'Now I drive past the bus I used to run for.' It's a very rags-to-riches type of song, and that's what it is - it's all about the hustle for everyone, for all of us.
During a long road trip...
I love Rudimental's Lay It On Me, right now, and I could listen to it many times.
Your dream song to cover...
If I Ruled The World by Nas. It's really cool. It's a really difficult song, too, and an important one. I'd have to change some of the lyrics... I would be 'whitesplaining' the troubles outlined in that song.
The theme tune for your Hollywood biopic...
You know that song by Meredith Brooks called Bitch? "I'm a bitch, I'm a lover, I'm a child, I'm a mother, I'm a sinner, I'm a saint..." Love it.
And you feel that sums up your life story?
Yeah, because people get upset sometimes. Like comedy, satire, can upset people, but you wouldn't want them any other way. I love that song - it's what I'm about. And nobody's one thing. I think it's OK to be lots of different things. It's almost vintage now, at the time it was overplayed, but I love when a song's old enough that it's cool again - like styles of jeans.
Bring The Noise is on Sky1 on Thursdays at 9pm.