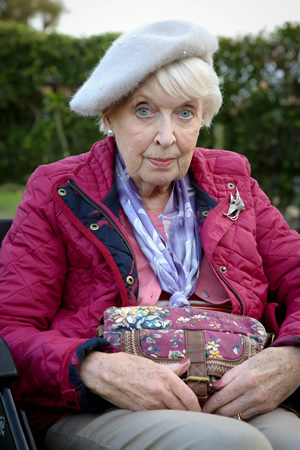 June Whitfield continues her amazing comedy career by playing Joan in Boomers.
Hi June. Could you tell us more about your character?
I'm playing Stephanie Beacham's mum who's in a wheelchair. It's unclear whether she can get out of it! I think she probably can but rather enjoys being pushed about and mainly by her son-in-law. She has two daughters. It's very odd - she rather likes sparring them off against each other because she's a bit awkward I suppose.
How would you describe Joan?
She provides some fun. She's resigned to being old, but thinks that means she should be treated properly by people. And she's managing to remain a bit independent. She's one of those mothers. They worry where she should be and she really couldn't care less. As long as she's somewhere and can lean on them a bit she's happy. I suppose she is somewhat burdensome but she wouldn't think so and she likes to drink - anything. Drinking doesn't seem to make a lot of difference - she just gets more irritating! I imagine she was always difficult. It transpires her husband was a boozer though you only get a passing eference to that. I don't see anything of myself in Joan though.
What drew you to the project?
The main thing was the wonderful cast. I was delighted to be part of it. They're all so well known in their own right. And in the pilot it was quite obvious Joan was in the way, not anticipated, arrangements had been made for all the others to meet and Maureen arrives with her mother which is not very helpful and Joan did have some quite sharp things to say. I also thought 'Playing Stephanie Beacham's mum and being in a wheelchair is useful because I won't have to do a lot of standing.'
Had you worked with any of the cast before?
I worked with Russ on Last Of The Summer Wine and funnily enough my daughter worked with him many years ago in one of his TV series. Paula and I both did an episode of the last series of Jonathan Creek, but not the same one. The cast all know what they're doing and are a pleasure to work with.
You're 88 and still going very strong. Have you ever considered slowing down?
I'm lucky enough to work in something that I love doing and not everyone has that privilege. So I can understand people yearning for their retirement. But the sad thing it that unless they have something else of interest to do, and I think it happens perhaps to a lot more men in a way than women, when they retire and think 'Thank goodness'. But if they don't play golf, don't garden, have no other interests, then they end up really frustrated. Like a lot of actors I wonder if every job is my last, but I've been very lucky and work has turned up. For me, work is more fun than fun! So as long as it's offered I'll grab it...
Does work keep you feeling young?
Goodness me, no - I feel older every day! Acting does keep you moving and gives you a reason to get out of bed. But as you get older it is even more important to enjoy what you're doing, and I do. I wouldn't be surprised if that's why I've lived so long - doing lovely work, meeting wonderful people, stops you sitting down and feeling sorry for yourself. Because you know you need to get on with it.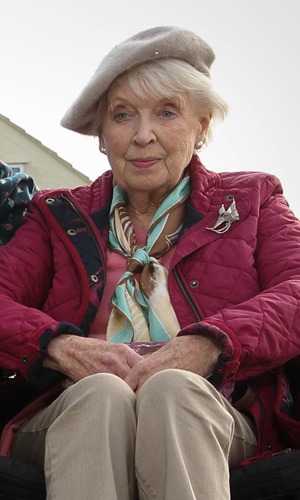 You obviously think it's important to stay active?
I would advise everybody not to just sit down and grow old but to start doing something they enjoy. I've taken a personal trainer once a week because I'm dreadful, I don't exercise, I don't walk about an awful lot because my feet hurt, so I thought it was a good idea. It makes you move bits you otherwise might not. We did start walking on the common but the ground is very uneven and I was just picking my way so now we've settled for running up and down the stairs and touching toes and suchlike and I feel a lot better for it. I always find an excuse for not exercising on my own, so once a week a little encouragement is a necessity. My trainer is a lovely young chap and he also gives me a massage to iron out the creases.
How do you find learning lines?
My memory is appalling apart from learning lines. I do like time to learn. I could never do a soap, getting the lines the night before and doing it the next day. I might have been able to do that fifty years ago.
What has been your proudest achievement?
My daughter Suzy is my proudest moment. And I'm pretty pleased that I'm still working...
Joan has a fractious relationship with her daughters but you are very close to your daughter?
I adore her! Absolutely - and I think she's fond of me. She lives half an hour from me with my delightful son-in-law. I'm a step-grandma because she married a man with children, and I'm a great-great aunt.
You've been in so many types of comedy. Do you have to play it differently each time?
Lots of people ask me that - I do the same. It's what's around me that changes. Arthur Askey, Julian Clary, not exactly the same but the process is.
Roy Hudd once dubbed you the comic's tart?
I have worked with quite a few. Arthur Askey, Frankie Howerd, Dick Emery, Peter Sellers, Tony Hancock, Jimmy Edwards, Julian Clary, Roy Hudd... They were all striving to do their best - and I've always said that one of the reasons I've worked for so long is that I'm no trouble. Noel Coward is quoted as saying: 'Learn your lines, speak clearly and don't bump into the furniture,' and that has stood me in good stead.
You were married for 45 years until the death of your husband Tim Aitchison in 2001. What is the secret of a long and happy marriage?
Nowadays, at the first sign of an argument, people leave each other rather than trying to work things out. They are inclined to take the easy way out. I was lucky because I was able to make a living out of what I loved doing. My own mother 'Muff' was a keen amateur actress and would have loved to have made a career out of it, but her father, my grandfather wouldn't hear of it. He said the theatrical profession was full of rogues and vagabonds, so she did a lot of am dram on stage and as a director until almost the end of her life. When she did stop, that hastened the end because she hadn't a lot left to live for and I've always thought I've stopped at the end of every job, but luckily - touch wood - something turns up.
Are you glad you were born when you were?
My generation is very lucky. I had it so good when I started my career. There wasn't the pressure of money. In those days the powers that be made decisions quickly. Nowadays there are 95 people making a decision about whether to go with a pilot. I think it was a less stressful time when I started acting. When TV came along it was supposed to give a lot more jobs to a lot more people but that hasn't really happened because understandably directors and producers choose people they know they can rely on. They don't want to take a chance too often.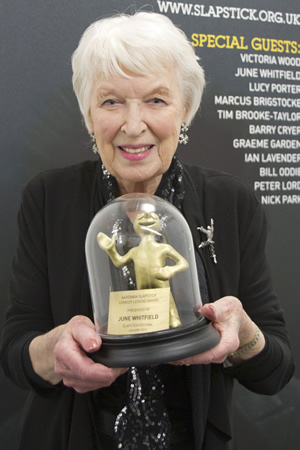 What advice would you give someone just starting out in comedy?
I would say finish your A Levels and take a typing course or have something you can fall back on and know that it's there because jobs don't come that easily. I pity the young because I think it's very different for them and because they see all those reality shows and they think 'I could have a go at that' and it doesn't work out that way.
Would you ever do a reality show?
I'm very glad no-one has asked me to go into the jungle dear! I'd be out of there just seeing a bug, never mind eating one! I do love watching Strictly though.
Do you use modern technology?
I have an iPad, I'm on email and I have a mobile phone but I have never tweeted. I play online scrabble with my son-in-law - it's the most frustrating thing in the world - but I get fed up with broadband and it frequently crashes. I press buttons but those machines have minds of their own. I like the thought of trying to keep up. For Age UK I've said that I think older people should know how to be online because it won't be many years before that will be the only way of communicating. I think it's wise to be aware of what is going on. But you do have to practice and it is very satisfying when you discover how to do something.
Do you ever feel old age makes people invisible?
It's a difficult one because of my profession. I'm quite sure some people do feel that. It's all down to families isn't it. How they're treated. You must all remember to treat your grandparents with a great deal of respect. I'm very lucky because I've always grown up liking the people I've been surrounded by and I get on very will with my own daughter and son-in-law. If families don't get on it must be very tricky.
With old age comes wisdom. What have you learnt over the years?
It's the luck of the draw, really. It's your parents, and your genes and your family. Keep your fingers crossed and don't anticipate disaster. I just go along with getting older. The best thing about old age is learning to accept what you've got, what you are and what other people are and not to be too critical. That's something that comes with age and not worrying about wanting people to like you and give approval. My family has always taken precedence over my career and have always been very supportive. I've been delighted at the way things have turned out. In the end, it's all down to luck. Let's hope that Boomers hits the spot...