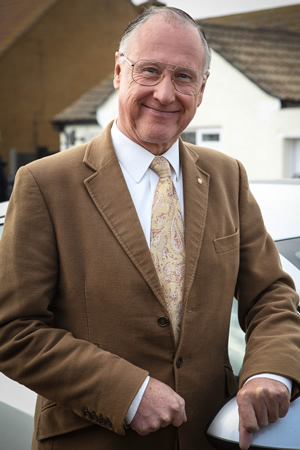 The Thick Of It and Grandma's House star James Smith talks about playing Trevor.
Hi James. How would you describe Trevor?
He's a brainy clever clogs and everybody takes the mickey out of him at every opportunity. He's sensible and an expert on lots of things. Trevor is one of life's saints, one of those people who will be there for everybody. He's on various committees and is a very conventional creature, a shy hobbit who likes things just so. He's a good organiser, financially on solid ground, a nice house, safe pension, frugal and sensible. He doesn't stray outside his comfort zone and is never lost for words. Trevor doesn't talk about any emotional issues at all, except with Carol. He feels it's not right. All in all he is jolly good company.
What drew you to the script?
We talked quite a lot about the rhythm of the writing which is terrific. I was also thrilled to hear that I would be working with Russ Abbot. I have always loved his geniality and hoped some of that would rub off on me. Timing is just innate to him, he knows all about that and I'm enjoying learning from him.
Tell us about the baby boomers?
Nowadays some people retire in their mid fifties and we are the generation who are really lucky as we have a lot of leisure time. We haven't been to war or seen any of those horrors, we've had a good life throughout the '50s and the '60s with the very best music - Bill Hailey, Bee Bop, Chuck Berry, Elvis, The Beatles, The Stones... Russ sings Glad All Over at one point! Music livens them all up.
Do you think you will ever retire?
Unlikely! I know an actor in Whitstable who retired at 68 because he was hacked off with the business. Now his knees and hips have gone. You often hear about people having heart attacks soon after they give up work. I think it's better not to stop but to keep busy. It's very difficult to imagine two or five years ahead, although we know our time is running out more quickly than the next generation. We don't know if we'll get alzheimer's or need two hip replacements or get dementia - but at the moment we're all fine and having a lot of fun.
Do you identify with the show?
The writing about arguing about what to do with mum is incredibly accurately observed. But Richard has extracted a comic version of what can be quite vicious in real life, and the extraordinary joy is that in the middle of all this you have June Whitfield playing the mother, who's a generation older than all of us. Bob Hope once said "Who wants to be 100? Someone who's 99!" You want whatever you've been given but hopefully retaining all your marbles. We're certainly not in the last chance saloon.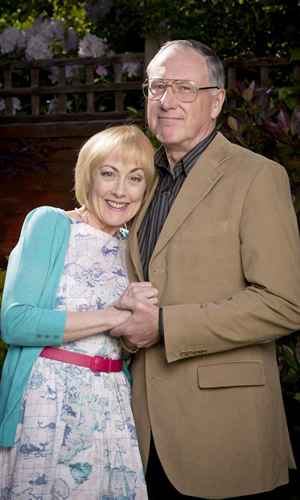 Do you find it harder to remember lines?
The lines are a little harder to remember, so I just become the character. For me there's a great joy in being in my sixties. I have a freedom pass and so far it has been the best decade of my life!
That's wonderful! Why is that?
I have three children and nine grandchildren. I was in a relationship for 30 years and my lady died in 1998. I spent 13 years alone and then about three or four years ago I met a new lady who's English but lives in France. So for me, life really did begin again at sixty...
How do you fill your time when you are not working?
I play Bridge in England and in Provence. I've been playing drums for 40+ years (something I have in common with Russ) and I have been lucky enough to find a quartet in France who needed a drummer. My new lady has a huge garden which I am thoroughly enjoying looking after and I also ride, swim and play tennis.
What do you do to unwind at the end of a long day's filming?
Nothing. There isn't enough time. I simply answer the post, tend to emails and start learning the following day's lines.
Boomers is all about long-standing friendships. Who is your longest standing friend?
Alas, all my close friends from childhood were dead by their mid-thirties, but I have a very close relationship with a half uncle of my own age who feels more like a brother. He has been there for me throughout my life and is my closest friend.
How does it feel growing older?
Since, at the moment, I am enjoying good health physically and I believe mentally, I don't have a problem with it.
Are you forgetful?
I can't remember.
Did your parents encourage you to go into acting?
No. I fact I was shoehorned into their profession - medicine.
Do you manage to see your children and grandchildren a lot?
No. We are all scattered here and there so thank goodness for emails, texts and Skype.
Do you embrace modern technology?
Yes, hurrah for it.
Who will Boomers appeal to?
I'm really looking forward to finding out.
What would be your epitaph?
'All I ever wanted was to enter my house justified.'