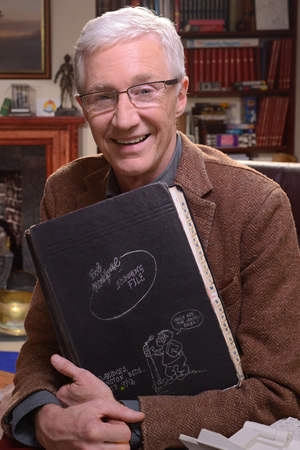 In The Million Joke Man, Paul O'Grady takes a retrospective and intimate look at the extraordinary life and career of Bob Monkhouse. Below he tells us how he knew the entertainer, and talks a little about his own (animal-packed) home life:
Hi Paul. How did you know Bob?
The first time I spoke to Bob was when he phoned me in 1990. I thought it was somebody else, so I told him to get lost!
This was just after I had been nominated for a Perrier award at the Edinburgh Festival. He knew all about me, which was a shock. I felt like he had been watching me; he taped everything, read up everything, read interviews. He knew everything about me. I was stunned, it's Bob Monkhouse. This is somebody I've grown up watching on television.
I ended up doing a 70th birthday party for the BBC's Christmas show. We presented a BAFTA together, I did his last lottery show for him, a couple of clubs, and spent time with him in Barbados. He never stopped working. Comedy, for him was a vocation. It was almost like a religious order. He never stopped or relaxed.
He'd always be looking for a gag which could be written down in his book; he had all these fabulous books. Beautifully illustrated. He was such a clever man.
What was your view of Bob when he first got in touch with you?
I knew him, of course, from The Golden Shot, and all his game shows. I thought he was part of the old brigade, but I respected that. Bob was different, as he was just so clever.
When talking to him he'd be waiting for you to do or say something funny. And when you did it was like a Christmas present to him. He'd ask 'can I write that down?' He'd be over the moon. It was oxygen to him, comedy.
What did Bob's support mean to you?
It was very flattering to have that [support] from an iconic figure like Bob Monkhouse. I'd ring him up for his opinion on my gags, and he'd be howling laughing down the end of the phone. And I'd think 'good god, this is Bob Monkhouse'. It was a real confidence boost really. It was like somebody rubbing your back and saying well done.
Bob had a lot of comedy videos?
He taped everything. He had about ten televisions in the house and all these video machines. He kept them all in his massive library of VTs. There was nothing on television, related to comedy, that Bob didn't tape. He then write about it in his diary, I just don't know where he found the time.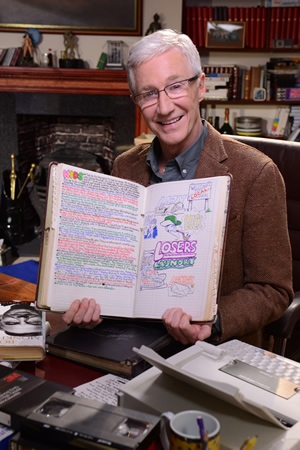 Bob was a bit of a hoarder then?
Most definitely. It was pretty chaotic, but it was that kind of chaos, a bit similar to myself, where you know where everything is. All his tapes were all filed, and his diaries, they were all in order, and all his joke books, they were all in order as well. Everything was filed. Letters from the BBC, letters from this, letters from clubs, fans. Amazing, just amazing!
What was Bob like as a man?
He was ordinary and fairly jolly. He kept his professional life and his private life separate, especially his very ill son. It was never brought into the workplace. He'd probably been up all night with him, but he didn't come in and complain.
Did you get any glimpses yourself into his private life?
Yes, he'd talk to you when you were having a break. But he was there to work and I think it was respite for him because he loved working. When he lost The Golden Shot, he did have a go at the producer at the end, which was live.
This is not your only TV presenting job of course.... some of your shows involve animals. How many do you personally own?
Five dogs, six pigs, nine sheep, four goats, five barn owls, and a load of chickens.
They're good fun. But the thing is, I can't eat lamb anymore, and nor would I. Even now, if I'm making a spaghetti bolognese, half of it's Quorn, because I can't. It just repulses me. I put a steak in the pan once and that was it, I put it in the bin, never again. I couldn't even eat it.
Are you pretty industrious? What hobbies do you have?
Yes, I suppose I am. I can't sit still. Doing the teatime show I'm grateful that I have to watch a lot television that I wouldn't normally, for example Safe House, which I'm addicted to now. Monday night's hell, due to Emmerdale, a Corrie, an Eastenders, I feel I am living vicariously through fictional characters!
In terms of hobbies I have done it all. I've made candles, soap, painted, drawn. You name it, I've done it. Calligraphy was one I could not get the hang of to save my life. At the moment, I'm going to start renovating a gypsy caravan...
Work wise, do you have any new jobs lined up?
Volume four of this never ending story book. I've written the 90,000 words that are required, but now I'm like a train with the brake off, I can't stop. Then I'm going to do a kid's book, but it's for an elephant orphanage in Zambia, in Lusaka.
You have your 60th coming up Paul on the 14th June. How are you feeling about that?
I've adapted to 60 because I started calling myself 60 a few months ago. I'm turning a bit like Catherine Tate's Nan: acting old deliberately, for example saying outrageous things in shop.
'Bob Monkhouse: The Million Joke Man' is on Gold on Wednesdays at 9pm.