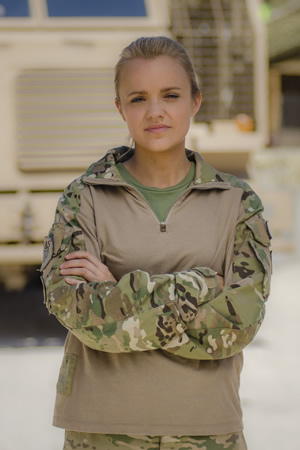 As regular viewers of Bluestone 42 will be very much aware, the show has just been through a big shift as long-serving unit boss Nick Medhurst has departed the theatre of war. In his place comes a new Ammunition Technical Officer (aka ATO). Laura Aikman, who plays newcomer Ellen Best, introduces her character below, and talks about what it was like to film the show.
Hi Laura. What is Ellen like?
She is very different from Nick. In fact she is very different from everyone. She's very professional, she's very 'by the book'.
She wants them to be there to do their job properly, but obviously they like having a good time. So there's not an immediate chemistry between her and the group. I think it'd be fair to say they don't like her!
She thinks efficiency, doing things the right way, paperwork, and all those things are super fun. She thinks everyone can have a fun time tidying things up and getting fit and doing all the things that they really just don't want to do.
She's one of those people that can't read other people - she doesn't take a hint. You'd have to say to her really clearly "Ellen - I hate you", and even then she'd be like "Ok, well that's something we can work on". They're quite brutal with her, especially Bird who is quite rude to Ellen, but Ellen thinks they're having the best time, and they're girl best friends...
Nick didn't actually make them do any of the things they're supposed to do, like stay in shape and all the training and stuff they're supposed to do out there. They had a pretty easy ride with Nick, and now they're near the end of their tour so they're winding down; and then she comes in... so there is resistance!
What makes her a good character to play?
I wasn't worried about her being likeable, which is really nice, especially for a female character. A lot of the time when you're a woman in something - I don't want to sound like I'm making a point here, but - a lot of the time there's a main man in something and he's married to someone nice, and that's the way they'll go "he must be a nice guy, because his wife is really nice"... So it was nice to be able to play a female character where you weren't worried whether people thought she was nice or sympathetic. She is a Marmite character, so I got to just be as annoying as I wanted to be.
The show is already well established. Were you nervous joining the cast?
I'm always nervous, but - yeah - it's a fairly small cast and they're abroad all living together and they're all very good friends, so I was like "oh no, what if they hate me?"... and they did! No, they were amazing! Everyone was really kind to me.
Although the show is set in Afghanistan, it's actually filmed in South Africa. Was the after-filming social scene good? And what about the hours in front of camera?
Yeah, too good. Everyone is very dedicated to being very fit and keeping in shape for that job, which was brilliant during the week, but then on the weekend... Even at work on the last day of the week, there'd be beers on wrap. But you'd want to make the most of your day off, so you'd already committed to climbing Table Mountain or something... but, yeah, we managed to do both!
It was like being on some really strange holiday camp. We stayed in these apartments that were run by this woman that was determined that we wouldn't make any noise. She thought we were all like 15 or something. She would come around and be very strict the next day. "Which one of you was shouting...!?!"
I kept going "I had such a good time on this holiday...", ha ha. It's such a beautiful place and I had a bit of time off so I got to explore as well.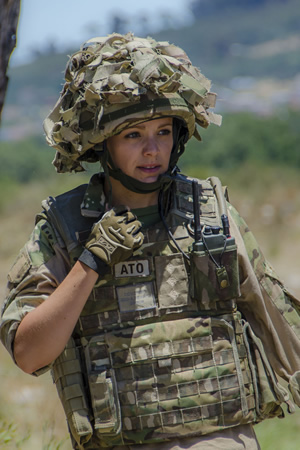 The only thing is, obviously, you're in army gear a lot and running around a lot... so it's very sweaty.
I've never sweated so much in my life. You're wearing full army stuff and, for some reason, the costume department in the first year - which they now obviously can't change - set our under layer as a thermal fleece! In the army it's one of those lightweight running things that dries out your sweat - but for some reason we have a fleece!
So you've got a t-shirt, a fleece, an armoured vest, and your gun, which is really heavy - I was just incredulous. I was walking up to people and going "I'm liquid sweat now!". The cast actually made up a song about how sweaty I was!
Did you do any preparation for the role before heading out to the set?
I went to Catterick with our military advisor Ali. I went out on exercise with them and met a lot of ATOs. In terms of fitness, I didn't necessarily do anything but, in terms of learning about the job, I did a lot of research because I thought it'd be so embarrassing if I didn't. A lot of the cast had been there two years, so they know so much army stuff... so I didn't want to be the new one and the idiot.
Ali was new this year, which is really nice - she was new with me, and obviously she's a real female ATO; she's quite like my character and I think she was a lot of the writers' influence for the character. She's not annoying though, she's really nice - but she was very precise about her job so I spent a lot of time with her.
She left [the set in South Africa] half way through, and the guy that they've had for the last two years and has been their advisor with Nick and everyone - Liam - came. He's a lot more relaxed and every time I asked him like "so do I need to put the gun down here when I'm doing this?", he was like "you can put it however you want" and I was like "no! What's the exact procedure?". I think I was annoying him, but I wanted to make sure it was right! Having said that, I'm probably now going to get loads of abuse about how wrong everything was...
Do you think you could do the job in real life now?
Oh, absolutely, I could defuse a bomb right now! Ha ha.
No... I don't think I could. The main thing that changed my understanding about being an ATO is that they all really believe their job isn't dangerous. They all adamantly believe that. I didn't meet anyone who doesn't really believe that. They all believe that if they don't make a mistake then they won't get blown up, basically. There's a very clear way to deal with the situation and they all know their job really well and if they do their job right then they can't get blown up. I think that's the only way you can do that job, if you believe that to be true; because otherwise you're just throwing a dice every time you go out. But they are a bit like rock stars in the army!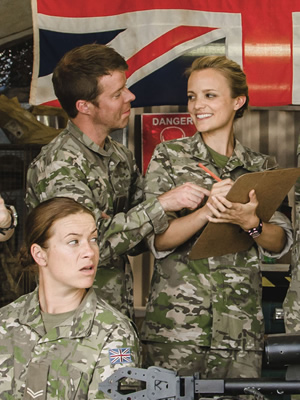 Some of the scenes you have to look serious, but was there any laughing on set?
Steve [Stephen Wight, who plays Simon] is brilliant and very naughty. He'll do anything to make you corpse during a take and, whatever happens, he can keep a straight face. I am dreadful... I'm such a giggler!
There was one day when we were really running behind on the time and I said to David [director David Sant] "you need to take me to the side and really tell me off now because I respond very well to authority, and otherwise I'm just going to spend three hours laughing at him!"
Were you a fan of Bluestone 42 before you joined the show?
Yeah, although I don't know if that helps or not, because when you're auditioning for something where you're like "oh, that's where I'd fit in" you might be getting it completely wrong in a way, but if you were to come at it as a blank canvas...
I auditioned for the the part of the Padre in the first year, but didn't get it. I remember being really gutted! I had had my re-call on a day I was going to the NTAs [National TV Awards] with Leigh Francis as Keith Lemon. I did a show with him [Lemon La Vida Loca], a mockumentary where I played this character called Rosie. We were trying to get the show made, and we were making a pitch to ITV2, so for the first time I was going out to do the red carpet as Rosie, when no one knew who we were. I was on my way there when I had to go to the audition, so I was going up for this army part and I was tangoed, my hair was so big, and I was so nervous about going to do this red carpet - it was dreadful! I totally messed it up. So I was glad to have the second chance [to join Bluestone 42].
Did they approach you this time?
Yeah, I was doing Waterloo Road at the time when they were looking for someone, and they'd been looking for a while. I couldn't get down to London so I did a self-tape up in Glasgow and they liked my tape so they said "this is when the recall is", but I said "I can't get back, I can't get away from Waterloo Road! There is one day when I'll be back in London, because my brother is getting married on Thursday and I've got the Friday off, and I can come in on the Friday morning?" They were like "yeah, fine".
It was my brother's wedding so, yeah, obviously I was quite hungover! I got ten extra pages when we were sat down at the meal at the wedding too, and I was like "do I go and hide and learn this?" but, yeah, it was OK in the end! I did think the same thing was going to happen again though...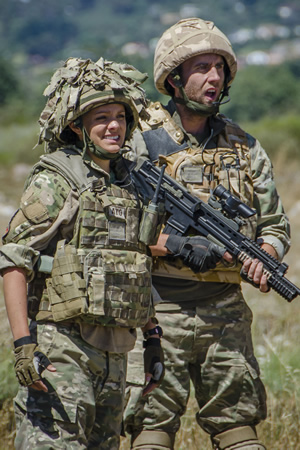 Waterloo Road is a drama, but you're mainly known for comedy - is that a deliberate career decision?
After Casualty, I've done all comedy really, up to Waterloo Road. I love doing comedy and people seem to give me more jobs there, so I'll take them. But, yeah, I love it all, but it seems that is where people would like me to go - and I like having a job!
I'd go back to drama in future, but not in a long-running show I don't think. I found that quite hard being the same character for a whole year - on Casualty I found after a while I knew her inside out and there wasn't that much I could do to push it or keep it different. I like being able to do more characters I guess, and comedy you tend to only get six episodes so you get to move around a lot more.
You started acting at quite a young age?
Yeah, my dad's a stunt guy. I did bits and pieces going through school - nothing major. My brother got this film called Fever Pitch. He's not an actor any more but he played 'Colin Firth when he was younger'. I can remember going to the set and falling in love with Colin Firth.
I left school just before my A Levels to do a show called The Mysti Show, which was a Saturday morning TV show. I was half fairy, half human. It was really very good, ha ha. After that, I haven't got any A Levels, so I thought "ah, well I'd better be an actor now..."
Has your dad taught you any stunt skills?
When I was a kid he used to try and push us out of a window on to a crash mat. But, no, he hasn't really taught me any stunts, but I'm always aware he's going to watch anything with action in it so - like with this - I was covered in bruises head to toe by the end. Because, any time we had to do anything where we're supposed to throw ourselves around, I thought "well I've got to do it for real otherwise he's going to watch it and go, 'right let's just watch this back Laura... here, rubbish!'"
There's a lot of belt buckles to the floor - you're being shot at so you've got to throw yourself to the floor!
Have you any thoughts of returning to do another studio sitcom?
I did Teenage Kicks, which was one of the best experiences of my career definitely. It's so much fun. And Not Going Out as well, which was amazing. And last year I did Citizen Khan.
I've been watching The Comeback in which Lisa Kudrow does a studio sitcom which goes really bad for her, but it's making me want to do one! Yeah, so if something came up that's good I'd definitely be interested. The hours are amazing too, because you literally work 9 to 5!
My dad does some of the stunts on Mrs Brown's Boys actually, and he'll come back and say "I've jumped on a Christmas tree". Actually, he [star Brendon O'Carroll] does all of his own stunts, but my dad shows him how to safely do whatever he has planned.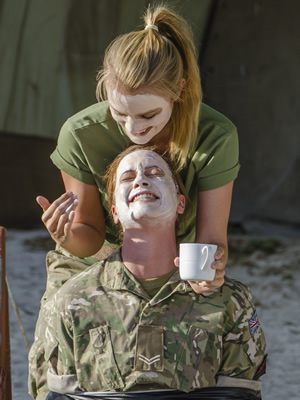 What's next for you?
The Job Lot is going again, so I'll be doing that, but not until later in the year so I've got a little break. That is such a nice job to do as well, with brilliant, brilliant actors in it. Everyone is so funny in that show, so that's a really nice job to work on.
It appears the unit's time in Afghanistan is coming to an end. Could the show stretch to another series?
Obviously they have to do what is realistic for actual life, because there is that element of truth in the conflict, so I think it's fine to say they're leaving [Afghanistan]. Hopefully there will be another interesting thing. There's so much scope, and the writers have so many ideas for other things that the team could do.
BBC Three looks set to go online, so if there was another series...
I guess everyone had this initial reaction of "nooo, there won't be any more jobs" but then, if you think about it; I watch Netflix, I watch Amazon Prime. I do watch stuff online, so I think it's fine. I think it was a bit of a scary panic at the beginning but I'm sure that is the direction that probably everything is going, so I don't think it is a cause for concern.
So if 'Bluestone 42 4' was online only, you'd still come back?
For sure! Yeah, I loved it. "Best holiday ever!" Ha ha.
Bluestone 42 is on BBC Three on Mondays at 10pm, and repeated on BBC Two on Sundays at 10pm