Blackadder Back & Forth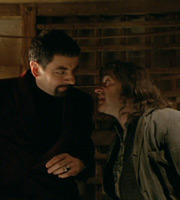 First broadcast: Sunday 1st October 2000
It's New Year's Eve 1999 and Lord Edmund Blackadder V is holding a dinner party for his four closest friends.
Buy Blackadder Back & Forth
Release date: Monday 15th September 2003
After 12 years away from the small screen, the Blackadder cast are reunited to see out the 20th century. Lord Blackadder and his faithful companion Baldrick continue their historic warping of all that is sacred in Great Britain, but whilst the legendary Blackadder series were each confined to a particular...