Bernard Black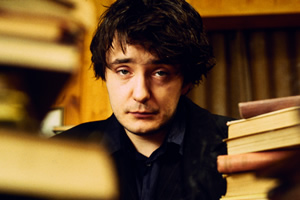 Probably born a bat in a stench-filled cupboard somewhere in Ireland, Bernard Black has blossomed into a pungent cross between Steptoe and Zorro. One can only wonder why he would decide upon a career largely based on customer service when he clearly hates people so much. That and how he has managed not to declare bankruptcy for so long, creating jackets from his tax receipts and repulsing customers.
Somewhat a recluse, Bernard fills his days (and body) with the contents of a small vineyard and enough cigarettes for a duty free shop. Bernard has little regard for cleanliness or hygiene and coupled with extreme laziness, this bodes well neither for his physical accoutrements, nor the state of his residence. It also does little to boost his love life.
Surprisingly, Bernard does have a heart, masked by the thickest of thick skins - and some sort of fungus. Ill-mannered, foul-tempered, unsociable Bernard's status would be demoted to hermit were it not for Fran and Manny, his seemingly sole mates.
The charitable and diplomatic among us would describe him as little more than eccentric, his cutting remarks as criticisms and his freakish behaviour as someone with very possible 'issues'. On a more positive note, the likelihood of finding a character as intrinsically (or brutally) honest as Bernard would be very slim.
Manny Bianco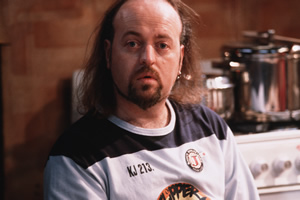 It's hard to imagine Black Books before loveable Manny, so it's a good thing he shows up in the first episode. He is everything Bernard is not; caring, principled, hygienic, fashion conscious (if brightly patterned shirts count), sensitive, cultured, well-travelled and popular (until he moves in with Bernard).
A stressed-out accountant when we first clap eyes on him, Manny can rustle up a banquet of the finest cuisine, manage the accounts and manipulate the keys of any piano with an expert touch. It's no wonder Bernard takes full advantage of Manny's skills, frequently treating him like a slave and even subjecting him to humiliation and degradation.
Manny seldom stands up to Bernard, preferring to avoid discord or simply run away. Fran, on the other hand, takes to Manny instantly, bonding with him like a sister with a beard, fighting his corner against the grumpy Bernard.
Downtrodden Manny attempts to bring his innovative ideas and perfectly balanced displays to Black Books, but usually ends up being assigned the task of opening the wine or dressing up like a worm. Manny has a kind of displaced loyalty towards Bernard, apologising for things he hasn't done and 'whistling down the chimneys'.
Bernard, although cruel to his human plaything at times, protects Manny on more than one occasion and while trying to maintain his pride, feels Manny's absence in the event of him absconding. Being a little eccentric (with parents called Moo-ma and Moo-pa who wouldn't be), Manny can't go out on the pull without his snuff, swabs and amulet. And that's just for the object of his affection to find. Strange, but with some degree of success.
Fran Katzenjammer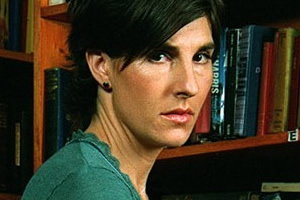 Fran appreciates the finer things in life; fine wines, designer shoes and luxury apartment, all funded by a wealthy boyfriend. Since those aren't within her grasp, she settles for cheap plonk, flip-flops and a cramped flat with moveable walls, rounded off with one disastrous date after another.
When we first meet Fran, despite displaying signs of cluelessness with regards to the contents of 'Nifty Gifty', she is a helpful and friendly gift shop owner. But all good things must come to an end, and once the shop is sold, Fran is a restless soul, taking on an array of new experiences to fulfil her spiritual being. From piano lessons to having her chin sucked and teaching a thug to read, fickle Fran finds plenty of time to accompany Bernard and Manny in their eventful day to day existences.
Fran appears to be the only one who has any influence over Bernard, regularly inducing a hangover with him and relaying the details of her latest fling. Manny is afforded the privilege of the gory specifics; plus the inside scoop on how to keep his shoulder-length tresses glossy and tangle-free. Although her relationship with all things bad for her may be somewhat destructive, she simply wouldn't be Fran without them.
Overall, Fran is just as hopeless as Bernard with the exception of his impertinence and definitely not as dirty. Well not in the hygiene sense anyway.