Comedian, actor and writer Rob Delaney - best known as the co-star and co-writer of acclaimed Channel 4 sitcom Catastrophe - voices the heroic action figure toy Bevel in CBeebies animated comedy series Bitz & Bob. He explains more here:
Can you tell us a bit about your character?
Bevel belongs to Bob. He's a big, animal-type action figure, but he lost his leg below the knee somewhere along the line and Bitz came up with a solution to put a doll's leg on there, so he's got a funny appearance.
Bevel likes to boast that he's the best - but he rarely is. He's a lot of bravado and he exists to make the kids on the show look really great at what they do - they would anyway, but juxtaposed against silly, loud, boisterous Bevel they really look pretty great.
What do you like about voiceover work?
It's my first time doing a voice character for a whole series and I love it. While it's absolutely acting - you've got to give a human side to the character - Bevel's body can do things that mine can't: it can get snapped apart and put back together and do impossible things so that's really fun.
Did you learn anything from the role?
I learned the word "wallah"! I hadn't used the word 'wallah' before; it's a sort of catch-all word for general noises that one might make like when getting on a bike or whatever. I brought that word home and now if ever I make a weird noise my wife is like, "Was that wallah?"!
You do quite a lot of singing and even some yodeling in the role, did this come naturally to you?
Bevel does do a lot of singing and I enjoy singing. I don't do it a lot because in my grown-up career I'm a comedian and I write and act TV for grown-ups, but I love to sing around my home and I went to school and studied singing. I should create more opportunities for myself to sing because it's a lot of fun.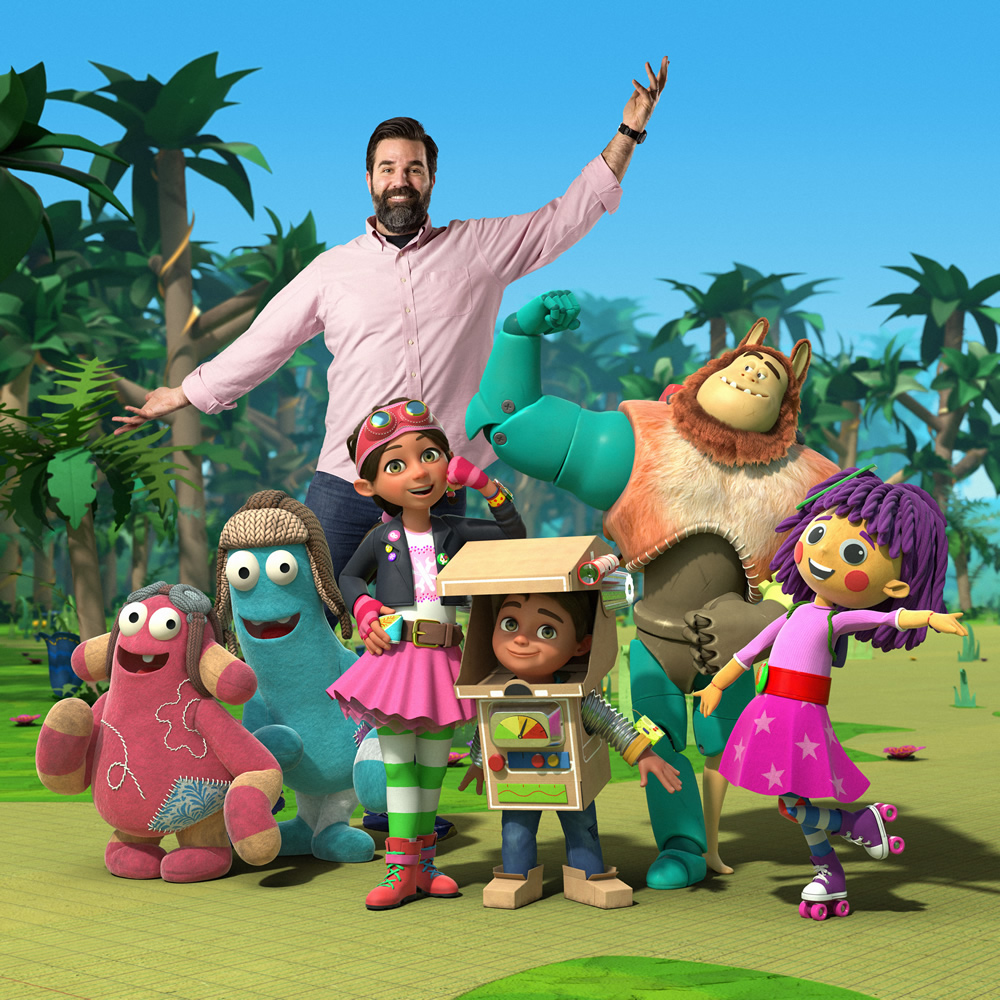 Can you tell us a bit about the show?
What makes Bitz & Bob unique is its heroine, Bitz, who is wild about engineering and is very good at it and is very resourceful and smart and creative - and the different aspects of science and engineering. It's very imaginative and creative and Bitz anchors it beautifully and is the heart of the show. It's particularly fun to have a girl in that role since a lot of that stuff can be associated with boys, which is silly because obviously any girl can do that stuff as well as any boy.
The series has been created to inspire girls to take up engineering; who or what inspired you when you were younger?
Anything revolving around stories and the creation of stories. Sometimes if I read a good book or saw a good movie or TV show as a child I would get a stomach ache thinking, oh my gosh I can't wait until I'm a grown up and can do this for a living, hopefully! Heroes for me were storytellers, always.
Are you any good at engineering?
I would say without any shadow of a doubt that I am terrible at engineering, in any capacity. If there were an engineering problem that you needed solved to save your life, run in the opposite direction from me, towards a Bitz or a Bob, then you'd be in much better hands.
If you could engineer something to solve a problem or make your life easier, what would it be?
If there were clothing that I could roll out of my bed and into, like a onesie for grown-ups but even lazier - like I'm in my bed and I roll over and somehow I'm dressed in some sort of functional burrito of clothing - I would like that quite a bit.
Bevel has lots of useful tools on his arm extension. What useful tool or gadget would you choose?
Bevel snaps on a whisk at some point and that could be quite useful - I like to bake, so if I could have a whisk arm rather than this useless piece of meat I think everyone would be happier.