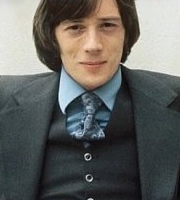 By the 1970s, Billy Liar had already emerged as a novel (1959) penned by Keith Waterhouse, a successful stage play starring Albert Finney and later Tom Courtenay in the title role and a film (1963) directed by John Schlesinger. Plans were also under way to stage a West End musical which was subsequently adapted by Dick Clement and Ian Le Frenais and featured the songs of John Barry and Don Black. With this in mind, it is perhaps no surprise that a television series should also have emerged in 1973.
The series was written by Keith Waterhouse and Willis Hall (who had earlier collaborated on the film) and they decided to change the character to make him more up-to-date. The clothes which Billy wears and his hairstyle place him firmly in the 1970s, as do the references towards hippies and the kung fu craze.
The televised version of the character is also less grounded in reality than in other depictions. Gone is the gritty realism of the novel, this is replaced with broader humour and more outlandish situations. Pathos is sacrificed in order to conform to the norm of the 1970s sitcom format.
Furthermore, the writers decided to remove several important characters from the story. Billy's work colleagues, Arthur and Stamp, do not appear in the series and two of his love interests, Rita and Liz, also do not feature.
The first series of the show aired in late-1973 in a post-watershed slot which enabled the writers to use mild bad language and to show some nudity. It benefited from having a strong cast which included George A. Cooper as Billy's father Geoffrey, a role he had earlier played on stage opposite Tom Courtenay. The characters also appeared in a sketch in ITV's All Star Comedy Carnival on Christmas Day in 1973.
The success of the first series ensured that a second was made the following year. All of the main cast members returned and the only major difference was that an earlier time slot meant that bad language had to be toned down.
Although the sitcom then ended, the popularity of the character has meant that he has reappeared in various guises. In 1977 Keith Waterhouse wrote a sequel to his novel entitled Billy Liar on the Moon. Then in 1979 an American television show was made entitled Billy starring Steve Guttenberg in the lead role. The stage play and musical have also continued to be re-staged at regular intervals up to the present day.
The LWT series has never been repeated, but both series have now been released on DVD further reinforcing Billy's timeless appeal.