Rapper and chef Big Zuu - real name Zuhair Hussain - grew up the son of a Sierra Leonean mum and absent Lebanese father on West London's Mozart Estate, in Maida Vale. Eventually he discovered music: Even spitting simple rhymes, friends noticed a natural talent and encouraged him to take it further.
Spurred on by AJ Tracey, Zuu sharpened his style, and soon he was tearing it up on pirate radio stations like Enfield's Mode FM and a key cog in the MTP collective grime crew. A self-titled EP landed in 2017, and before too long he was rubbing shoulders with the grime royalty he used to worship.
Meanwhile Zuu's love for cooking stemmed from his mother, but not in the usual way. "She was terrible at cooking!! She used to make me pasta but would boil it for about 15 minutes instead of the usual 3." Tiring of over-boiled pasta, Zuu taught himself how to cook. Soon he'd developed such a passion for cooking that he stopped his mates getting take out and helped them save money by offering to cook for them instead.
As he got older, Zuu started producing his own cooking videos for social media, and soon became known for his kitchen skills alongside his music. "The bigger I got in the music scene, the more the cooking side of things started to gain traction because - I was building a big following in grime, which then resulted in more eyes on my socials."
Zuu followed up with cooking segments for radio shows and blogs, and now - alongside friends Tubsey and Hyder - he's got his own TV show. "When Dave got in touch about doing a show, it felt like a really natural process for me - I've been cooking food in front of a camera for years now!".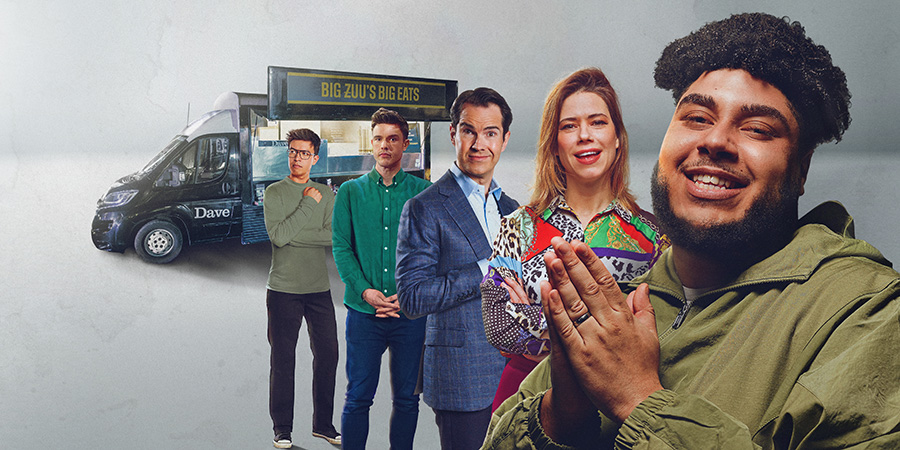 What is it like to have your own TV show commissioned for Dave?
Honestly, it's still surreal for me. Not only having my own series but to be doing this with my two best friends that I grew up with is crazy to me. We've all worked really hard on this show and I can't wait for people to see it.
You're known for being a grime MC, less so for your links to cooking and comedy, this show combines all three. Tell us how it came about?
I've always been the fat kid growing up who loved music and food. So when I got into the music game and started building a following for my tracks, I'd always put funny videos of myself cooking on my socials. It just became a thing I was known for. I then did some cooking segments for radio shows and blogs in the grime world and it became my thing.
What was it like spending time with the comedians in the series?
It was an amazing experience. There's quite a lot of similarities between comedians and music artists. We both spend a lot of our time on the road touring so we had a lot in common in that sense. Every comedian I met during this process had their own unique style of how they worked, which was great because it always made each episode different and fresh.
What is your favourite meal to eat?
A lamb Jollof rice. My mum is from Sierra Leone so I have grown up eating the best jollof and it's definitely my favourite meal.
Have there been any dramatic moments?
When Tubsey ate one of the spiciest chillies in the world and there was no milk for him to wash it down! It may not seem like that much of a dramatic moment but until you've tried this chili you seriously cannot understand!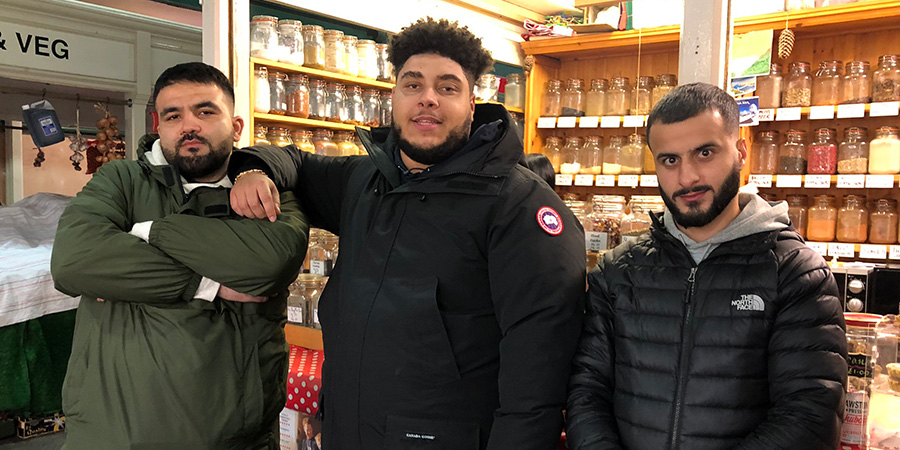 How do you enjoy working with your best mates?
It's a dream come true. There's no other way to put it. The way we've approached this series is by acting like we're just hanging out as normal. I think that's why the show comes across as genuine. Before the lockdown, we would spend most days together in London so it's been a really easy process. I can't remember a time where I haven't known Tubsey and Hyder so to now have a tv series with them is unreal.
How do the three of you work: is it mainly scripted or off-the-cuff?
It's definitely off the cuff. We're rarely going off any script during the show. I don't like working with scripts anyway but it would be even weirder working with one on this show because I'm with my two best mates. I think any script would have made it feel uncomfortable. We've known each other for so long that all the banter and exchanges are natural.
What sets Big Zuu's Big Eats apart from other cooking shows?
Big Zuu's Big Eats is the show for people who don't live near a Waitrose or who can't afford to go to one. I'm a massive fan of all cooking programmes but I think this show stands out as we're sourcing the food from local shops rather than big chains. I'm hoping it proves to people, especially in my generation, that cooking can be a fun and affordable experience. A lot of people I know can't be bothered to cook and think it costs too much so they'd rather just get fast food. Hopefully, BZBE's can change that for some people.
I also don't think there are many shows where there is a grime MC with his two best mates, cooking for world famous comedians in a food truck! Haha!