Series 1, Episode 3 - Visiting Nan
The babies visit Brooks' nan. Brooks doesn't want to go because he hates old stuff. Budge tags along, but for his own selfish reasons.
Further details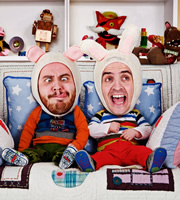 Rocco and Brooks get taken along to visit Brooks' nan and Budge hitches a ride, since Nan made him and might be able to fix his dodgy eye. The boys get plonked in front of the tiny black-and-white TV and find the imposing new environment intimidating until Nan starts to play the piano and lightens the mood. In a bungled search for a new eye Budge manages to lose his good one.
Broadcast details
Date

Wednesday 17th March 2010

Time

5:45pm

Channel

Length

15 minutes
Cast & crew
View related press
Help celebrate and promote British comedy by donating to fund more content and functionality. BCG Supporters get extra features in return, including press coverage related to this episode.
Find out more
Already a donor?
Sign in