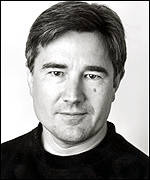 In this interview, conducted during the filming of the second series of Benidorm, producer Geoffrey Perkins (who was sadly killed in a road accident in August 2008), took us behind-the-scenes of the production...
Hi Geoffrey, you're currently in Spain filming the new series. It's raining?!?
You've got to laugh haven't you? What can you do about it? We had to deal with a bit of rain when we were filming the first series but nothing quite like this. I've never seen rain like it.
It never seems to dampen the spirits here though. It's great that we have a cast and crew that get on so well: we work together, eat together, and party together. Right now, we have to change a few outdoor scenes to interior ones and when the sun does finally arrive we need to get as much shot as we can. I'm trying not to panic!
What can fans expect from the new series?
Without giving too much away, all the main characters from the last series appear in this one too. We also have a few new characters: Mel (Geoffrey Hutchings), who is the boyfriend of grandmother Madge (Sheila Reid); Teenager Chantelle has also had her baby since the last series so we have baby Coolio on board, as well as the marvelous Wendy Richard and Margi Clark who have been great additions this year - their scenes have made me laugh out loud.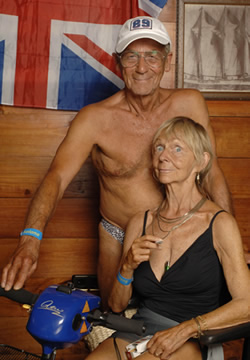 Nobody really knows much about Mel who continually does eccentric things and nearly dies in several episodes. But he wears a thong well. Wendy Richard is playing another foul-mouthed gran who is mistakenly thought to be a love-rival for Mel, so there is a Western-style shoot-out around the pool between her and Madge. The pair of them are in their mobility chairs and approach one another very slowly, while all the people around the pool throw themselves into the hedges. We knew Wendy was a big fan of the series and she fitted in straight away and did all her own stunts.
Margi Clark's character arrives later in the series as Gavin's estranged mother who causes quite a stir.
Viewers can also expect to see more outside of the hotel too. We are still going 'all-inclusive' but you can also expect bullfighting, arm-wrestling, a lot of romance, sex on the beach and a wedding.
Was it easy to come up with storylines for the second series?
The first series was already written before we cast it, and so it is now much easier for Derren [Litten] to write for a cast he now knows. So this time we knew exactly what would be good and fun for certain characters to do.
There are a few characters who were very small in the first series, like The Oracle (Johnny Vegas) and The Oracle's mum (Elsie Kelly). We almost thought in the first series that it would be funnier if Elsie never really spoke, except for the odd word here and there, but she is just so good that we wanted to build on her and Johnny's relationship this time.
We see more of the swingers too - Donald (Kenny Ireland) and Jacqueline (Janine Duvitski) proved very popular last series.
Were there any problems filming the second series?
I know I keep going on about the rain, but it would come up to your knees sometimes and you'd see cars being carried away down the street. It's a sight to be seen; the roads just turn into a series of rivers. And then, incredibly, it clears up completely the next day.
The other thing that has held us back a few times has been illness. We call it the 'Benidorm Bug' and we had most of the cast and crew out of action for about a week. It meant we couldn't go out much and sing karaoke... oh, and film of course!
Do we see any cameos from yourself or writer Derren Litten in the new series?
Derren has made it into the series again. He plays a man at the airport, who bumps into Kate (Abigail Cruttenden) and Martin (Nicholas Burns) and tries to get a lift to Benidorm with them. I am not in it this time which is probably a good thing!