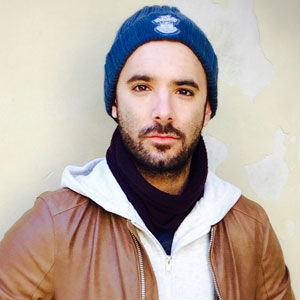 Bad Robots' writer-producer, Ben Spiteri (@benspiteri), talks about making Series 2.
When we got the green light from Channel 4 for Series 2, we only had a very short window of time to come up with a new Tezcorp range. We didn't want to just churn out the same machines from Series 1 with a few new bells and whistles. Instead, we spent a month brainstorming and writing 50% new machines for this series, which is something to be proud of.
Inspiration is pretty easy to come by considering how tech-reliant we all are. On any given commute, you'd try to use your phone to open the Tube ticket barrier, and end up getting stuck in between it or something, so we all have plenty of ideas to bring to the table.
What's been more fun is working up the bigger-scale cons and improving on last year. Things like the Tezcorp British Language Test (my personal favourite from the new series) was a continuation from the Driving Theory Test (which returns for Series 2). Getting in a room with the team and conceiving the most ludicrous exam questions, then attempting to thread them into a very real and sensible test so that they go under the contributor's radar is not only "I'm gonna puke" funny, but also a real challenge. The same can be said for B.O.T. If getting into a cinema seemed big in Series 1, taking control of the Isle of Wight's ferry port and setting up an immigration check-point is a whole different level.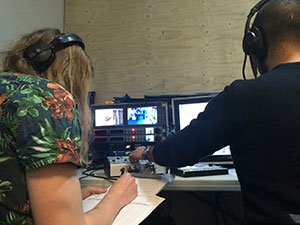 Being a hidden camera show, we were wary that having "Tezcorp" branded machines may blow the gag as the show had such a big viewership, and yes, there were a number of times when we had to stop filming because a bunch of kids started shouting "Oh my days, it's dem Bad Robots!", but I guess that's a step up from Series 1 where all we had was "I bet it's Ant and Dec! Oh my God, are we going to New York?!"
That being said, it's probably been easier to get contributors to see the funny side and sign a release form as they know the show; they get that it's pretty harmless fun and that we're not making them look like too big of an idiot... But it's a game of luck, and there have been a few great reactions from people who just simply didn't want to be on TV.
It's the hardest thing about hidden camera: you can write the funniest script possible, your design team creates astonishingly believable machines, your production team executes fantastic farces to lure in completely unsuspecting and utterly perfect marks, then after an hour of intensive filming you drop the curtain, explain to the mark what has happened, and they just shrug and say "Nah you're alright, don't really wanna be on TV. Cheers though. Bye."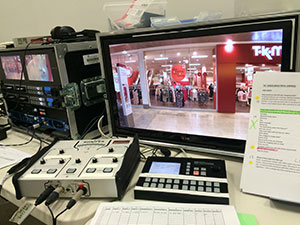 Luckily the gods of hidden camera have been ridiculously kind to us this series and we've honestly surpassed Series 1 (in my inescapably biased opinion). The hardest ones to pull off are always the best and we certainly didn't make thing easy for ourselves. I love our new British Language Test and convincing foreign language students that the national anthem included the lyrics "Dame Judy Dench is reem, that bitch should be our Queen, in Bond and everything, God save the Queen". I adore our Currency Exchange machine that tricks people into destroying their holiday money for no intelligent reason and our insane Vet B.O.T had us push a fully grown man to new levels of desperation to secure the release of what he believed was his daughter's new puppy.
Combine that with the fact that we've upped the obscurity/comedy pedigree of our voice over talent to include Adam Buxton, Rob Delaney, Simon Greenall, and Felicity Montagu working alongside Dave Benson Phillips, Ross Kemp and Matt Le Tissier, with Sir Michael Gambon to top it all - I think it's safe to say we've put together something very different and something I'm pretty damn excited to get out there.
The fact that the network has seen fit to repeat us on Channel 4 on a Friday night hopefully means they don't think it's too bad either. Or maybe Tezcorp have hacked the scheduling system. Either way, we're chuffed.
Bad Robots Series 2 is on E4 on Tuesday nights at 10pm.
Published: Monday 24th August 2015